Especially for my colleagues,
I have been working as a local guide since August 2017 with many ups and downs, mentally and emotionally, but I still have my heart in it nonetheless. Here are the six reasons why I love being a tour guide.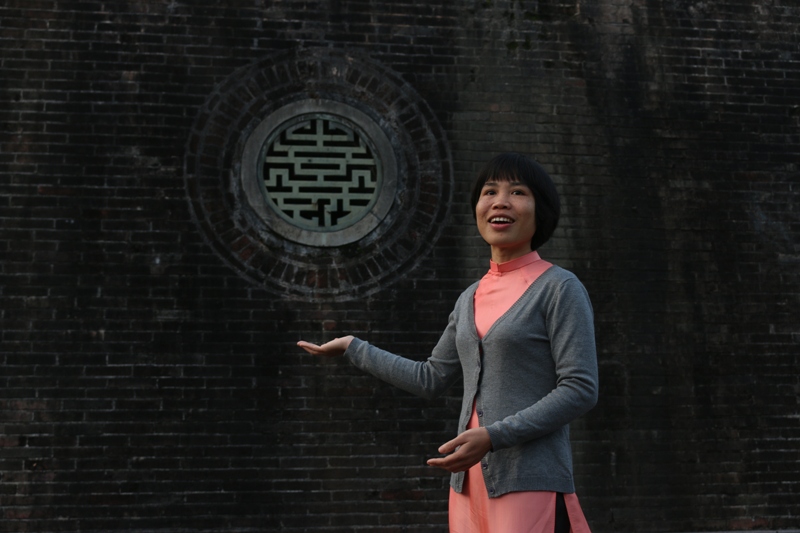 1. Talking about my favorite things and getting paid for it
I'm a talkative woman and I love sharing my passion for Huế – my home and paradise to those who are interested in it hence tour guide is just a right occupation for me. Guiding travelers around my city gives me opportunities to show them my favorite spots in town, showcasing our culture and heritage while narrating interesting history and even fables about the kings and queens of Nguyễn Dynasty. It's funny to admit this but I feel lucky for getting paid for being talkative. It seems like choosing this job, for me, is killing two birds with one stone.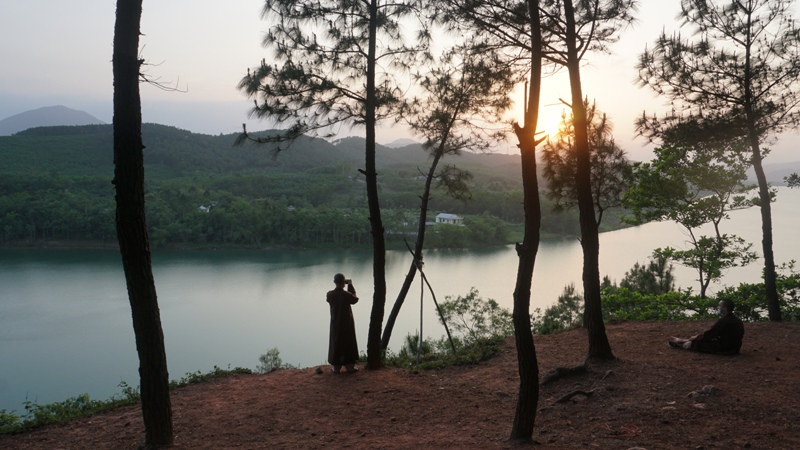 2. Working in an exceptionally beautiful office
I used to work in a small office and be around with computers, which didn't really match my characteristics. That was why when I realized that my new office was the entire beautiful Huế, my heart was filled with joy and excitement. I still feel happy after 4 years working in scenic places such as Vọng Cảnh Hill Top, Huế Royal City, Thiên Mụ Pagoda, or the imperial tombs of Nguyễn Dynasty. There were many times when I walked my guests around Huế in a pleasant day, I enjoyed it so much that I thought I was a contented tourist myself.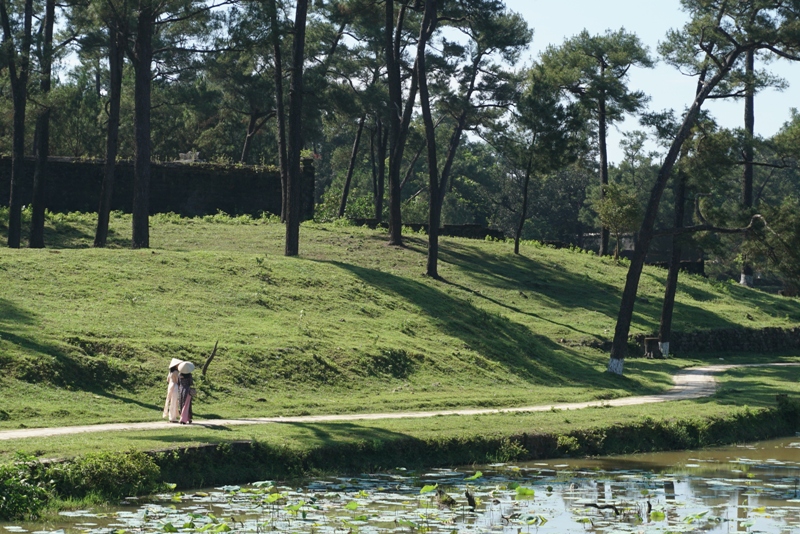 3. Accessing heritage sites for free
Another thing about this profession that attracts me is that I can access any heritage sites which are open for tourists for free of charge. Of course, I don't have to pay for entrance tickets when I escort travelers to the tourist sites. Better still, with my tour guide pass, I can also freely visit those places for personal purposes as many time as I wish. With this privilege, I sometimes give myself a treat by having a leisure walk inside the Royal City near my house, and taking photos for my personal research and documentary. Huế and its heritage are my lifelong affection so I want to record their charm as much as I can.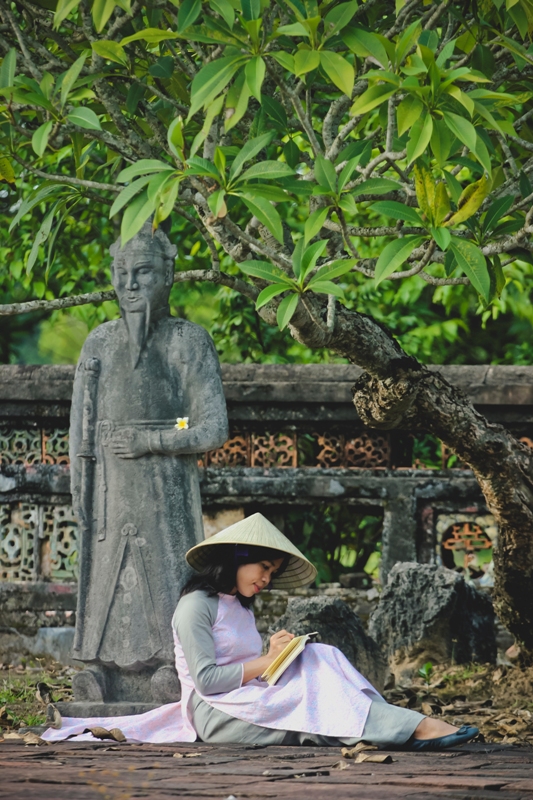 4. Having an in-depth knowledge about my home town
Being a tour guide inspires me to learn more about my birth place. I had to read quite a lot of books about Huế and consult my senior colleagues for more attractive stories as well as recommendations to perform my work properly in the early days of my career. I can also learn a great deal about my homeland because guests sometime shower me with their questions related to Huế. Their questions, most of the time, are interesting but they are annoying and tricky sometimes, which motivate me to rummage through my bookcase or overcome my shyness to reach out to Huế historians or researchers in search of satisfactory answers.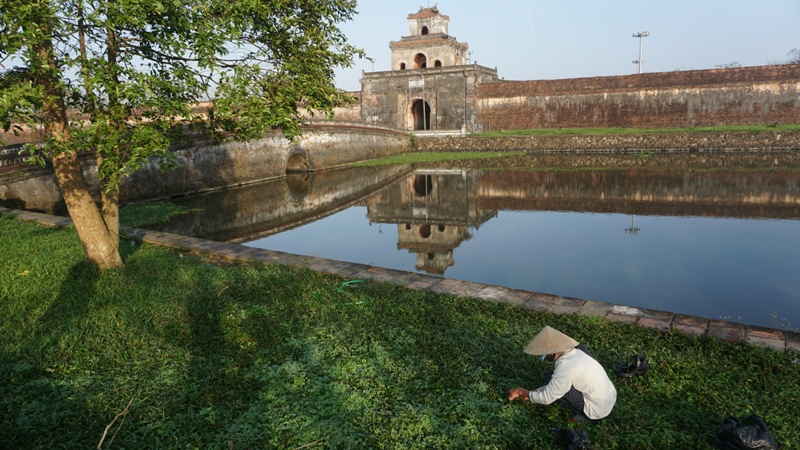 5. Getting more exercise and staying outdoor
This occupation, indeed, does my eyes and back a great favor because I can take a break from computer's screen and walk much more than usual. It was hard at first when I was not used to talking and walking from morning until afternoon but once I got accustomed to it, I enjoyed it immensely. I always love the leisure walks with guests to the Vọng Cảnh Hill Top, through the decorative gates inside Huế Royal City or under the trees by the tranquil lakes at Emperor Minh Mạng's tomb. I can feel that I am healthier when working outdoor and in such beautiful landscapes.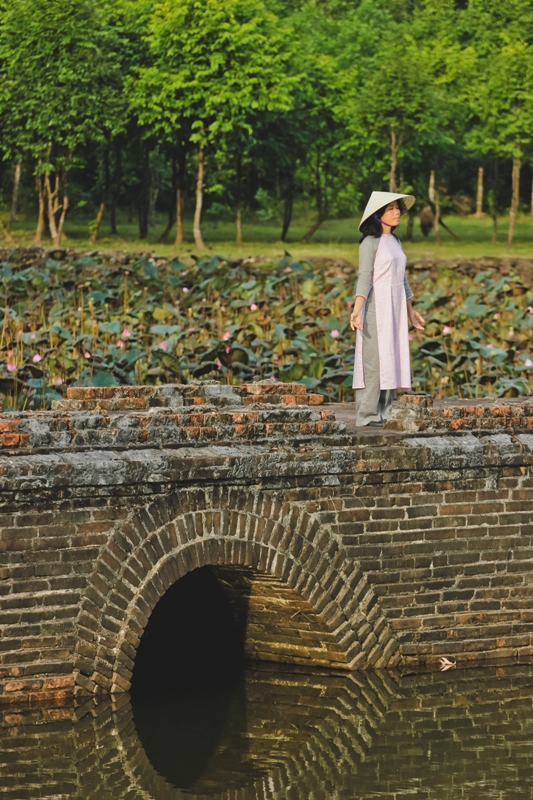 6. Wearing my favorite outfit – áo dài and nón lá
I am especially passionate about áo dài and nón lá (conical leaf hat). I feel the best of myself in them. While áo dài keeps me gentle and calm, nón lá is a shady hat which prevents me from the sun and which makes me look good when being paired with áo dài. With such convincing reasons, I rarely miss a chance to wear them when I guide travelers around my city. Additionally, when dressing in áo dài and nón lá, I find myself get closer to my ancestors and our tradition. It is also a lovely way to show my guests that I appreciate my heritage and to introduce a touch of old Huế to them.
These six things about my job that keeps me going might be a meeting of minds with other tour guides in Huế so I would like to write them down with the hope that when other tour guides or myself feel down or no longer wish to pursue this career, especially during this difficult time of Covid-19 pandemic, we can look back at these reasons and find our way home to it.