When I started to work with Dr. Thái Kim Lan and the rest of the team on establishing Hương River Antique Pottery Museum (Bảo tàng Gốm Cổ Sông Hương) at 120 Nguyễn Phúc Nguyên (Huế, Việt Nam) in 2021, I had thought I that I involved in this project because of my mentor Hồ Tấn Phan's dream. Little did I know that I finally did it for my own good. This project gives me an opportunity to work side by side with experts in archaeology, museum, history, culture, etc. so that I could accumulate so much knowledge about antique potteries, gain new insights into Vietnamese culture and rediscover myself.
These are the six things I love about this museum.
Where I overcome loss and grief, and rediscover myself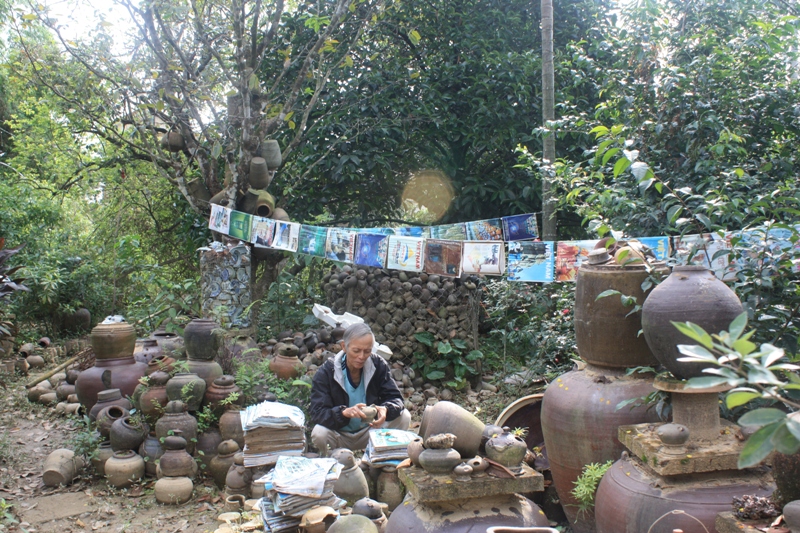 In 2008, I sat interviewing an elderly gentleman about his love for antique potteries in his house which was filled with about 10,000 pottery artifacts recovered Hương River and some other rivers in Huế. He was Hồ Tấn Phan – an independent cultural researcher and antique collector. He had a strong passion for Huế, for the Hương River, and especially the potteries found in the river. I was overwhelmed by his love and dedication for them but it was weird that all I gave those artifacts, broken or intact, in his house and garden was curiosity at that time. Even when we became friends (he called me his "bạn vong niên" [a friend regardless of her age]), the antique potteries he cherished were still my close strangers. I could not recall how many times we sat among the antique artifacts and talked about the culture and history of Huế, sometimes I even confided in him about the guys that I fell for but I rarely asked him in detail about the antique potteries which patiently waited for my full attention.
While I was busy with my PR work and adventures here and there in South East Asia, he got seriously ill and suddenly passed away on Valentine's Day in 2016. I was shocked and heartbroken. I had thought he would wait for me to put aside all of my not-so-important projects to come sit next to him in his garden and ask all of the questions about the artifacts which were dear to his heart. And perhaps I could have contributed to building his dream museum that he mentioned here and there in our talks.
I thought Ôn Phan's dream about such a museum had been extinguished until I met Dr. Thái Kim Lan and she told me about her plan to establish a museum to share her private antique pottery collection with the public. I considered this a great chance to learn about antique potteries and make my mentor's wish come true. I reached out to Dr. Nguyễn Anh Thư, another "bạn vong niên" of Ôn Phan, for support. Ms. Thư, who has her doctorate degree in archaeology and is an expert on antique potteries and museums, went beyond my expectation when she eagerly volunteered to travel back and forth Hà Nội and Huế to give her expertise in the artifacts, paperwork for establishing the museum, and curation. I kept all eyes and ears wide open to learn from her and asked her thousands of questions about the artifacts whenever I had a chance. I still do that today.
"I guess I hesitated to learn about the antique potteries from Ôn Phan so after he passed away, he sent you here to teach me, chị Thư," I talked to her with a thankful smile one day when she walked me through the collection and explained about the antique potteries in the museum.
To my surprise, the more I learn about antique potteries, the more I am in love with them. I'm now rummaging through the pages of the pottery books that chị Thư brought me to find the answers for my questions a part from talking to her about them on Zalo from time to time.
2. My mentor's collection integrated in the museum's collection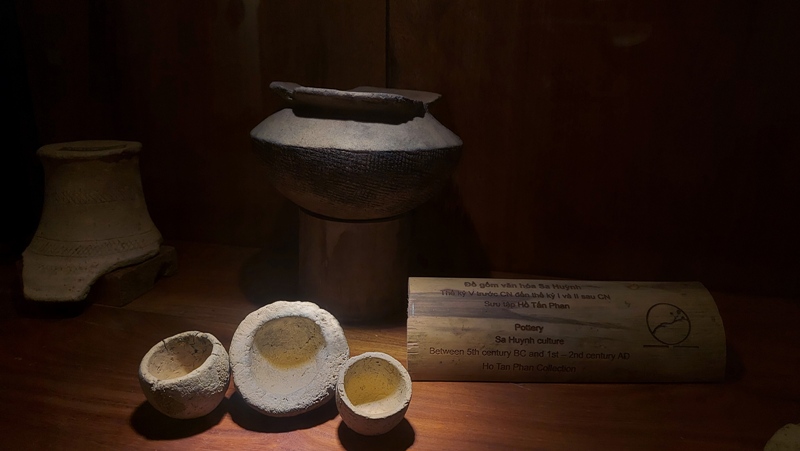 Beside the private antique pottery collection accumulated by Dr. Thái Kim Lan and her deceased brother Thái Bá, the Hương River Antique Pottery Museum also includes a part of my mentor's collection. I feel happy as many artifacts favored by my mentor are now in good hands and that they add more value to Dr. Thái Kim Lan's museum. Although Ôn Phan could not build the museum of his own, I believe he is now content that his friends have done it and that Huế still has those artifacts for its people.
3. This mammoth collection of potteries recovered from the rivers in Huế

The Hương River Antique Pottery Museum features a mammoth collection of antique potteries found mainly in the rivers in Thừa Thiên Huế Province such as Hương, Bồ, Ô Lâu, etc. A large part of more than 3,000 antique potteries were recovered from Hương River. The rivers are, indeed, great keepers. A dozen of them are dated to 2,500 years ago but amazingly stay almost undamaged and just a little bit worn-out. Some of them still have dried weeds or clam shells attached to them, which reinforces the fact that they used to be settled in the rivers for a long time before being recovered and present in this museum. These humble items have a charm which is irresistible to me now.
4. Where I perform a duet with the antique potteries
My life is all about Huế and Hương River. Working at Hương River Antique Pottery Museum is a good excuse for me to keep singing my love songs for them. This time I do not have to do it alone but I have the antique potteries to perform a duet with. Like me, each of these artifacts is an ambassador of Hương River and of Huế. Each of them has a good story to tell about this land and the rivers. While I'm learning about them, I've discovered that they are no longer my new-found passion but my "bạn vọng niên". They are my ancient and wise friends from the rivers.
5. The museum located in a beautiful heritage garden by Hương River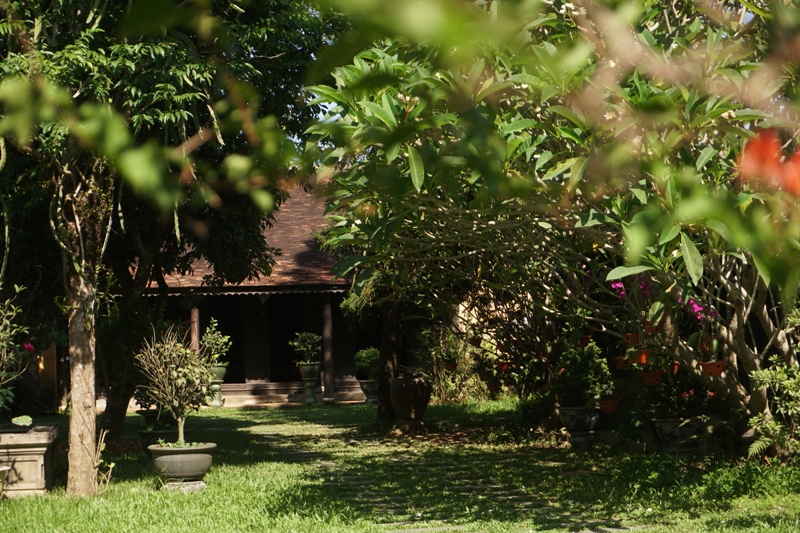 Hương River Antique Pottery Museum sits near Thiên Mụ Pagoda on Hà Khê Hill and right on the bank of Hương River itself. The antique potteries which were recovered from this river, would never feel that they were driven far away from the haven where they used to call home. The museum is actually a part of beautiful garden called Lan Viên Cố Tích which also houses Dr. Thái Kim Lan's ancestral temple and residence. While the ancestral temple shelters the altars and glorious memories of the Thái clan whose many members worked for the kings of Nguyễn Dynasty, Dr. Thái Kim Lan's home nearby is a luxurious space furnished with antique carved and inlaid woodwork, tailor-made porcelains, or painted glass lanterns which used to be owned by the royal families. These two dedicate pieces of architecture are nhà rường (wood-frame houses) of more than 100 years old. The hard-wood pillars, the mossy roofs, the huge stoneware jars and old trees together with green grass make this place a serene hideaway on the northern bank of Hương River.
6. A beautiful example of up-cycling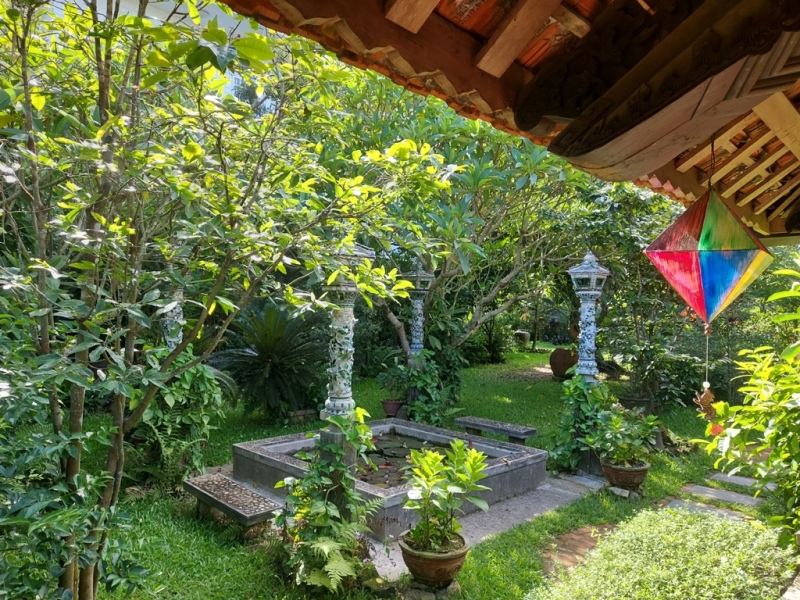 The Hương River Antique Pottery Museum is also an environment-friendly place where discarded items are upgraded to artworks. Broken pieces of ceramics or porcelains with no value are not wasted but up-cycled into four mosaic-and-high-relief pillars. These artistic pillars, standing in the beautiful tropical garden of Lan Viên Cố Tích, walk people back to the golden era of the mosaic cum high relief art during Emperor Khải Định's reign (1916-1925). Besides, a cracked branch of the longan tree in the garden is endeared by the owner and turned into an artwork called "descending dragon" while leftover woods from artist Thái Bá's workshop are transformed into chic and comfortable benches. Dr. Thái Kim Lan sees value in everything in her garden.