Especially for Đ.T.,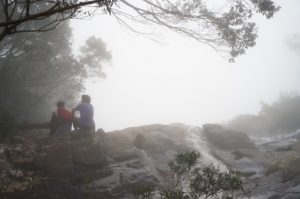 Hiding his fine old green in the white cover of cloud all year round, Mount Bạch Mã (White Horse) still secretly shows off his impressive and mysterious figure. In order to discover him, there is nothing you can do but experience a long trip to the top of the 1,450-meter high mountain.
Until now, Bạch Mã remains a pristine forest. Located 40 km from Huế City to the South, Bạch Mã is an ideal summer retreat. Nowhere else is more suitable to leave the bustling and busy life in the city behind than to escape to Mount Bạch Mã. Pure and cool air never refuses to refresh your mind and give you more energy.
Along the narrow lanes covered with dry leaves, pine trees line the road near and far. Numerous vines are coiling the pine trees together as if they are doing match-making. With the help of the breeze, colorful wild flowers are playing hide-and-seek with various butterflies among the leaves or behind the trees.
Nestled on sloping hillsides among thousands of pine trees, the old villas were built during French colonial time and still more or less reflect their golden era. Nowadays, these villas are renovated to serve tourists as more people choose Bạch Mã as their summer getaway.
Luxury life or noisy entertainment should not be expected here. Nevertheless, it does not mean this destination is no fun. In a group, you can go trekking to the waterfalls that appear a breath-taking masterpiece of nature.
If you visit Bạch Mã on the right time, you will have a chance to admire the beauty of đỗ quyên flowers growing by a gorgeous waterfall which is named after these flowers.
Standing at the top of the waterfall Đỗ Quyên, you can enjoy the crystal clear stream and the open blue sky above it. However, not many people come here and go back without wishing to contemplate the full view of the impressive falling stream of water as well as the iconic flower – đỗ quyên. Walking down 689 steps leading to the foot of Đỗ Quyên waterfall, you find yourself on an adventurous trek.
After discovering the waterfalls, if you still feel ambitious enough to tame the wild white horse, put on your trainers again and start another journey to the top of Mount Bạch Mã. Welcoming you to a paradise of clouds, wind and sunshine; birds are singing and leaves together with flowers are greeting you merrily. Walking on a leaf-canopied lane leading to the top, you cannot help but think that you are on the way to heaven.
What a paradise! The sky seems to get nearer and makes a huge roof above as you stand on the top of White Horse. From Vọng Hải Đài (Sea Watch Tower), overlooking the East Sea, you will behold fine golden sand stretching to huge blue waters sparkling in the sun.
If your eyes get tired of trying to look so far away, turn round and you will face the stunning greenness of the mountains below. Thousands of trees sway in the wind, revealing different tones of their greenness.
The wind is humming a melody about love and nature's glory as it lifts the wings of your soul to soar up high in the sky and to be free. Wind is abundant on this top as if this is its reunion spot after a long and tiring trip. On fine and sunny days, wind loves chasing the sunbeams until the dusk arrives with its mystery and darkness.
Being surrounded by clouds is no longer a "dream-never-comes-true" once you are on Mount Bạch Mã. Walking in the clouds, everything is looming in the distance. Bạch Mã, for a moment, turns into a chilly and deserted world.
The air gets colder at nightfall. You should not expect discothèques or bars here. Besides, Power is often off around 10 pm. However, it does not prevent young people from starting a campfire and having fun. The singing as well as the light from the fire seems to hold back the cold and darkness.
Mount Bạch Mã is not simply a tourism attraction; it's where you can do meditation and find peace for your mind and soul.
Huế, Sunday, 27 April 2008