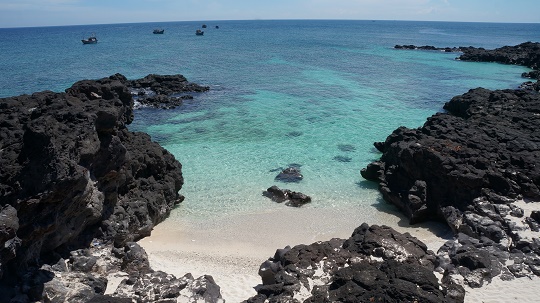 I was lying down on the top of a black rock which was believed to be formed by a volcano perched high from the calm sea one breezy morning. No one to be seen around there so I had the sky, the rocky platform, the sea for myself. I tried to think a thousand things about how I wanted my life to be but that used-to-be hectically-working mind just silently shut up and went blank. "Oh well," I said to myself, "if so, I just enjoy this moment and worry about nothing else…" I snoozed a while, finding myself afloat in a tranquil dream until the sunlight spilled lavishly on over me and started to warm the rock where I rested. Afar, some fishing boats were swaying gently on the calm waves reminded that this was no heaven but a tiny islet offshore of Quảng Ngãi Province. It is called Đảo Bé (Tiny Islet) or An Bình (Peace) and is a sister islet of Lý Sơn Island.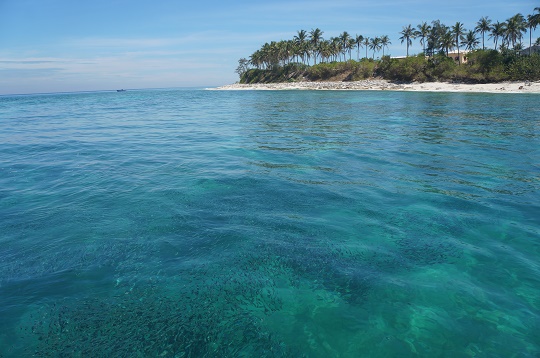 The islet is so narrow that I could walk from this side of the islet to the other only in 5 or 10 minutes. There are a dozen of family living on this dry piece of sand surrounded by blue sea. Fresh water here is very valuable as the islander have to buy it from the bigger island called Lý Sơn. One of the best treats for me while staying on this islet was a bucket of fresh water that Mrs. Đảnh, my lovely and kind hostess gave me for a shower. I met her husband, who was a local policeman, on the wooden boat from Lý Sơn to Đảo Bé. When I asked if I could homestayed at his house, he agreed so I followed him to his seafront house which faced the wharf where the boat dropped me off. They hadn't got extra room for guests so that night, her husband slept in the living room and I shared their only bed room with Mrs. Đảnh. I still laugh to tears whenever I recall how funnily friendly they were.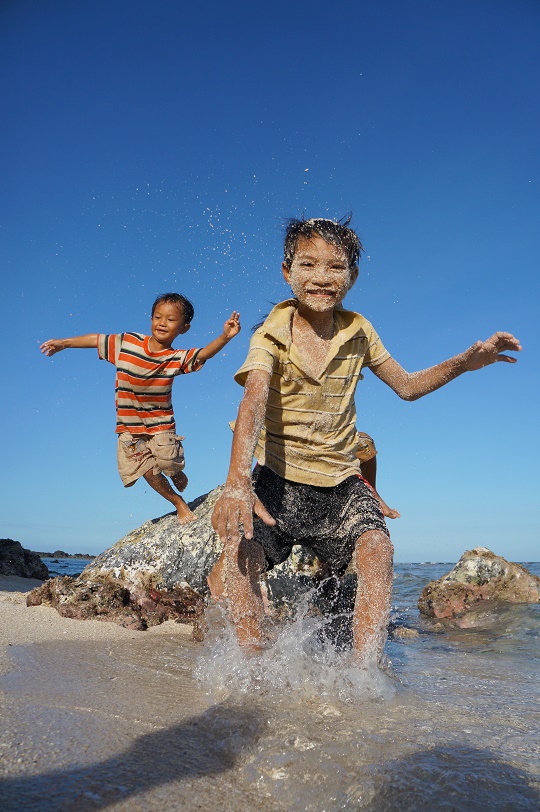 The islet stunned me with their pristine beach and crystal clear water but I got bored so soon that I decided to rummage every corner of it. I went to one end of it when I saw a couple kids trying to open the coconut with …. stones. I came to see what they were up to and we quickly made friends. I was lying down on my thin blanket that I spreaded under the vault of a big rock while watching them digging the holes on the beach to prison the little fishes that they caught by hand or collecting the urchins that drifted to the shore.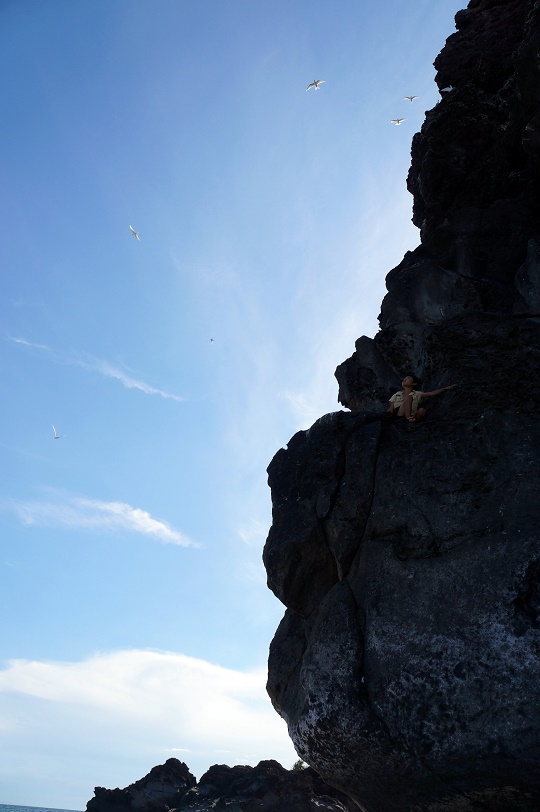 Noticing that the sunlight was fading, I said goodbye to my little friends and rushed to the West of the islet to see the sun off on the sea. I missed the setting sun but was awed by the flooded and indented rocky shore below the dramatic sky condensed with clouds. I was not the only one there. A handful of local peoples were bending while wading in the shallow water collecting shellfish. When a young girl showed me a starfish she found, I happened to spot the little holes on her fingers which told so much about her life on this so narrow islet. Later that evening, I was treated leaf soup cooked with the same kind of shellfish I saw earlier for dinner. The flavor of the soup was quite familiar to the one that I often had back home but the texture of the shellfish was a little bit different, tougher perhaps.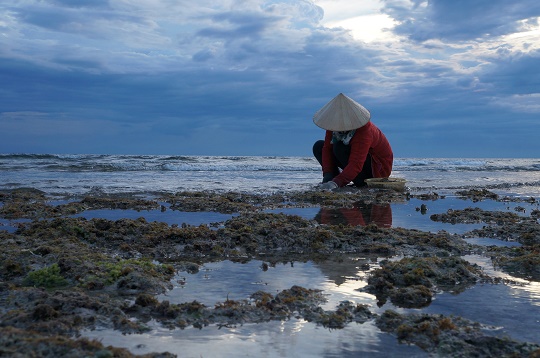 On this lean patch of sand rising for the sea, electricity was such a luxury. Dim light got from the noisy generator seemed like the only signal of human being's existence on this islet by night. I was at the top of my boredom when I heard some thunderous noise from afar. As I was searching for the direction where the noise from, I beheld long bolts of lightning tearing the thick darkness. I remembered watching lightnings on Hương River, on the rice fields or in the city a lot of time but none of them could be so powerful as the one I saw on Bình An Islet that night. Their light reflecting on the pitch dark sea together with the deafening thunder seemed to try to scare me or show me their boundless mighty. Either way, I had to admit their victory. I'm just a weak and tiny human being, any way.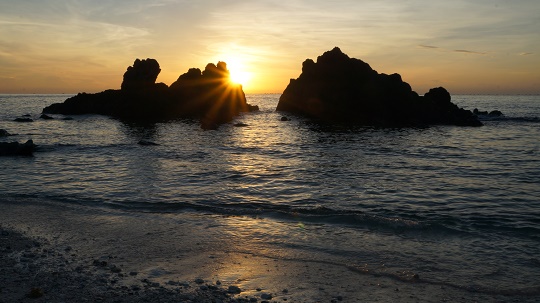 The next day when everything remained quiet, I walked back to the shore where I met my little islander friends to see the sun rising up from calm waves. I was on my own and I felt like a Little Prince on a Lonely Planet. The only difference was I appreciated the solitude and everything else around me. It was the first time I was contented with myself for unexpectedly deciding to abandon my hotel room on Lý Sơn Island and spending a night on this down-to-earth beautiful islet instead of a day trip there as my initial plan.