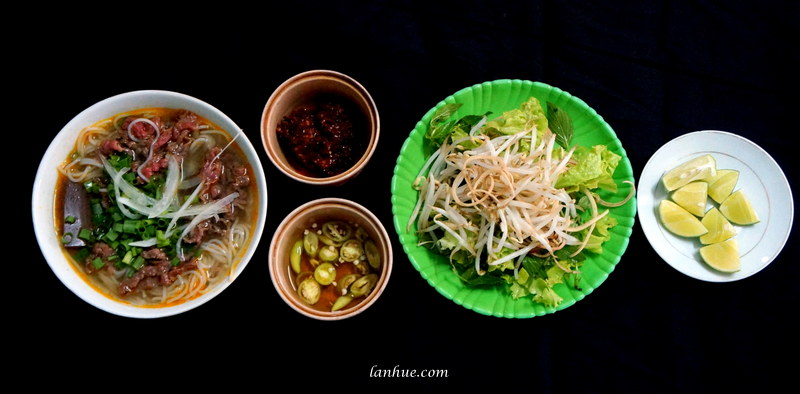 While I was studying in Bandung, a city famous for its unique cuisine on Java Island (Indonesia), I had thought that my gastronomical urges would be satisfied by the abundance of local delicacies. Besides, there was a Vietnamese restaurant called Hanoi House to satisfy my craving for Vietnamese food. However, I still felt like something was missing. I then started to realize how many nights I dreamt of going home just to have a meal prepared by my mother or enjoy different kinds of familiar street foods with my friends. What I missed most was the special taste of Huế food.
The first and foremost signature of Huế food is its delicacy in preparation and serving. I once had an interesting talk with painter Bội Trân, who can cook more than 100 different dishes, about cuisine in one of her nhà rường (a kind of traditional local house) in a verdant garden nestled among the pine trees on Thiên An Hill. Born into a royal family, she was taught how to cook by her clever aunts whom she admired a great deal when she was a young girl. And it was when I first heard of her golden rules to prepare a good meal. They are: choosing fresh and healthy ingredients, skilful preparation of ingredients in advance to expedite the cooking process, and not adding too much spice so that you can still enjoy the original taste of the meat, fish or vegetables. However, the most important rule, she emphasized, was cooking with love.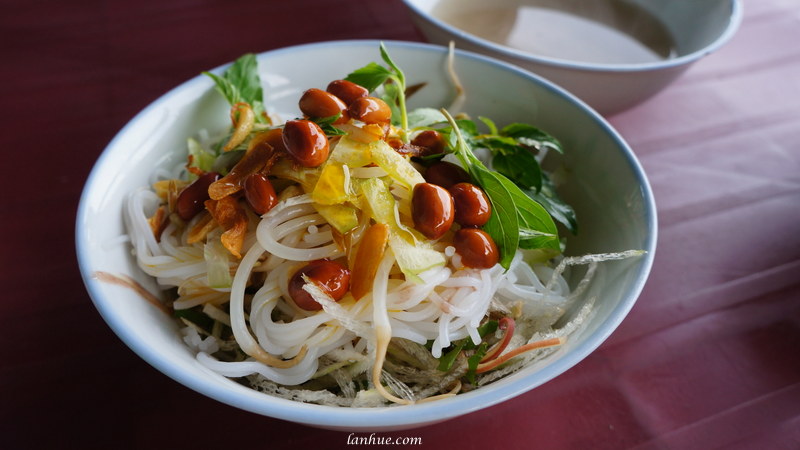 Traditional Huế women who were born in royal or well-educated family were brought up to become clever "home building" wives. It is very important that they can cook well and take good care of the family. They do not only master in cooking simple routine meals but also anniversary, festive or even wedding feasts. They can whip up various exquisite dishes with the simplest of ingredients which can tempt the most hard-to-please kings of Nguyễn Dynasty. In fact, Huế, the former capital of Việt Nam, is also well-known for its royal cuisine. It was rumored that Emperor Nguyễn Phúc Ưng Kỷ (aka Đồng Khánh) had a meal consisted of 50 separate dishes prepared by 50 different royal chefs.
People say Huế people don't simply eat food but enjoy it as an art of cuisine. Their portions are usually small and delicate. Whenever I sit in front of a bamboo tray full of tiny and shallow bowls (about 3 centimeters in diameter) of bánh bèo, a kind of steamed rice paste with shrimp and pork crackers, I recall a funny story about a lad from another part of the country, who went home with a half-full stomach after having the first meal with the family of the Huế girl he loved. Huế people use very small bowls and dishes to serve food and the poor guy was too shy to ask his prospective mother-in-law for extra servings of rice.
In addition to refined cooking, Huế people place much emphasis on the yin-yang balance in the food. With the yin food, they will add some yang spices or herbs so that the food has a certain balance and vice versa. For instance, boiled duck meat is yin so it normally goes with ginger fish sauce which contains yang energy while boiled pork (yang) is served with sour pickled vegetables and mắm tôm (fermented shrimp paste). They are also aware of the balance of the food and human body. According to this theory, people whose bodies contain too much yang should eat more yin food and so on. Therefore, when I was prescribed as having a yang body, my mother added more salads, fruit and cool foods to my diet. And of course, the balance between food and weather can hardly be ignored. In summertime, Huế people tend to have more vegetables, fruit and cool foods in their menu; they especially love raw vegetables. An outsider will refer to "plates" as "baskets" to illustrate the huge servings of vegetables consumed in a typical meal in Hue.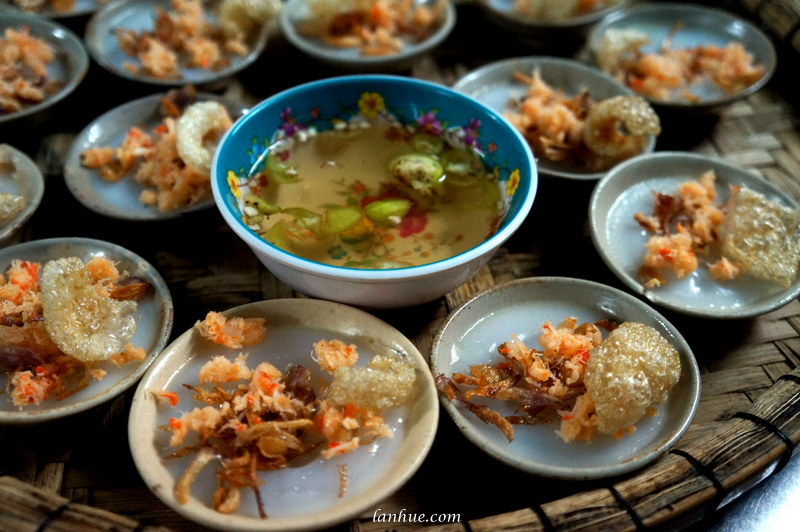 Besides, creativity and cleverness of Huế women in cooking are highlighted when you look at the countless snacks or "món ăn chơi" (leisure dishes, food served as a snack) they have. Among them, bánh, chè and mứt are the most popular. Bánh is not a dish but a common name for dishes made of rice or tapioca paste such as bánh nậm, bánh bèo, bánh ram ít, bánh ít gai, bánh lọc, etc. Bánh to Huế people is the equivalent of tea and cookies to Westerners. Sometimes you don't need to go to a food stall to buy your snack as one or two bánh sellers will shuttle back and forth in front of your house with two baskets of bánh around 3 or 4 pm. When I was a little girl, I always sat in the corridor around mid afternoon to wait for the echoing call "Ai…i bèo, nậm, lọc khô…ôn?" (Who'd like some bèo, nậm, or lọc?) from my favorite bánh seller.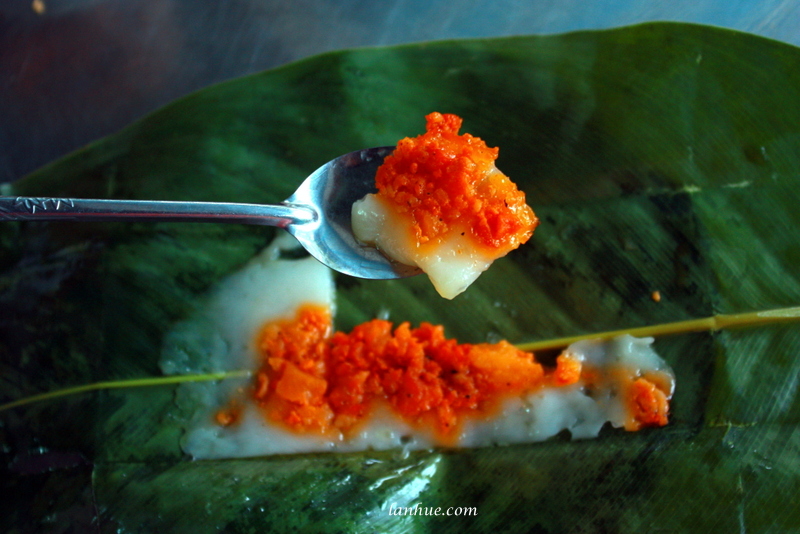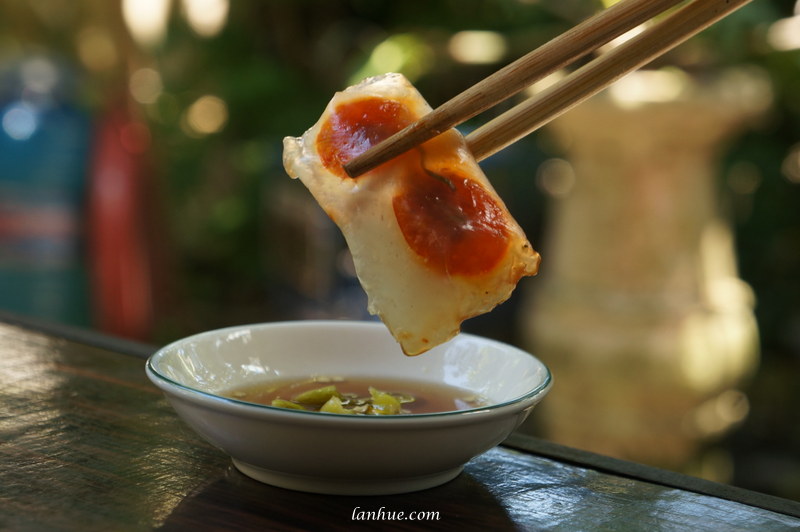 Together with bánh, chè (sweet soup served as a dessert or a snack) is also a favorite of Huế people. Chè also has many variations and most of them are made from beans or peas. I have had about 20 different kinds of chè but I believe there are many more I haven't tried yet. Although there is warm chè for wintertime, chè with crushed ice is simply irresistible especially in the scorching weather of the dry season in Huế. One of the weirdest yet the most delicious chè that Huế people have created is bột lọc bọc thịt quay, made of grilled pork wrapped in tapioca paste and cooked with sugar stock.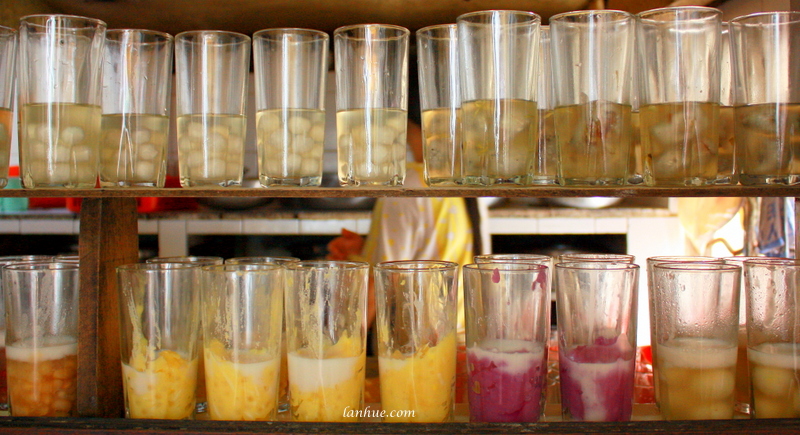 To add to the long list of their snacks, there is mứt usually found during Tết, the Vietnamese Lunar New Year. Mứt is made of sugar-coated fruits, grains, roots or vegetables such as tamarinds, kumquats, white beans, lotus seeds, ginger, carrots, potatoes, etc. Only a fragrant and spicy bite of mứt ginger evokes the nostalgia of Tết in me.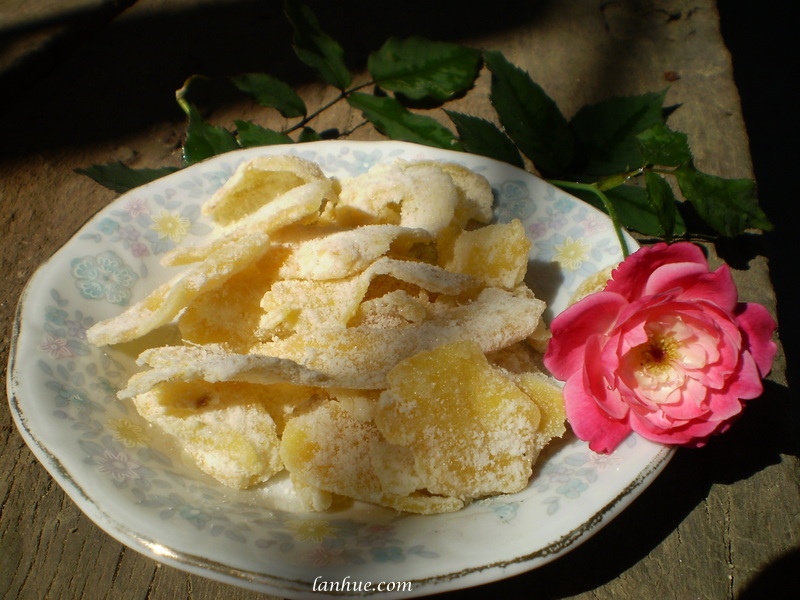 Ironically, although Huế locals are considered connoisseurs, they carry a nickname with rustic overtones — "dân mắm ruốc" (people of fermented fish paste) — as most in Huế are addicted to smelly mắm ruốc. Not many other places in Việt Nam have as many types of mắm as Huế does. It is a Huế specialty but it may not seem appealing to other people, especially foreigners, at the first few tries. Therefore, I was surprised when the internationally-trained chef La Thừa Ân, whose family comes from Huế, once told me of his plans to discover the methods of making mắm. It was interesting to know he is curious about mắm but I doubt he will add it to the refined Vietnamese food menus he writes for Le Parfum Restaurant. The stinky smell of mắm will drive international guests away before they ever have a chance to taste it.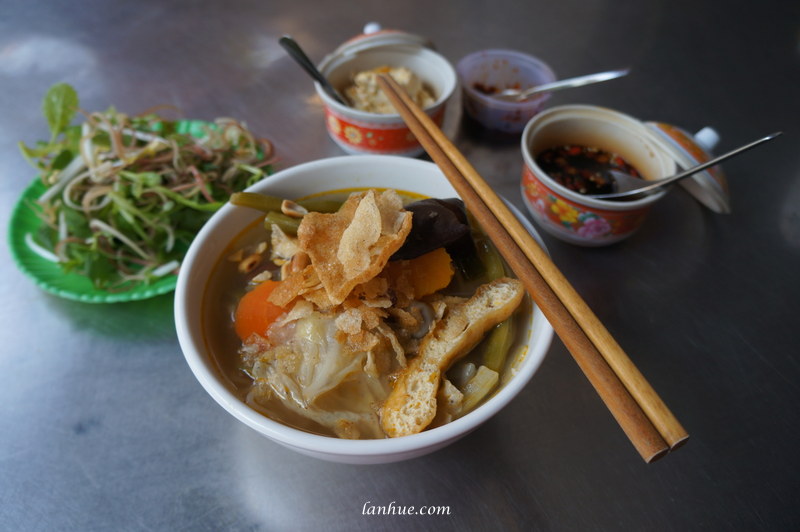 Huế is also a watering hole for vegetarians. Known as Việt Nam's kingdom of Buddhism, this former capital has hundreds of vegetarian dishes. Vegetarian foods are not only favored by the Buddhist monks and practitioners but also many other local people who either know the importance of vegetarian food to their health or just simply take vegetarian food as an alternative to conventional fare. Therefore, there are many vegetarian restaurants in Huế and it is definitely not difficult to find a place to dine if you're a vegetarian. Among many vegetarian restaurants, there are Liên Hoa, Thiền Tâm, Bồ Đề, etc. Moreover, many good vegetarian restaurants line quiet Hàn Thuyên Street in Huế Citadel, which has been aptly nicknamed "vegetarian restaurant road."
Not only is cooking an art but it also reflects the culture and character of the people who create it, and the land where it exists. And Huế people's beautiful characteristics are vividly seen through the lens of their refined and unique cuisine.
* This story was published in The Guide Magazine (March 2012 Issue).