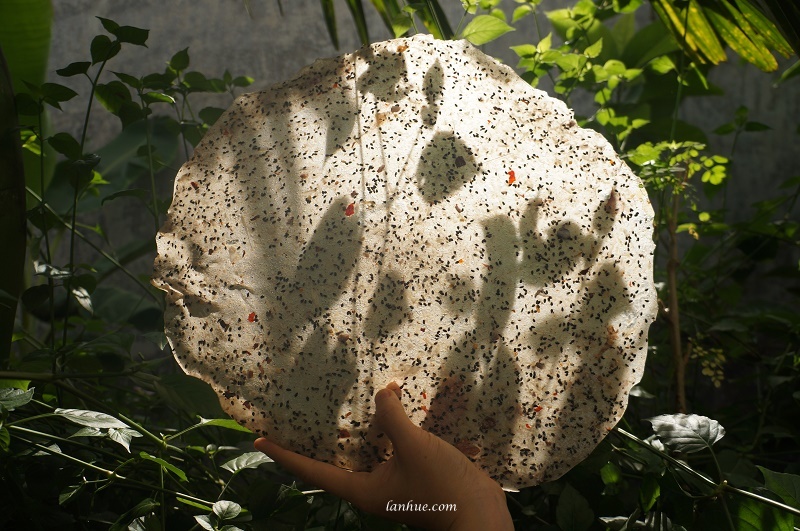 Mệ Cuộc is an old lady with a gentle smile, fair complexion and her white hair was braided nicely into a bun. She had a small shop which sold everything, from cigarette to bánh mì, candy, spices, rubber bands, toys, etc. I was around three years old when I got to know her. My mother stopped at her shop almost everyday to get me some snack on the way to my kindergarten.
Among many kids' attractive items in her shop, I preferred the bánh tráng (*) she baked on hot charcoal every morning. She would use a paper fan to keep the charcoal burning hot all the time with one hand and turn the bánh tráng over and over again on the heat with the other. I liked the crispiness of baked bánh tráng then and I still love it now but for some reasons I always ordered a piece of dried bánh tráng that she had not yet baked when we were in her shop. The unbaked bánh tráng was very hard to chew (sometimes it even hurt my tongue with its sharp edges) but once the saliva broke down its starch, it tasted sweet and became very addictive. My jaws got tired and even numb after I finished a whole of unbaked bánh tráng.
"Then why was I so addicted to unbaked bánh tráng, ma?" I asked my mother one day.
"You liked the unbaked as it took you longer to finish it… And so you could save it to share with your friends at the kindergarten. Mệ Cuộc always reminded me of your weird favorite whenever we talked about you," explained my mother, with a smile.
My mother and I no longer see Mệ Cuộc. I've recently seen Dì Toàn, her daughter, again when she rode past our house. She told me that Mệ Cuộc passed away last year at the age of 96. I vividly pictured Mệ Cuộc's smile in my mind, it was warm and gentle. Like bánh tráng, she was a beautiful part of my childhood.
When talking about my favorite thing from her mother's shop and later hers, Dì Toàn recalled that I loved unbaked bánh tráng and added that I preferred the sweet one. I still have the habit of breaking a small piece from the whole unbaked bánh tráng to nibble and still find its taste as good as it was once upon a time.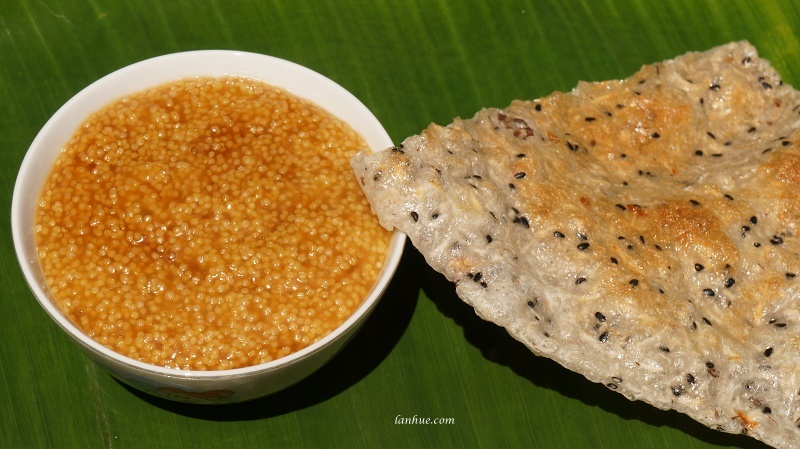 (*)Bánh tráng is a kind of cracker which is often made of rice and sesame seeds. Sometimes, coconut floss, red onion and spices are added in it as well. It was steamed and sun-dried before being baked.