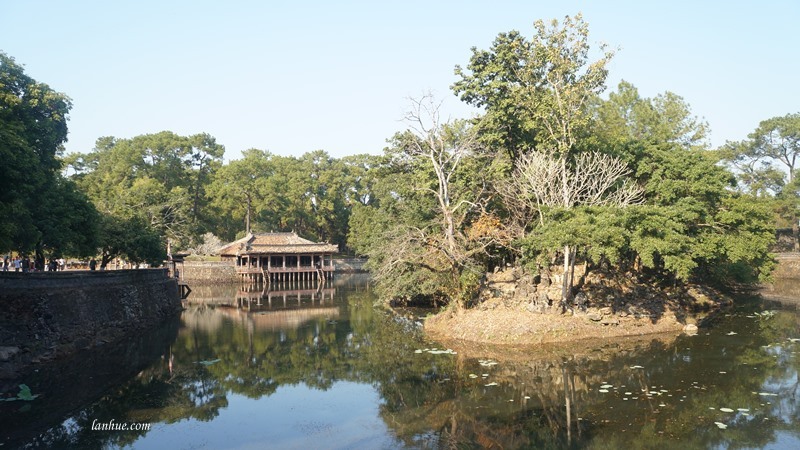 She is sitting at the top of a staircase looking towards the two rows of statues at the sân chầu(*) of Emperor Tự Đức's Tomb. She does not notice anyone coming and going in the sân chầu. Her heart and eyes are with the blue sky, the sun shining on the floor, the leafless frangipani trees, and the statues of the mandarins, the elephants and the horses. She is listening to the music from the small Ipod in her hand, her face looks calm and gentle.
Frangipani trees are all defoliated, only their lonely branches are trying to reach out for the sunshine and helplessly covering the clear sky from her. The joyous sunshine is dancing with the wind in the air and from time to time a drop of sun would try to tickle the gray and boring statues and somehow she feels the lifeless mandarin statues smiling mysteriously.
Behind her, the mossy stele pavilion, on which a writing of Emperor Tự Đức was carved, looks more magnificent than ever before. After a lengthy cold and rainy month, it is now happy to sunbathe in such a nice sunny day. Emperor Tự Đức named his tomb Khiêm Lăng (Modest Tomb) but there are 50 architectures in this complex including palaces, tombs, pavilions, lakes, and a theatre, etc.
She once joked that "It [Tự Đức Tomb] is a nice place to die" but at this moment while sitting in the atmosphere of the past and the now, she does not feel like thinking about death but living at this very present. She is aware of the loneliness she bears inside her heavy heart and she is managing to cheer it up with sunlight and music. Instead of sighing as usual, she is inhaling the warm and fresh air, and exhaling the sorrow. She is doing it softly and effortlessly. And when all the suffering inside her is out, a smile on her face remains.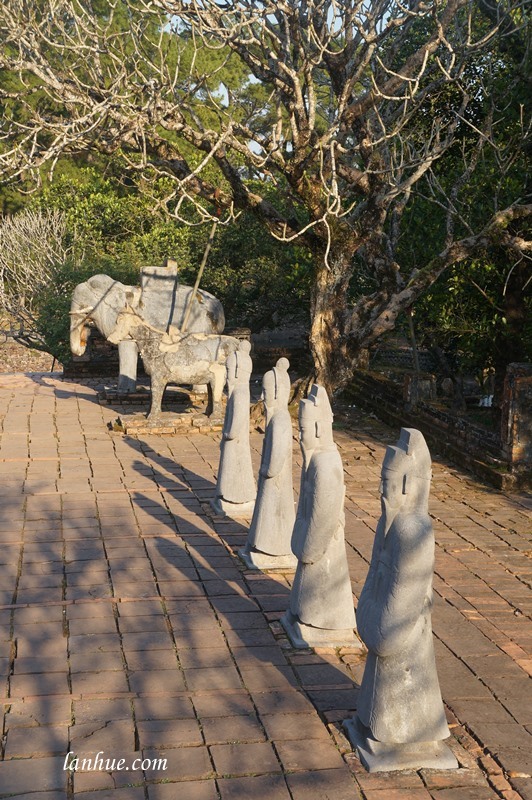 (*)Sân chầu: A courtyard where the mandarins stood attending the king's audience.