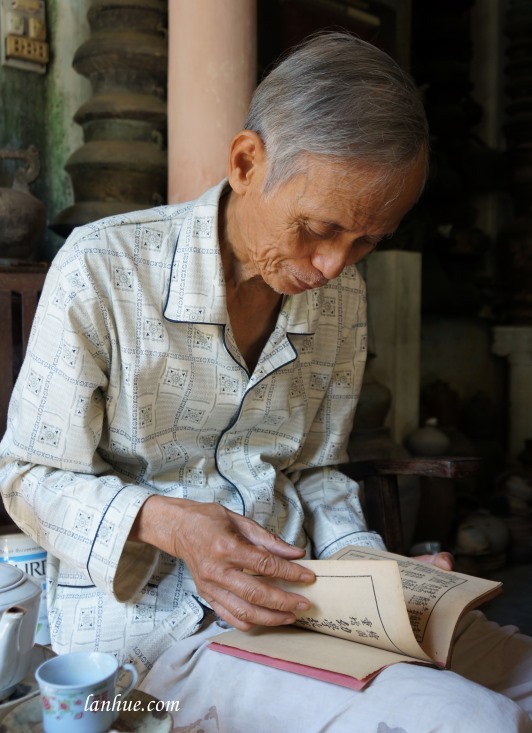 Born into a family in which his grandfather was a mandarin under the Nguyễn Dynasty while his father fought against French colonialism and Vietnamese monarchism during the 30s, Hồ Tấn Phan grew up to become a teacher, and since his teaching days he was known as a dedicated antique collector and amateur historian.
This primary teacher loves reading, and in fact, he reads a lot, and he self studies as well. As an apple to his grandfather's eyes, he was taught ancient Chinese characters from the strict but kind-hearted mandarin grandfather. Reading and studying become his habits and hobbies. In his 70s, teacher Phan is still a keen learner. He is learning English so that he can communicate fluently with foreign guests who visit him and are interested in antiquities. Therefore, it's not a magic that makes a primary teacher a historian, it's the love for reading and searching.
Teacher Phan is living with his wife, son and daughter-in-law in Phú Hậu district, Huế. Starting his collection more than 30 years ago, this Huế native historian is well-known for his huge collection of books and antiques, of which there is an inter-determinate number.
"I don't have enough time and labour to inventory my collection," he says.
Most of the antiques are made of pottery, bronze, stone and other materials which were dredged from the rivers in Huế, mainly from the Hương River (known to the West as Perfume River). You will be amazed to know that although teacher Phan owns over 10,000 items of pottery such as: eating and drinking utensils, every day items, ritualistic items, etc., he never intends to stop adding more to his collection.
Mr. Phan's collection of pottery can be briefly classified into three periods: pre-history (late 2nd century AD and earlier), Champa Kingdom (from late 2nd century AD to early 14th century AD), and Đại Việt – Việt Nam (from early 14th century AD to early 20th century AD).
"I'm really glad to see such a varied and valuable collection of ancient Champa pottery at teacher Phan's house. It's amazing that many artifacts remain quite intact. He's one of the very few people who collect and preserve the Champa pottery of  its early period. I believe that his collection preserves the secret that needs to be shared, and wows any researchers who are interested in pottery," said Nguyễn Anh Thư, an archaeologist, editor of Archaeology Review.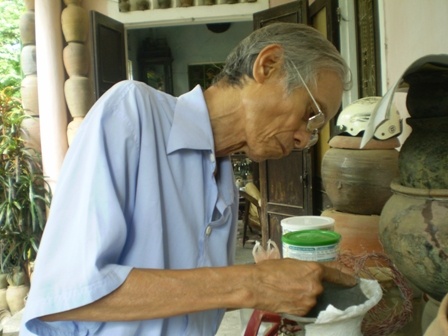 For this dedicated collector, the fact that a huge number of artifacts of more than 2,000 years, were accidentally discovered in the Hương River and others in Huế, is one of the two greatest events of his life after 1975. The other is the fact that the once-covered estuary Thuận An was reopened after the historic flood which caused great loss of human being, crops, properties, etc. in its happenings of a few days in 1999.
More than 30 years ago, some sampan people who lives on fishing, catching clams or snails, dredging sand, etc. happened to find the old pottery items such as lime pots, vases, dishes, jars, etc. on the riverbeds when they were collecting sand for sale. Of course, at that time the sampan people did not know the value of those except the antique collectors. Mr. Phan knew so he bought them while many other people did not.
He believes that that discovering such a huge number of antiques from the rivers is a once-in-a-blue-moon opportunity. The rivers in Thừa Thiên – Huế Province were turned into an "underwater archaeological site" by the sampan people. The source of antiques in the rivers in Hue now are almost exhausted. Mr. Phan said that, basing on his over 30 year experience of buying antiques dredged from the rivers in Huế.
Being a frequent guest of his family, and once a stranger to antiques, I now take more interest in the dusty pots and jars inside the house or outside in his "antique garden".
He never refuses to satisfy any of my questions or those of others about anything from antiques to Vietnamese culture or history. He is like a "walking history book" to many of us – whether we be journalists, students or history lovers. Many people like his profound knowledge in history and culture as well as his friendliness and humour.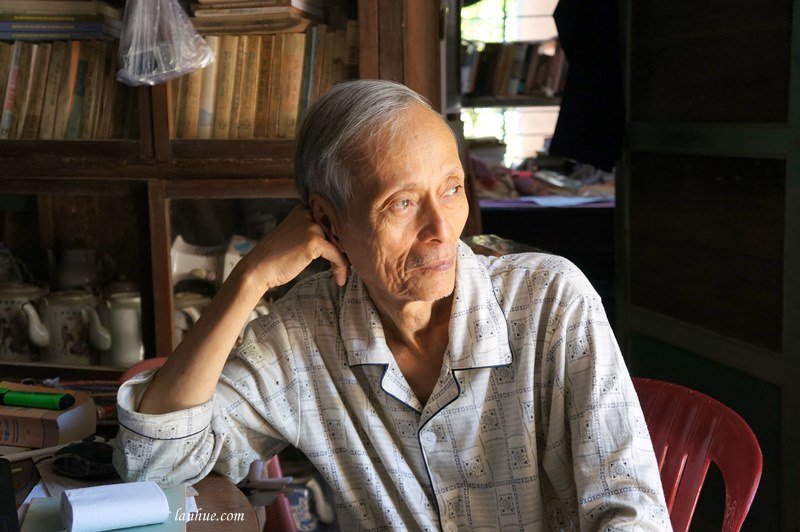 However, only a few know that he's a man of feeling as well.  From time to time, while sipping tea at a round table by the window overlooking his "antique garden", he read me some lines of his favorite poems about the Hương River. The poems were written by famous poets such as Nguyễn Du, Cao Bá Quát, and the kings of Nguyễn Dynasty. I still remember his face looked deeply thoughtful, but also relaxed and pleasant.
His admiration for the Hương River makes me think the river herself is like a lover that he devotes his whole life to. He manages to collect as many pieces of antiques from the Hương River as possible, and shelter them here in his own home. With his little monthly pension, he spends it all on antiques.
Sometimes, in urgent cases, he even took out a high-interest loan to buy the items that he thinks are indispensable to his collection. He explains that he knew from his own experience if he had not been fast enough, the items would have been sold out, and it would be hard to get them back.
Each item or piece of antiques is a message that Hương River has kept for anyone who cares to try and interpret.  The messages are about the life and customs of the people living in this territory and beyond more than 1,000 years ago.

For decades, many artifacts collected from the Hương River have been under Mr. Phan's loving care. His house is overwhelmed with the artifacts and so is his big and shady garden which turns into an open antique exhibition.  Some are piled up to the ceiling, some crammed in the dark and narrow attic or even in his own bedroom. They can be found anywhere that spares space for them – indoor or outdoor.
"I always long to afford a shelter for my whole collection, and have them arranged systematically for the convenience of my research and others. However, there's a big difference between dreams and reality," sighed Mr. Phan.
He wishes to establish a museum for his giant collection but he could not afford it. His 2,700 m2 wide garden is big enough but to establish a museum he needs a big investment. However, no sponsorship yet.
Some items of his collection are not yet introduced to antique lovers even though they often come and admire the collection at his house. The desire was fulfilled in the middle of June when "The rivers that narrate stories" exhibition took place in Huế during the Huế Traditional Craft Festival 2009.
"The more people can access these artifacts, the more they know the value of Vietnam's history and culture," explained Mr. Phan.
He often jokes that he himself is the servant of Hương River while I think he is the guardian of Huế culture and its old days.
-Huế, October 2009