His grandfather was a mandarin under the Nguyễn Dynasty while his father fought against French colonialism and the Vietnamese monarchy during 1930s.
From primary school teacher to well-known antiques collector and amateur historian, Hồ Tấn Phan has a prestigious family history. He was the apple of his grandfather's eye. Always having adored reading and studying, he was taught the ancient Chinese characters by his strict but kind hearted grandfather. Still an avid learner at the grand age of 72, Hồ Tấn Phan is learning English so that he can communicate more easily with foreign visitors and antique collectors. It is his love for reading and researching that has made him the historian he is today.
Phan lives with his wife, son and daughter-in-law in Phú Hậu District in his native city of Huế. He started his well-known collection of books and antiques over 30 years ago. There is no accurate figure of how big his collection is. "I don't have enough time and manpower to make an inventory of my collection," he muses. Most of the antiques are of stone, ceramic, bronze or other materials dredged up mainly from the Hương River (and other rivers) in Huế. He owns over 10,000 items of pottery from eating and drinking utensils, everyday items to ritualistic items. He never stops adding to his collection. His pottery collection can briefly be classified into three periods: pre-history (late 2nd century AD and earlier), Champa Kingdom (from late 2nd century AD to early 14th century AD), and Đại Việt – Việt Nam (from early 14th century AD to early 20th century AD).
Nguyễn Anh Thư, Archaeologist and Editor of Archaeology Review commented: "I'm really glad to see such a varied and valuable collection of ancient Champa collection at Phan's house. It's amazing that many artifacts remain fairly intact. He's one of the very few people who collect and preserve early Champa pottery. I believe that Phan's collection preserves the secret that needs to be shared and it wows any researcher who is interested in pottery."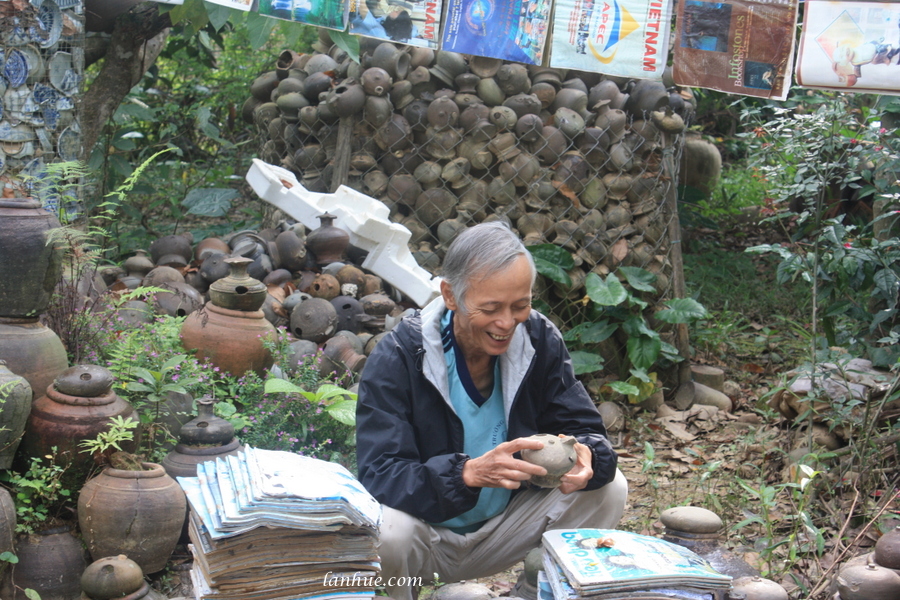 There are two particularly important instances that have influenced Phan's collection since 1975. One is when an enormous amount of artifacts, dating back more than 2,000 years, were discovered by chance in the Hương river and other rivers in Huế. The other was when the once overgrown and hidden Thuận An estuary was opened up after an historic flood that claimed human life and caused the destruction of crops and property in early 1999.
More than 30 years ago, a group of sampan people, whose livelihood is based on clam and snail fishing, were dredging the sand for sale and found pottery remains amongst the debris. The items included lime pots, vases, dishes, jars, etc. The sampan people and others, of course, were unaware of the value and significance of what they had discovered. But Phan knew their worth and history and so bought pieces from them. He believes that the discovery of this huge number of antiques from the river beds is once in a lifetime opportunity. The rivers in Thừa Thiên Huế Province were turned into "underwater archaeological sites" by the sampan people but now these remains are almost exhausted.
Once an antiques novice but now a frequent visitor to Phan's home, I take a keen interest in the dusty pots and jars that fill the house and his "antiques garden". He never tires of answering all of my questions from antiques to Vietnamese culture and history. He is like a walking talking history book. He is a hugely popular person with a great sense of fun and humor and a profound knowledge of all things historical and cultural.
However, only a few people are privileged to glimpse Phan's poetic side. From time to time while we sit at the round table sipping tea by the window overlooking his "antiques garden", deep in thought he will read me some lines of his favorite poems about Hương River. The poems were written by famous poets such as Nguyễn Du, Cao Bá Quát, and the kings of Nguyễn Dynasty.
His admiration for the Hương River makes me imagine the river herself as a lover to whom he has devoted his whole life. He strives to collect as many artifacts as possible from this river. He spends most of his tiny monthly pension on antiques. Sometimes if he lacks the ready cash, he resorts to taking out a loan to buy items he thinks are indispensable to his collection. He explains that if he doesn't hurry and buy them then others will sell them making it harder for him to obtain later. Each antique is like a message from the Hương River that needs careful interpretation. They tell the story of the life and customs of the people, the area and the river of more than 1,000 years ago. For decades now, many artifacts found in the Hương River have been kept under his loving care. His shady garden is turned into an open air antiques exhibition while his house is jam packed with items. Some are piled high from floor to ceiling, others crammed into dark narrow attic and his own bedroom. Every usable space is filled.
"I have always longed to be able to afford to store my collection properly, to classify and categorize the entire collection to make research easier for everyone. However, there's a big difference between dreams and reality," sighed Phan. He dreams of opening a museum for his grand collection but the finances are beyond him. Although his 2,700m2 garden may be large enough, he lacks the necessary funds. Big investment is needed and he's not found any sponsorship yet.
There isn't enough space at his house to put the entire collection on show. However, some of his dreams were realized in June 2009 when his exhibition entitled "The Rivers That Narrate Stories" was held in Huế during the Huế Traditional Craft Festival 2009. "People have a desire and need to learn about history and the past. Certain artifacts are more visible and more comprehensible than old books and documents and tell a clear story. I am lucky to own a number of such antiques and I believe if they are on display more people can have access to them and appreciate the value of history and culture," Phan explained.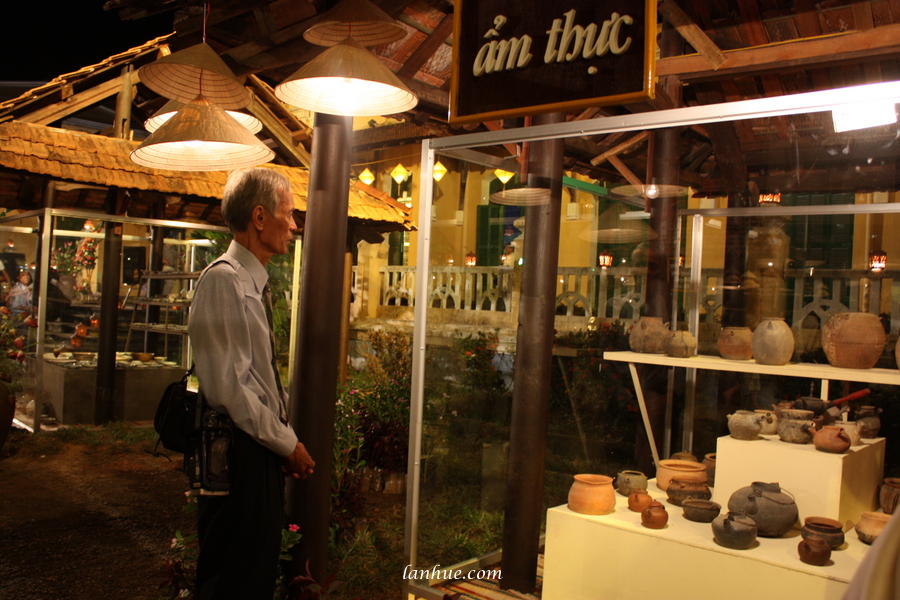 The exhibition, which included artifacts dredged up from the rivers, was of interest to experts and amateurs alike, so Phan did his best to tell the historical and cultural stories in as simple a way as possible. The artifacts were grouped into eight topics such as "The Marks of the River", "Several Thousand Years Of History", "The Champa Era", "Traditional Culture", Glimpses Of Thăng Long, Đông Đô, Hà Nội", "Extending The Day, Shortening The Night", "Culture of Vietnamese Cuisine", and "Old Ways Of Life That Live On Today". Each group was displayed in a small nhà rường which is a traditional wooden house. When I visited Phan a few weeks before the event, he was hectic with the exhibition preparations. For months, he had been sorting through the artifacts, restoring some of them and making sure they were good enough shape to be on display.
From dawn till dusk, he patiently and meticulously worked on the broken antiques in the hope that their first official appearance, his first exhibition, would touch the hearts of anyone who admires and loves the Hương River, as well as Huế. And I believe he truly succeeded.