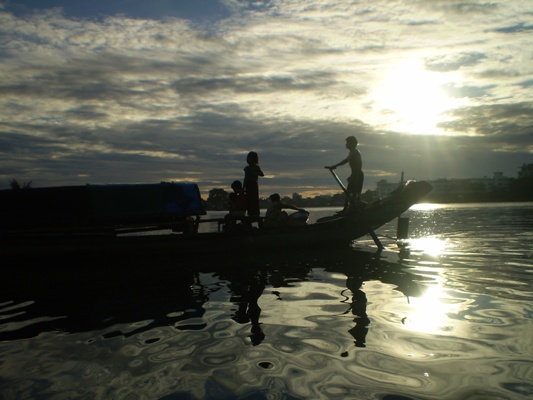 One sunny day, I decide to tour a part of Hương River with my sampan friends on a small boat to have a different look of this fabled river. We are eager to set off before dawn, when the river is still covered with a thin film of cold mist. My friends' neighbors are ready for another hard working day as we sneak out of the sampan village.
Our itinerary begins from Hến Islet to Dã Viên Islet, and back. On the aspect of traditional feng shui, Hến symbolizes Azure Dragon (East) – an imaginary creature while Dã Viên represents a White Tiger (West). These two powerful creatures are believed to guard the emperors' throne.
Hến islet is named after a kind of tiny clam which is quite abundant in the waters around this islet. With Hue local people's culinary talent, a special dish named "cơm hến" made of rice, clam and vegetables become renowned to many people, including gourmets in Việt Nam and far beyond.
When we land at Đông Ba Market, the biggest commercial center of Huế and the neighboring areas, its greengrocer's shops near the wharf have already been crowded with sellers and market-goers. Sellers from smaller markets gather here to buy goods in wholesale every early morning as Đông Ba has a rich source of merchandise. I am lost in piles of fresh, colorful fruit and vegetables, which are newly transported from the farms in the suburbs.
After experiencing the chaos at the marketplace, we row toward Trường Tiền Bridge where some vendors, with a stack of vegetables behind their back, are hurriedly biking or motorcycling across. Designed and constructed by the renowned French Eiffel Construction Company, Trường Tiền is an elegant architecture which links the two sides of Hương River.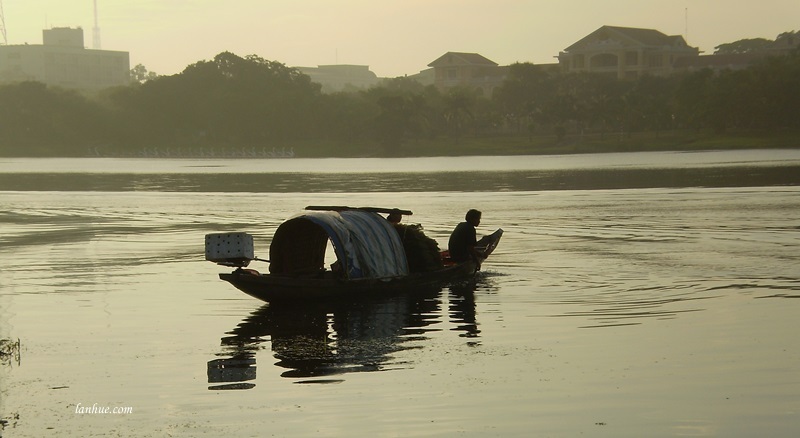 Our fragile boat keeps smoothly surfing on the placid river as the two verdant riverside parks start to be crowded with joggers. I cup fresh water from the river, and splash it on my face to feel the cold penetrating every tiny blood vessel. Now and then, we come across a fisherman squatting on one end of the boat, trying to catch whatever Hương River can offer them. The calm river is now stirred with more boats from the sampan village start to spread everywhere.
We pass by the pavilion of Thương Bạc – a center of foreign relations under Nguyễn Dynasty, and get closer to Phú Xuân Bridge when the sun is rising higher behind me. The long white bridge stands out from the deep blue Hương River and the two green grass riversides. Many Hue residents know this bridge is an ideal spot to greet the dawn breaking over the historic Trường Tiền Bridge, or to admire the twilight dimming behind the mountains upstream.
I signal to my sampan friends to moor at the wharf leading to Nghinh Lương Đình, the pavilion where the emperors used to commence their morning boat trip on the most elegant river of Huế.
Together with Nghinh Lương Đình, the two-story Văn Lâu Pavilion and the flag pole stand in line, facing the shady Lê Duẩn Street and the peaceful Hương River. Right beside Văn Lâu Pavilion, there stands a covered stone stele carved a poem written by Emperor Thiệu Trị. With this descriptive verse, the king sketches a vivid and serene beauty of Hương River before daybreak. Just a minute walk from it, Long Thuyền Temple hides its devastated appearance in the dense canopies of old trees. In the crumbling temple built by the royal boat team, the faintly painted parallel sentences remaining on the pillars still narrate a moonlit night on Hương River to its descendants.
I return the wharf to continue the boat trip to Dã Viên Islet. This fine location is where a unique royal garden was established under the reign of Emperor Tự Đức in 19th century. Unfortunately, there remains very few relics of the garden for keen travelers to explore. The two bridges of Bạch Hổ and Dã Viên are shaped like a pair of iron arms connecting the islet with the two villages on the riversides. While Kim Long Village on the Northern river bank is well-known as a "capital" of garden houses, Phường Đúc on the Southern one is famous for bronze casting.
When we get back to your friends' sampan village, we meet a middle-aged woman, selling grilled meat noodle, paddles her boat towards us with an inviting smile. Nothing is more interesting than enjoying Huế's specialty in the middle of Hương River.
Huế, September 2008