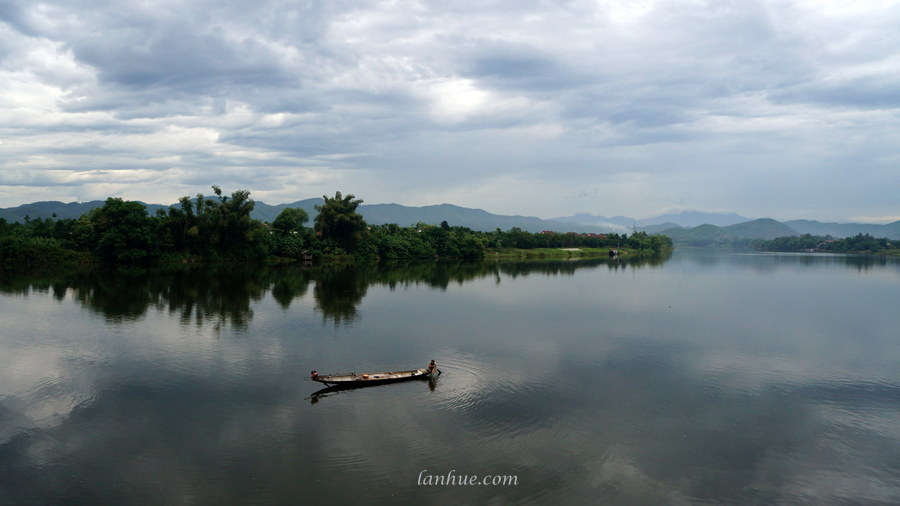 Who do you think you are to your city?
Sometimes I feel like I am a traveler in my own hometown. I just wander around the city as if I am new to it. My feet start to get used the bricks and the dust of the streets and roads of this little heaven of mine yet somehow my heart knows I haven't dived far enough to reach its bottom. I keep going, searching, getting lost in this old and new Huế to find myself falling in love with this charming and peaceful city over and over again.
There are a lot of times when I cross the bridges over Hương River to find out how beautiful the surrounding is no matter how many times I have looked at it. The silence and the calmness of Hương River, its two grassy banks and the mountains on the horizon seems to absorb all the noise from the city. Sometimes in the middle of nowhere, a thin fishing boat appears on the sparkling river down below and performs its daily work without knowing that I'm literally watching it in awe. Such a serene beauty makes me stop rushing through life to admire it or simply go back to my inner self at that very moment.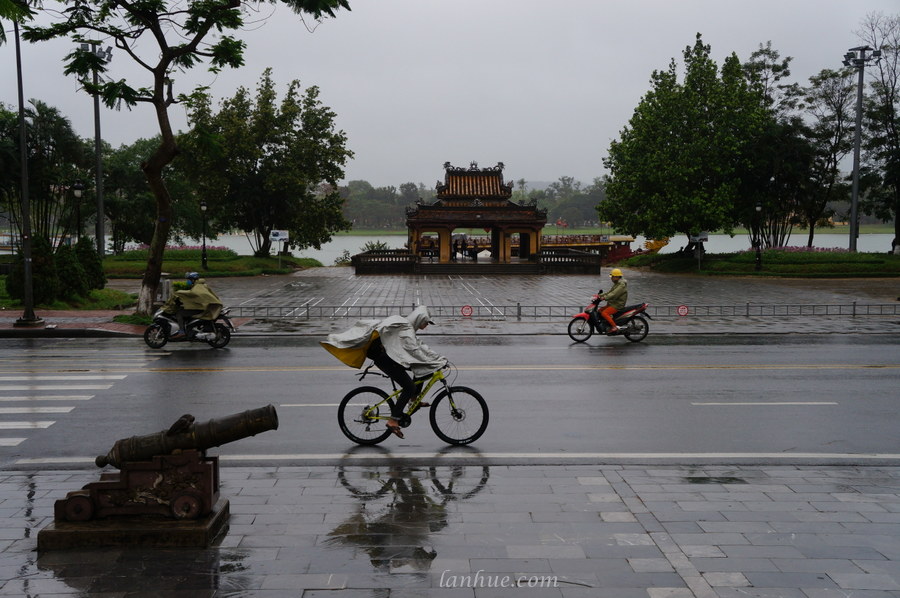 The walker
There are days when I miss Huế so much while dwelling in the heart of it. I would walk around the city to have a closer look at the river, the trees, the streets, the Citadel's mossy walls, and try to assure myself that the old Huế that I love is still here and that it won't disappear anytime soon.
During most of these solo walks, my camera is my companion. We rediscover the mystical Huế together and try to capture it at our best. These walks give me chances to get closer to Huế and they also lead me to other corners of its heart where I have never truly been although I have passed them by many times before. From time to time, cyclo men mistake me with a tourist so they try to talk me into using their service. They make me wonder if I really look like a tourist, or it's the camera that I always bring with me when walking around my city is the cause for this misunderstanding, or perhaps they never think a local will walk her city to admire its beauty and to learn more about it.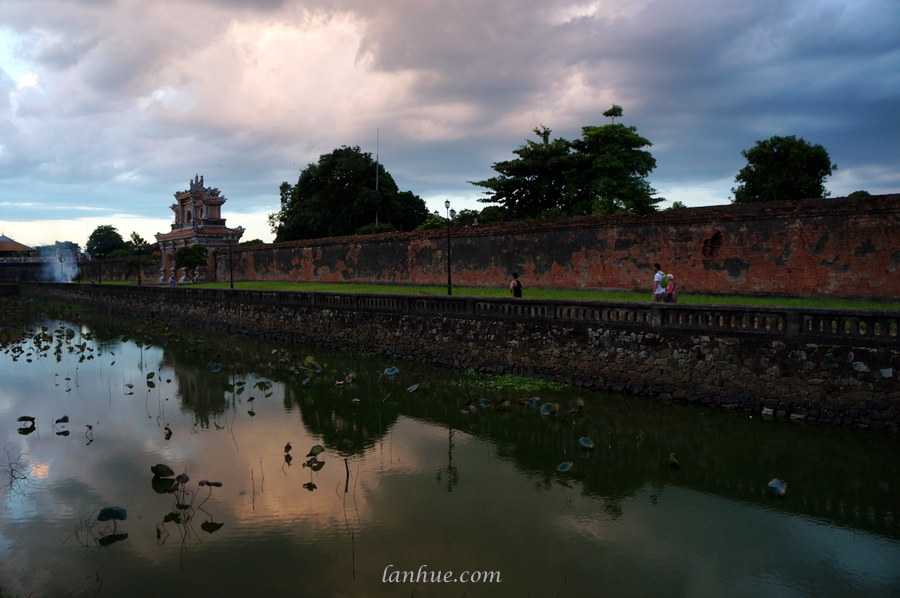 The searcher
I've recently read a lot of more books about Huế's history and culture since I started my career as a storyteller and freelance tour guide a few months ago. The reading, most of the time, gives me more details about the historical sites or the places that I have visited over the years but there are also cases that I run into some names of places in Huế that I don't even know where they are. They inspire me and intrigue me to go searching for them hence many more field trips with my scooter Violet Dragon. I actually had with me my mentor, historian Hồ Tấn Phan, on many field trips, which I love to call "in search of lost time" journeys; however, since the day he left this world in February 14th, 2016, I have been on my own on these walking-back-in-time trips around the homeland that we both love with all our heart and soul.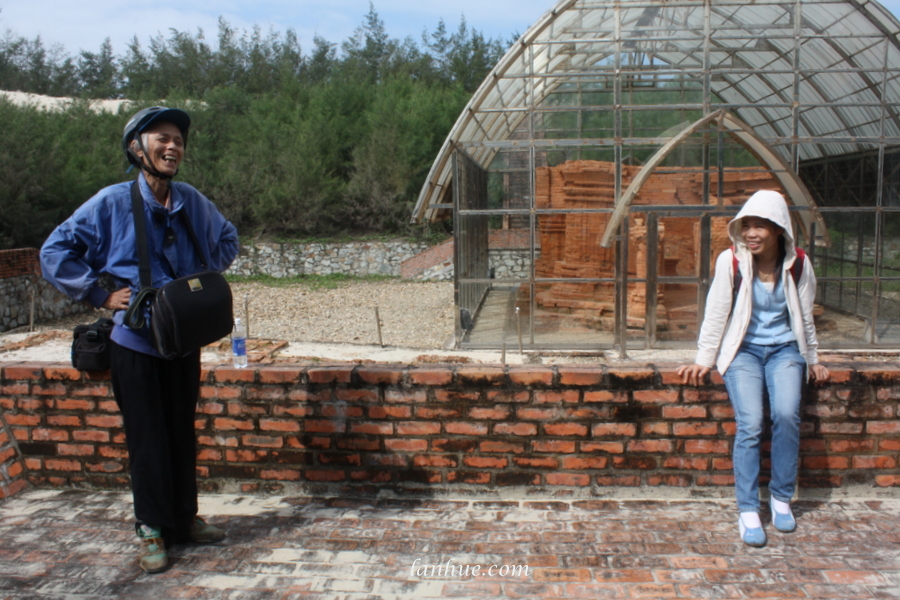 These searches also make me realize that sometimes I am so ignorant to the heritage sites which are so close to me. One time, Violet Dragon and I went out looking for the Xương Thọ Tomb of Empress Từ Dụ which I only knew from the book. I was surprised to find out that her tomb, which looked like a deserted temple coming out of a novel, lying peacefully on a grassy valley surrounded with pine trees, was actually located just at the back of her king's, Emperor Thiệu Trị's eternal home. I walked about the crumbling remains in the sounds of chirping birds and rustling leaves to find myself crossing a holy land where the past and the present silently interwound.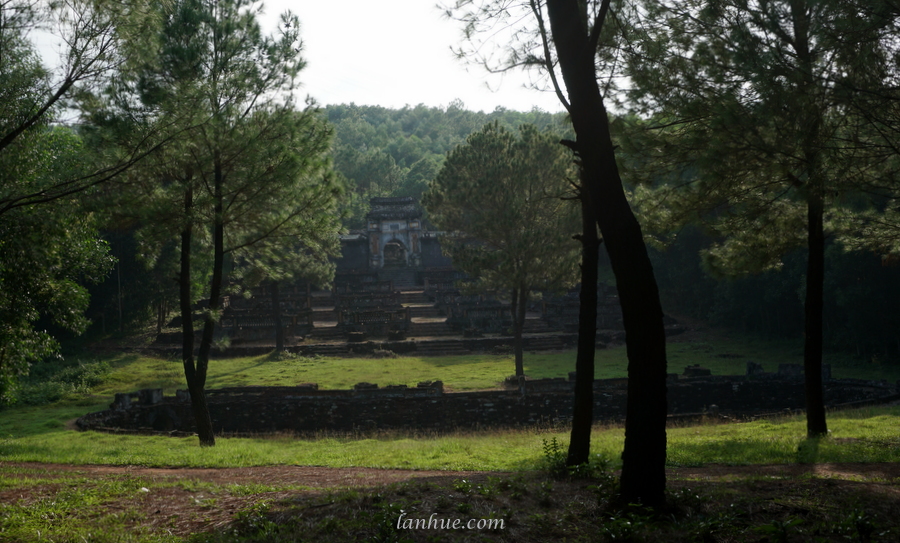 The wanderer
There are also times when I just take a road and let it lead me into the heart of Huế's villages. My Violet Dragon or the Blue Phoenix (my mother's bicycle) always acts as if they know the places, and they just follow the roads that I have never been to with excitement and joy. From time to time we go astray but we enjoy being lost as it is when we run into an unfamiliar place in our own hometown, the land we thought we have known so well.
On those random trips, the frequent questions that I ask the local people I meet on the road are: "Where will this road lead me to if I keep going further?" and "How do I get back to the city center from here?" Sometimes the answers come with a surprised look on the responders' face. Who dares to believe such a confident and contented looking woman like me can be disorientated? Or they might just wonder why I am wandering around on my own. Even though I know I get lost on purpose, I often sigh with relief when I finally manage to find the way home or when I think I recognize a familiar scenery at last.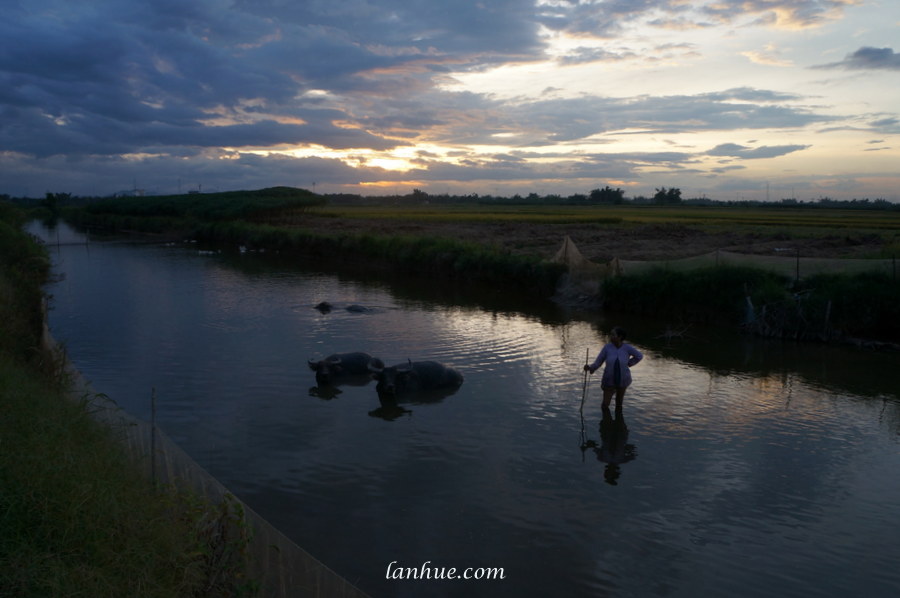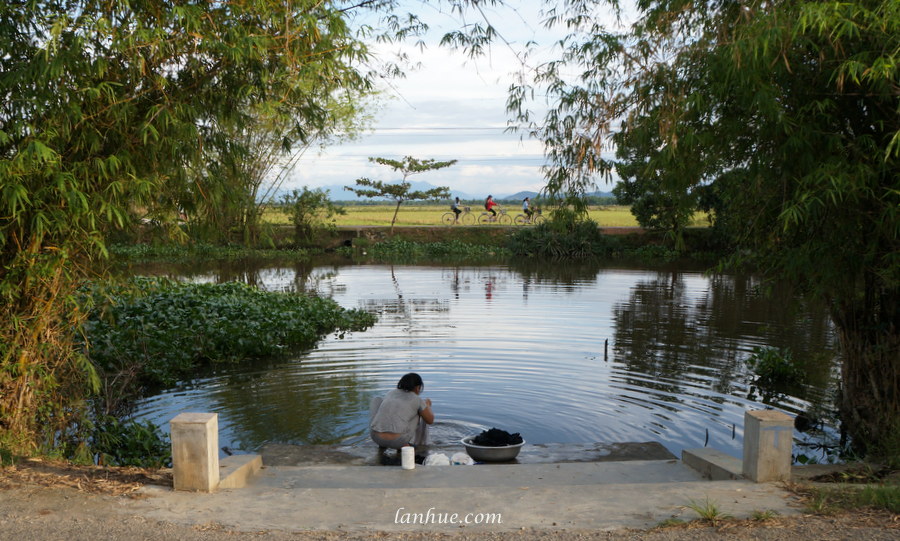 I've been a traveler in my own hometown for so long and I sometimes wonder if I ever have enough of it. Maybe never. Maybe not yet. Huế just has an unexplainable charm and secret which makes me want to devote the rest of my life learning it and appreciating it. Who do you think you are to your city? I guess, to Huế, I am a frequent traveler and faithful daughter.