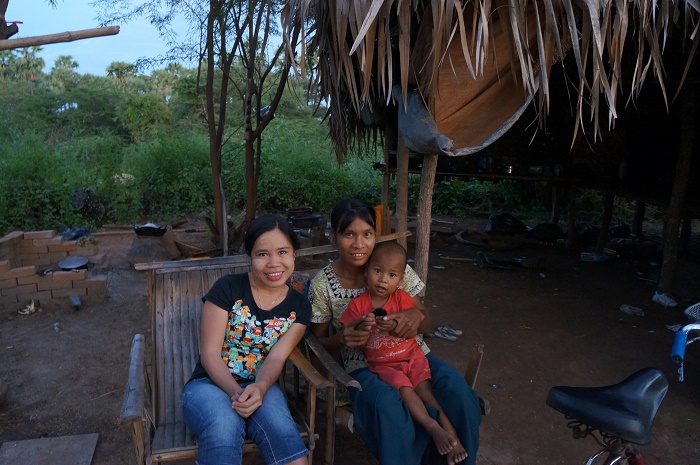 After two days of indulging in sunsets, sunrises over the ancient temples in Bagan, I decided to stroll down an alley to meet and talk to local people.
The sandy alley led me to a small and shabby cottage with a half opened gate made of branches and leaves. Peering through the gate, I saw a young lady cooking breakfast. I greeted her with a smile, which she quickly reciprocated. I boldly went through the half-opened gate and sat down next to her by the open fire when I saw the gentle and welcoming smile on her face. The self introductions were followed by a brief silence after Chyo Mar San and I had exhausted all means of communication but funnily I felt comfortable that way.
I looked inside the doorless cottage, there were two old bicycles, one bamboo bed filled with blankets, clothes, and two small trunks. There were also two bamboo chairs covered with clothes, and a table where she put her utensils and food. Their bamboo walls were thin, with light filtering through the gaps.
Our silence was broken with the stir of her son Khant Ko Ko, who had just woken up. Through the worn-out mosquito net, I saw a cute and chubby face of a little boy rising up from an old blanket. He looked at me with bewilderment at first and after some awkward moments, I extended my arms toward the little boy, beckoning that I wanted to hold him. Surprisingly, he agreed to let me carry him in my arms.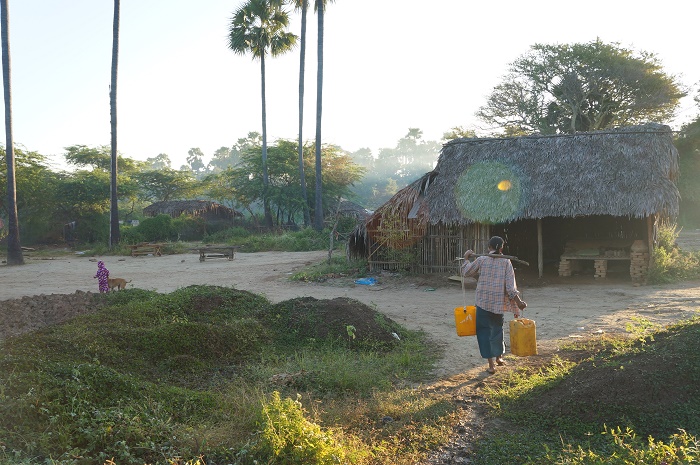 Later that day, I returned to her cottage for dinner as promised. Not long before I sat down on one of their bamboo chairs, her sister came bringing three clean porcelain dishes. I later discovered that Mar San's family only had tin containers and no porcelain dishes so she had to borrow them from her parents for our dinner.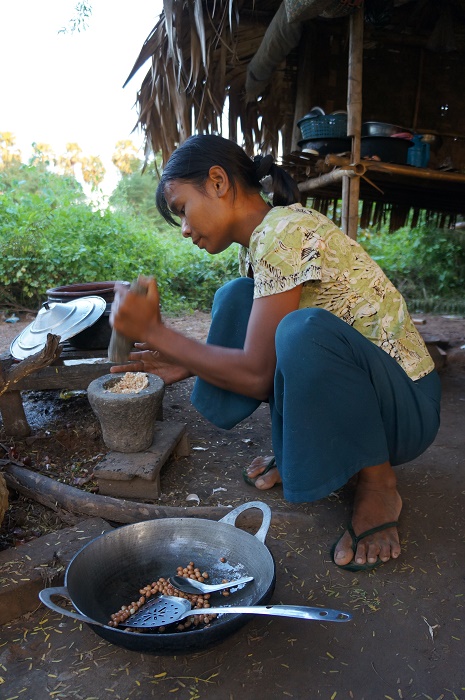 Mar San arranged my dinner on their only bamboo bed. There were stewed pork, fresh salad, some fried snacks they bought from the food stall, and a dish of rice. I was surprised to see only one dish of rice. They explained that they weren't hungry and urged me to have my meal. It might be weird for you to be invited to dinner and have to eat alone but I understood that they wanted to save the best for their guest. Still, I insisted on persuading them to dine with me and finally they did.
After dinner, we sat down in their bamboo chairs in the narrow front yard in the moonlight as there was no light inside their cottage. I felt peaceful, content and whole to breathe the same air with those beautiful souls even for a short time.
Mar San asked me using her hands, facial expression and words, "Tomorrow…my parents…house?" They meant to invite me to go and visit her parents the next day. I couldn't refuse their hospitality so I agreed. They then walked me to my guesthouse as they needed to go out to get their batteries charged.
As promised, I hired a bicycle and rode to her cottage and we went to her parents' house together the following morning. Her parents' family all greeted me with smiles when I said "mingalabar". Their cottage was bigger and better furnished than Mar San's but it was packed with people. I was astonished to learn that so many family members from three generations lived in such a small space. I noticed some cottages around theirs, which seemed to be their other children's houses. They directed me to sit on a wooden and bamboo platform which looked like a bed, which doubled as sitting area. Mar San started to introduce me to their family and tell them what she knew about me.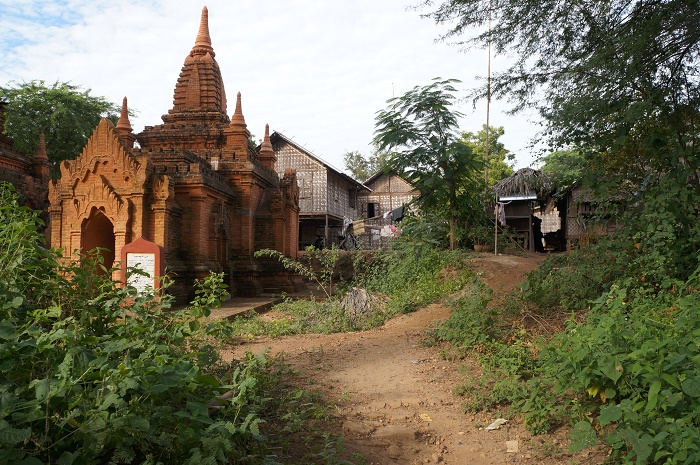 It was at her parents' house that I discovered that she had another son named Myo Min Pyi. My guess was that Myo Min Pyi lived with his grandparents to go to the nearby school. I was then introduced to Chit Ko Ko Aung – Chyo Mar San's nephew who could speak a little English as he worked at a hotel's swimming pool. I felt better, at last, to be able to converse with someone who could speak relatively fluent English.
While talking to them, I noticed Chyo Mar San's sister-in-law grinding a small log of thanaka on a stone grinding plate then she applied the thanaka paste on the kids' face. Most of people I met in Bagan, especially girls and women, wore thanaka paste to protect themselves from the sun.
I then followed Myo Min Pyi and cute Nay Nay to school which was about few minutes away from their home. Nay Nay was like a little bird dancing along her way to school. Teachers and many students had been there when Nay Nay arrived. Some other students were late as well. Before they started the lesson, they chanted some verses which were incomprehensible to me.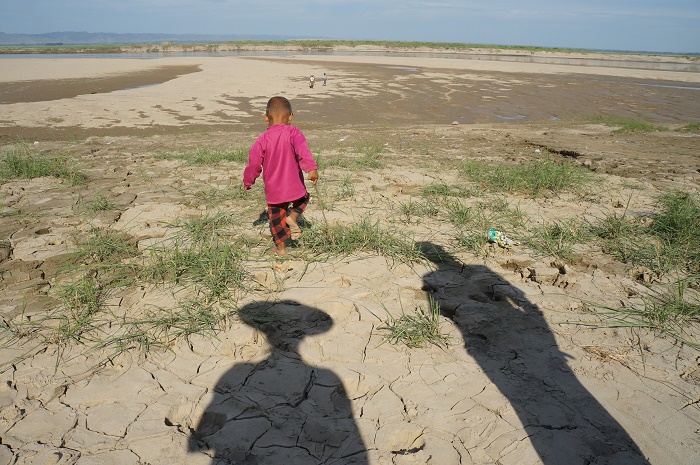 After spending some time with Chyo Mar San's big family, they invited me to come back for dinner in the evening. I told them I had to go to New Bagan (which was about 8km away from Nyang U where they lived) and would not be back until the following day so they invited me dinner when I was back from New Bagan. Again I could not say no although I remembered I didn't relish the food at Mar San's house the other night. Mar San said she would see me at my guesthouse at 6pm the following day and I nodded with a smile.
When I almost reached the guesthouse after a day tour around Bagan, I heard someone called me. I turned round to see Mar San, Mar Than, her brother and little Khant Ko Ko waiting for me. They came with two motorbikes so I sent my bicycle to the guesthouse and got on Mar Than's motorbike while Mar San and her son rode on her brother's.
Mar San's parents' house was still as crowded as the first time I saw it. There was a power cut so they were starting to set up some battery light. On the same bamboo platform that I sat the other day, they put a low table with a checkered tablecloth on which lay a bowl of pork curry, a plate of fried fish balls, a plate of salad and only one plate of rice and one cup of water. They ushered me to the table and gestured that the dinner was ready for me when the power was back. "Will I have to eat alone now? Why don't they join me?" I first thought to myself then I voiced my thoughts. They all gestured that they did not feel hungry. Once again, I had to persuade them to have dinner with me. Mar San told them something and then Nay Nay, then Chit Ko Ko Aung and Chyo Mar San's younger sister joined me. The food was really good and I especially liked the spicy curry. They then brought me some fried snacks as well.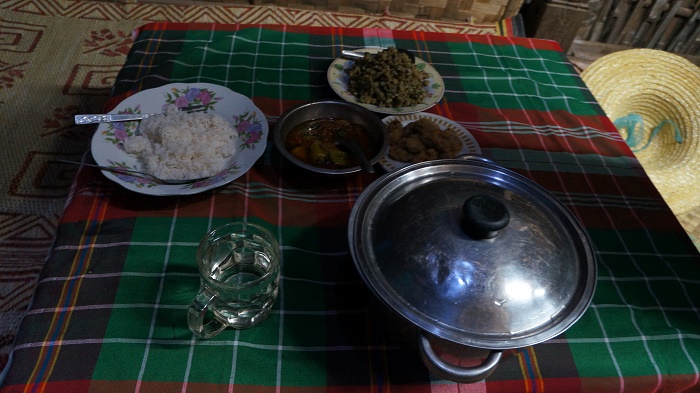 I noticed that Mar San didn't look very well when I met her that evening and I had asked her if she was sick. She replied something that I could not understand so when we arrived at her parents' house, I asked her again. She rolled up the sleeve and I saw an injection mark when she said "doctor". "What happened? And when?" After many questions and interpretations, I had my answers. She was sick early that day and went to see a doctor in the afternoon. The doctor gave her an injection on her arm and prescribed some medicine. She had some problem with her heart. That was all I knew. The incident made my heart sink. How could she still come to escort me to her parents' house for dinner when she was very sick? For me, her health was more important than the dinner. She could have her husband come to inform me that she was sick and cancel the dinner… I felt bad that while I was enjoying myself, my new friend was lying on the platform suffering.
After dinner, I wanted to leave early so that Mar San could go home and take some rest but she said "in 30 minutes". I agreed as I guessed it would be impolite to leave right after dinner. I didn't know what to do next so I asked Nay Nay to sing me a song and the sweet girl obliged. I then took out a piece of paper and asked Chit Ko Ko Aung to teach me some Burmese phrases. When it was time to leave, I thanked them for their love and care. They said (with Chit Ko Ko's broken interpretation): "After a year or two, go back to Bagan and visit us. This is your home." I told them I would do my best and if I ever visited Bagan again, I would definitely come to see them. Then they asked me my expected time of departure so they could go to the guesthouse to bid me farewell. I told them they didn't have to do that since I would go to Mar San's house the next morning before I left for Yangon.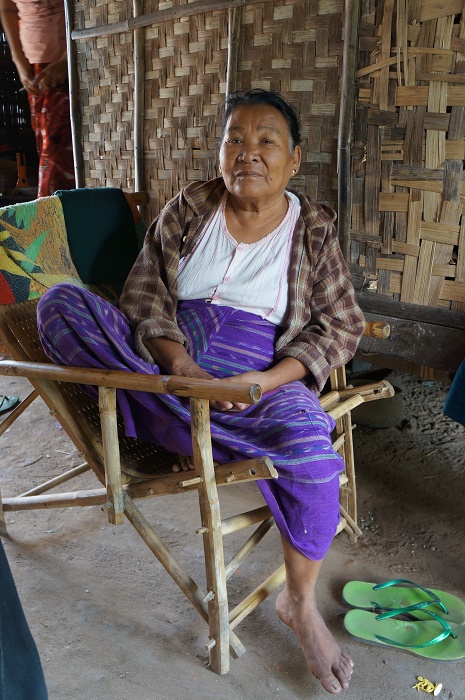 When I made the last visit to Mar San's home the next morning after seeing the last sunrise at a stupa near Buledi, Mar Than was already there. She started to put some fried snacks on a small plate and offered me some of them while Aung Ko Ko was sweeping the earth floor and Mar San was still wrapping herself in the blanket. Khant Ko Ko was already up. Looking at how sick Mar San was, I felt hopeless as I could not do anything.
When I was trying to swallow some oily snack, Mar Than gave me two brand new T-shirts (one yellow, one black) with the word "Bagan" on them saying that they were gifts for me. I wished I could refuse as they were very poor and they had given me so much. However, I decided to accept the gift as I knew they really wanted me to have them. Holding the two T-shirts in my hands, I was speechless. I wished I could speak more Burmese to tell them how much I appreciated their love and care.
Not often in your life would you encounter such beautiful people when you travel and I knew I was blessed to have such unforgettable experience while on the road.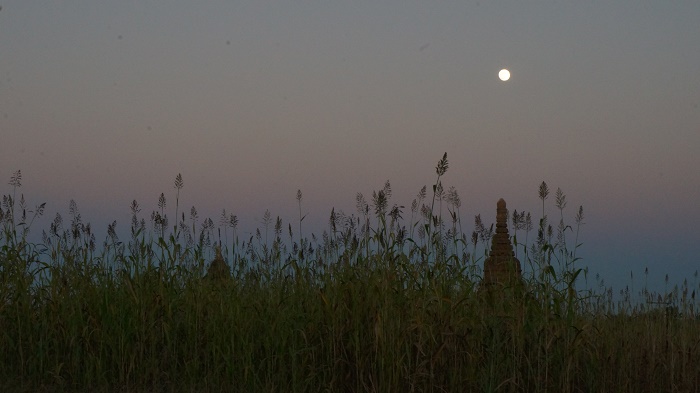 Bagan, November 2013