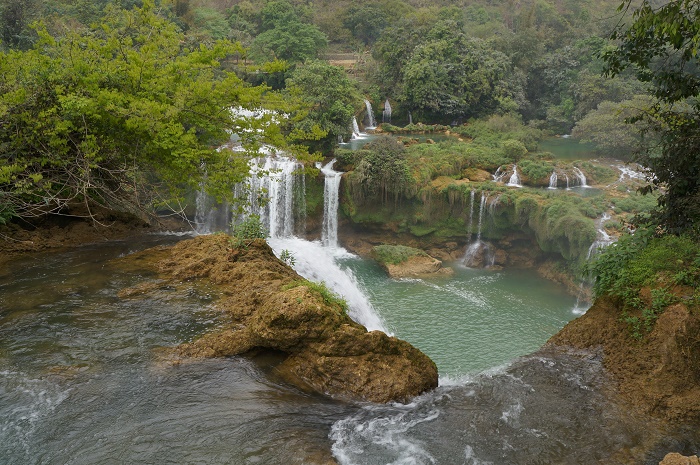 As a Vietnamese folk song says "The first month of a lunar year is a festive time", with that festal mood still in the air, I packed my things and headed for Bản Giốc Waterfalls in Cao Bằng which is known as the world's fourth largest waterfall along a national border right after Tết holiday. After 12-hour Huế – Hà Nội night train plus 7-hour Hà Nội – Cao Bằng bus trip, I was dropped off at a bustling highland city exhausted and hungry.
On the Hà Nội – Cao Bằng bus, I made friend with Anissa, a Hungarian solo traveler so at least I had a companion to discover this town with. We found and checked in a budget hotel just opposite the bus station. My first impression of this town was that it was more crowded and urbanized than I expected. Beside motorbikes, quite a number of new cars can be seen on the streets. This city is definitely no small town at all. However, the only thing that impressed me was that they had very nice phở ngan (duck noodles) there. Once my hunger was satiated, I jumped to bed with my tiredness. Before I knew it, a new day had come and I was filled with energy for the trip to my long-life wish destination: Bản Giốc Waterfalls.
About 80km away from Cao Bằng City, Bản Giốc Waterfalls can be easily reached either by bus, motorbike or car. Anissa and I decided to choose both bus and xe ôm (motorbike taxi) so that we had a chance to stop and enjoy the beautiful scenery or take pictures along the way. After I had a delicious bowl of phở chua (sour noodle) at the market by Bằng River (and Anissa had some coffee), we caught a morning bus to Trùng Khánh District and asked to be dropped off at its township. We had a quick lunch at a market then with the help of a nice food stall owner we each got a xe ôm to take us to Bản Giốc Waterfalls. Although it was pretty cold at that time, the motorbike ride among scenic mountainscapes and paddy fields were totally a great fun.
When the xe ôm almost reached the entrance to the waterfalls, from the main road, I could hear and see them appearing among the massive mountains for the first time. I turned to Anissa and beamed at her. "It's so beautiful. I don't need to wait until rainy season. This is beyond my expectation," I said. Actually, I had felt a little bit down when I overheard a woman loudly talking to her friend on the phone and saying something like: "Are you crazy? Visiting Bản Giốc Waterfalls now? It's dry season. The waterfalls have very little water!" on the bus from Hà Nội to Cao Bằng.
The majestic waterfalls of Bản Giốc (known to Chinese as Detian) are at Việt Nam – China Border and are formed by Quây Sơn River which starts from China and runs into a part of Cao Bằng Province. Right in front of the waterfalls, each nation erected their own border milestones on their own river bank.
Bản Giốc Waterfalls are a collection of the main waterfall and the subordinate one. The subordinate and a half of the main one belong to Việt Nam's territory. The main waterfall is folded into three layers which makes it look like a beautiful wedding cake, as a traveler noted. Never in my life did I see such a surreal beauty! On Việt Nam's side, tourists had a large grassy patch to sit about enjoying the view and their picnic snack while on China's side, a cement staircase system was built to help tourists have a better view of the waterfalls. Ferry service is available from both sides for those who wish to go on a little cruise to the feet of waterfalls.
Following the instructions of a newly-acquainted local friend who is also a travel enthusiast, we found a secret route leading to the top of main waterfall. Looking at the steep earth path, I hesitated at first but Anissa urged me to give it a try. This hidden passage can only be accessed during dry season or else it's too dangerous. I crawled carefully up the steep route to hear my heart pounding tensely. Once we were on a flat land filled with overgrown grasses on the top, we traced the tiny path which led us to a jaw-dropping view which I believe not many other travelers had the same chance as we did. I was completely in awe of Mother Nature; and so was Anissa, I believe.
I hectically took pictures of the waterfalls, the pools, the streams and anything around me. When I finally found out I was wasting my time trying to capture its beauty but forget to enjoy it, I sat down on one of the rocks by the edge of the ridge and contemplate the divine atmosphere in silence. My grumpy mood over the long and tiring bus ride the day before melted down, running into the emeraude water pools and disappeared.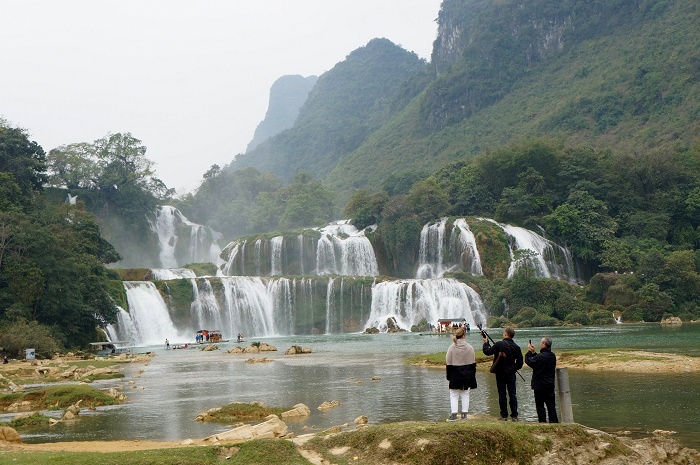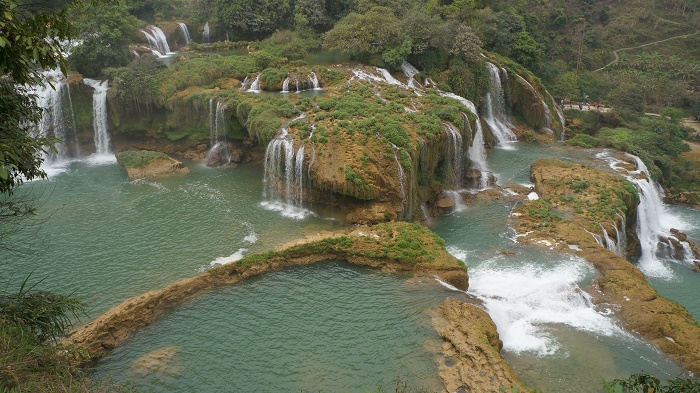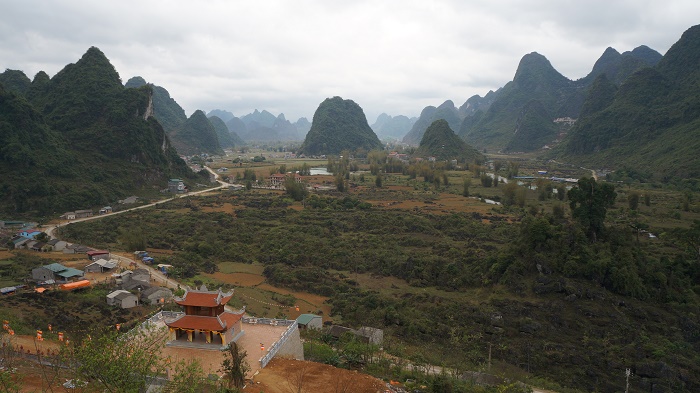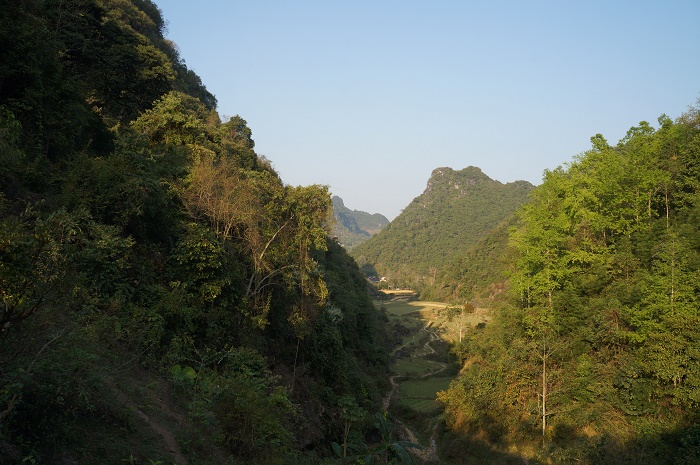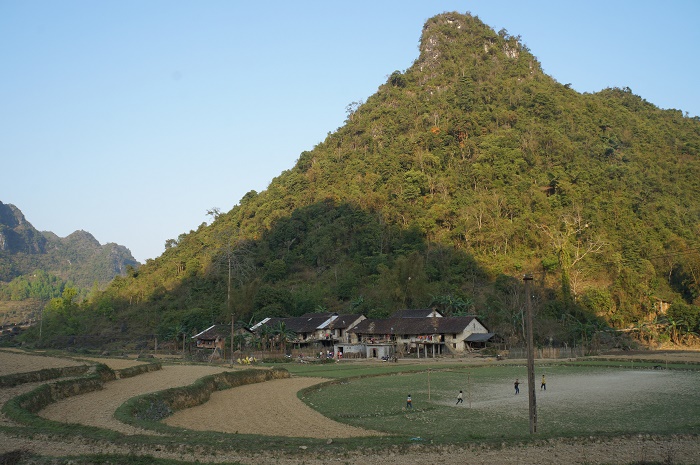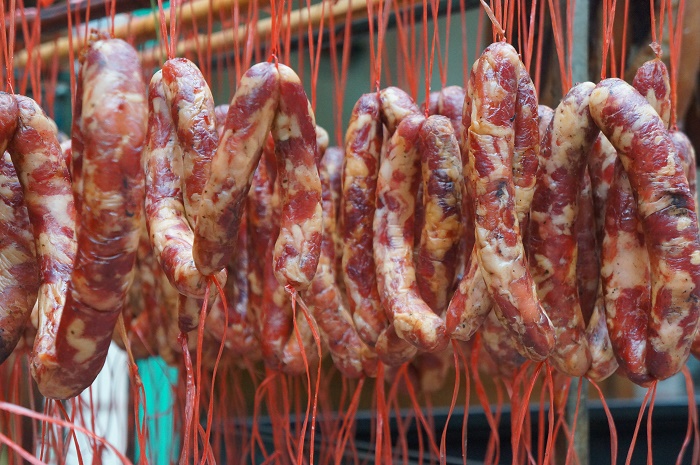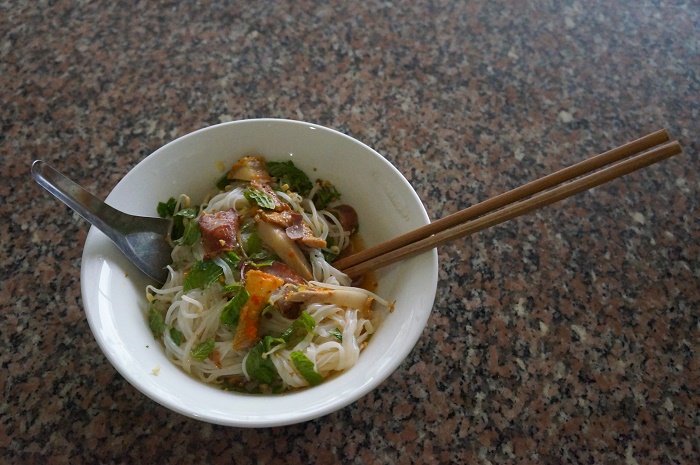 Cao Bằng, March 2015