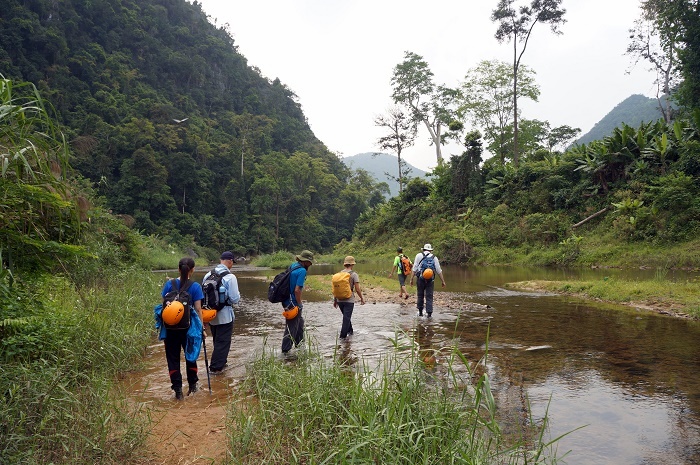 We reached what we had longed for: an entrance to Hang Én (Swallow Cave), which is arguably one of the largest caverns in the world at last. But this was not possible until we had trekked 10 kilometers of thick jungles on foot and crossed dozens of streams.
As we got closer to the entrance, we soon realized that it was half-blocked by rocks and thick bushes. While we were still wondering how we could access the cave via that opening, our guides told us to put our helmets on and get the headlamps ready. They immediately steer us to the right of the opening and below that same cliff there appeared a long slit forming another entrance. After crossing a stream to go through the second opening, we found ourselves amidst of a dark hollow.
The beam of our headlamps clearly showed us that right in front of us was another stream to cross. Not so sure what might be in the pitch-black water, we focused on reaching our camp site on the other bank. Hardly had I reached the other side when I ran into piles of rocks up to my nose. I hastily put on my gloves and adjusted the light to show the way and kept climbing until I saw a source of faint light coming down from the first entrance above.
As soon as we were on the top of the rocks, we all were astounded by the tremendously high vaulted ceiling of the cave. And yet much to our amazement, under the vast dome were more than a dozen of tents already neatly pitched on a sandy beach nestled by two emerald bodies. Our porters had already been there busy cooking dinner.
When I reached the campsite, I felt totally exhausted. I collapsed to a wood bench to unlace my thoroughly soaked hiking boots and socks, only to find my feet turn wrinkled. But I didn't have time to lament over my fatigue. Somewhere high above the tents, flocks of swallows came out all of a sudden making louder noises as if they were greeting new guests to their kingdom. The cave itself was named after the swallows, its inhabitants. I looked up to admire the cavernous chamber which might be over a hundred of meters in height.
While waiting for dinner, I decided to go for a swim in the big pond right in front of the tent I shared with Tâm, my new friend. However, as soon as I dipped my toe in it, I had to flinch away from the icy cold water. Disappointed, I walked toward the smaller pond nearby. Surprisingly enough, the water in this pond was much warmer. A guide then explained that the water from the bigger pond was from underground rivers while that in the smaller pond came from the river outside the cave. What mattered most to me then was how my aching muscles relaxed in warm water after such a long exhausting journey.
When I was enjoying my warm dip when a school of little fish came tickling me! To be honest, I didn't expect to have a fish massage in such a colossal chamber in the middle of the jungle. What a beautiful treat! When asked if he still felt impressed with the cave's beauty after many visits, Bảo – one of our two guides honestly replied, "My excitement for the cave has more or less subsided but one thing that I always look forward to when coming here is the fish massage!" We all laughed while the fish were stubbornly nibbling our skin.
After I had changed into dry clothes, dinner was ready at the common tent in the center. It was actually a real feast with steamed rice and nine side dishes. All were so delectable and my favorite was barbequed pork with cheo – a ground mixture of salt, fresh chili and some herbs. During the meal, we all had a chance to know more about each other and share our thoughts about the trek.
My mind flashed back to the time in the valley where clouds of butterflies gathering by the river. How thrilled I had been then when the tiny houses at Đoòng Village suddenly appeared in the middle of nowhere. The images of a little Bru Vân Kiều girl waving hello to us and the one-classroom school still lingered on.
I spent the night on a thin mattress in the tiny tent where physical exhaustion still drowned me into a heavy slumber.
The next morning, the faint light coming down from the opening above woke me up. I felt really grateful to our porters as they had prepared breakfast. On the same trail each of them had to carry about 35 kilograms of food and other gears. However, they were always faster and very helpful with all their smiles.
I thought I had experienced all the wonder Hang Én has to offer. I soon found out that I had been totally wrong when one of the guides lead us to another chamber through a low and dark passage. I had been told that there was the third entrance at the end. When I actually witnessed it, nonetheless, I could not believe my eyes. The gigantic entrance, more than 100 meters high, simply stole my breath away.
The way back was the same—10 kilometers of forest trail and several dozens of river-crossings to make, I still wanted to stay in that surreal haven as long as I could. Son Đoòng, the world's current largest known cave, is about three kilometers away. My next adventure trip has to be Sơn Đoòng.