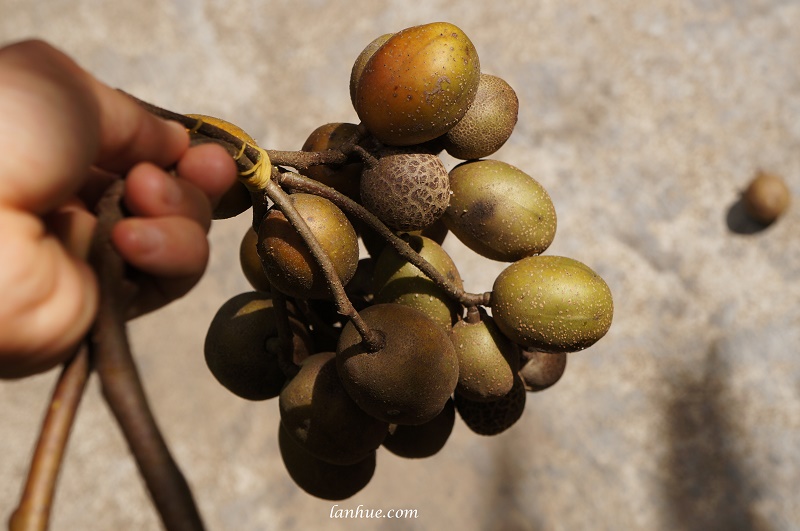 When I was a little girl, my neighbors had an ambarella tree. I sometimes came over and asked for some. My neighbors would use a long bamboo stick with a hook at one end to pick up the ambarella fruits for me. I loved it best when they harvested the ambarella fruits for sale. It was when the ambarella fruits would be falling off the tree like ice rain, making thumping sound on the ground. I sometimes find it funny how our ancestors named it "cóc" which literally means "frog"!
Yesterday, I stopped by my mother's friend's house for a visit on the way back from the Hương River and she showed me her garden. It's so verdant and full of edible fruits and vegetables, which I was so in love with. When she asked me: "Would you like some ambarella fruits, Lan?"
"Yes, please. Thanks so much, auntie!" I replied without a second thought.
With a bunch of freshly picked-up ambarella fruits, I tried to think how to eat it best. I peeled some and ate them like some other kinds of fruit but then I started to think of making something different. And here it is: ambarella fruits with salt, chili flake and brown sugar.
Making ambarella salad is surprisingly easy so I'm happy to share it with you:
– Peel the skin
– Soak peeled fruit in salted water
– Cut it into slices (thick or thin at your choice)
– Drain it
– Marinate it with brown sugar, salt and chili flake
– Massage it all gently
– Let it sit for a while
– Finally, enjoy it!
I hope you will like.