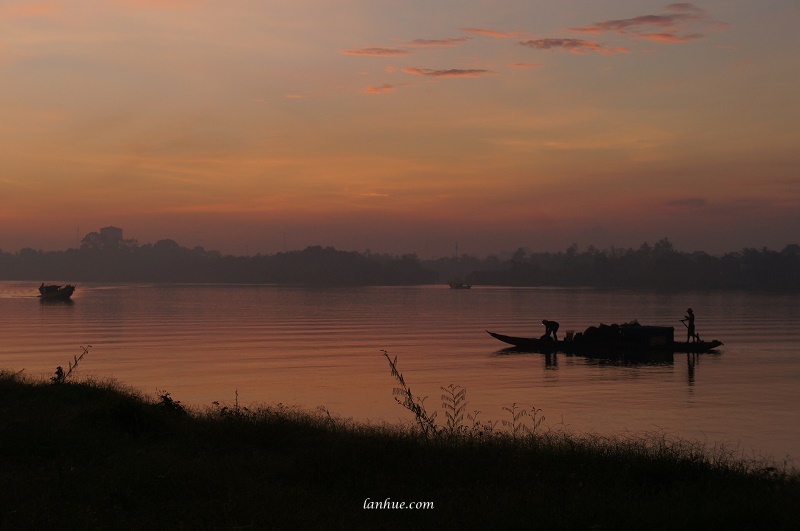 Dear KOICA,
And to whom it may concern,
Greetings from Hương Lan, the Hương River swimmer and the storyteller, in Huế, Việt Nam.
I would like to thank you for planning Hương Riversides, from Vọng Cảnh Hill to Bao Vinh Old Town with the best of intentions. I would also like to thank you for organizing a referendum on this development although it was not widely publicized (as there was only one balloting station, at 10 Lý Thường Kiệt, Huế) and the duration between the announcement of the development and the referendum was rather short (from May 25, 2017 to June 30, 2017).
Before I share my comments and ideas on this development, I would like to tell you something about Hương River. As you know, Hương River is special and important to all of Huế's residents throughout the ages, including the emperors of the Nguyễn Dynasty. As far as I know, when the Nguyễn Dynasty looked for a location to build their capital city, they chose the present place based on the rule of feng shui in which Hương River is the minh đường (明堂). This minh đường is the feng shui element that helps to accumulate all the good things for the Nguyễn Dynasty and its people. For each of us, Hương River's significance goes beyond that. Hương River is our source of water, food and fresh air, inspiration and soul-maker. We all love it also because it is so tranquil and pristine. The Emperor Thiệu Trị was so in love with the river that he included it in his list of the 20 most beautiful sceneries of the old Huế and even made a poem about it and had it carved on a stone stele which is still located by Phu Văn Lâu in front of the Huế Citadel today.
Visitors to Huế are amazed at how peaceful the river is and how green and pristine the riversides look. If you have a chance to ride a dragon boat from the city to the tomb of Emperor Gia Long or Emperor Minh Mạng, you will find that those visitors' impression is true. So charming and pristine. I personally love Hương River for the same reasons.
Now, since you ask me about my comments and ideas on your detailed planning for Hương Riversides, here they are:
I think this is a grand and ambitious development which stretches for about 15 km. I love how you plan more pedestrians and view watching spots so we can easily access the beauty of Hương River. I also appreciate that you think about our younger generations by adding more playgrounds along the riversides. However, I find from your master plans that we will lose so much green space for things that we don't really need such as resorts. In this letter, I only wish to make it short and focus on the Hến Islet and Dã Viên Islet.
These two islets are like a pair of green lungs to the downtown of Huế but in your planning, I mostly see constructions, especially two big resort projects. If you ever consult the hospitality experts of Huế, I'm pretty sure that they will tell you that the room occupancy in Huế is quite low. If so, why should we need more hotels and why should they have to be on these two tiny stretches of land on Hương River and in the heart of the city?
In the master plan for Dã Viên, I see that you plan to build two more bridges to the islet. Do you think four bridges are too many for such a tiny place? Also, I don't see the two temples of Đạo Mẫu (the worship of mother goddesses in Việt Nam), which are located on each end of the islet, and other historic sites on your master plan. I hope you already have plans to conserve them that I do not know of.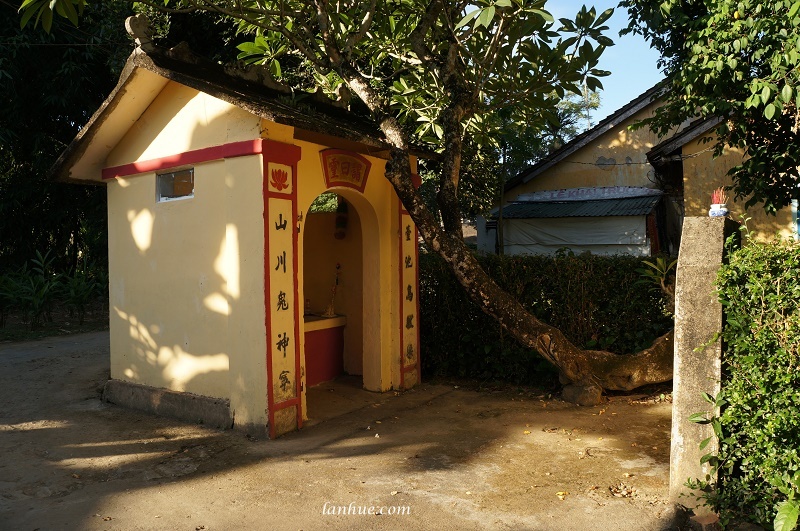 If I don't like what I see on your master plans for the two islets, what do I think they should look instead? For Dã Viên Islet, it is said that some people suggested that it should be renovated into a royal garden, which it was used to during Emperor Tự Đức's reign (1848-1883). In one of the holy temples on this islet, there are a pair of Chinese written lines on it reading: "Đài trì điểu thú lạc. Sơn xuyên quỉ thần minh" (The birds and beasts in the pond and on the esplanade rejoice. The ghosts and Gods of the mountains and rivers are at peace.) This is indeed a great idea. Let's make it a place where creatures (including human beings) feel happy and where Gods and ghosts feel peaceful. We could also grow more herbal plants used for thuốc Nam (Vietnamese plant-based treatments) and start a wellness haven where zen and yoga are the major therapies used. Instead of building concrete buildings, how about setting up some nhà rường (panel houses) for this wellness center? For Hến Islet, it has been famous for the two specialties: cơm hến (clam rice) and chè bắp (sweet corn soup) for a couple of hundred years; therefore, it makes more sense to continue it while introducing organic farming to this fertile islet. Hến Islet could be a spot where travelers come and experience organic farming, participate in cooking classes including clam harvesting and cooking, fishing on Hương River. And how about establishing a botanical garden on this islet as well? You know, Huế still lacks a botanical garden. This botanical garden will not only benefit the visitors to Huế but also the locals ourselves.
Let's treat Hương River, its sides and the two islets as a natural heritage, shan't we? Instead of modernizing it, how about conserving and making it greener and cleaner? We can't afford to lose its pristine beauty to developing short-term tourism at any cost. Huế is attractive to travelers because it's a heritage city of tranquility and green. In Central Vietnam, we already have Đà Nẵng as a beach and entertainment city for domestic guests, Hội An Old Town as a beach and shopping destination for both domestic and international tourists, Quảng Bình as an outdoor and caving destination. Therefore, if we would like to attract more travelers, especially high end ones, we should do something different to them that is mainly based on what we already have. How about working to build Huế into a heritage center of zen and green life?
I hope this development would not result in pain and regret for all of us. I'm sure you will not feel happy if your love and effort for Hương River will turn into something that Huế people do not really want or feel proud of. I hope to remember you, KOICA, as an organization who promotes "amicable and cooperative relations" with the countries that you aid, and who encourages environment, culture and heritage conservation. So instead of modernizing the Hương Riversides, how about fixing and conserving it to make it even greener and more elegant?
And dear investors,
Could you please base your investment decision on long term benefit and future generations instead of immediate interest? A project on conserving the Hương River, its banks and two islets instead of concreting them should be something that we will always praise when we talk about you. You know, "trăm năm bia đá thì mòn, nghìn năm bia miệng vẫn còn trơ trơ" (A stone stele will be worn out after centuries, rumor still stays fresh after millennia."
Thank you for reading my comments and ideas. I look forward to your positive feedback.
Xin chân thành cảm ơn. 진심으로 감사합니다.
Best regards,
Hương Lan