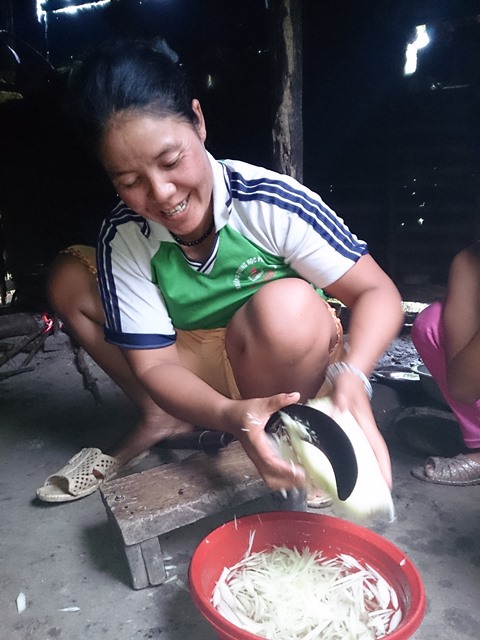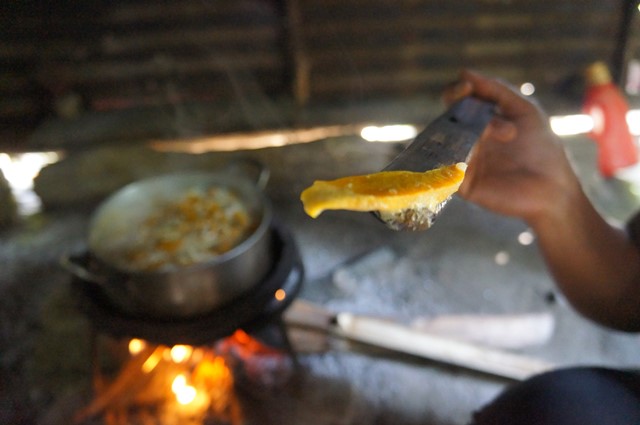 I've been associated with my Pako* friends in A Lưới for a few years but I wasn't impressed with their food until I met Mrs. Đàm. Her real name is Biên but according to Pako tradition it's more polite to call a married woman after her first child. Mrs. Đàm does not read or write but she sings beautifully and composes songs as well. And most of all, she's a great cook. Since I knew Mrs. Đàm, I no longer have to eat boring Pako meals whenever I visit A Lưới.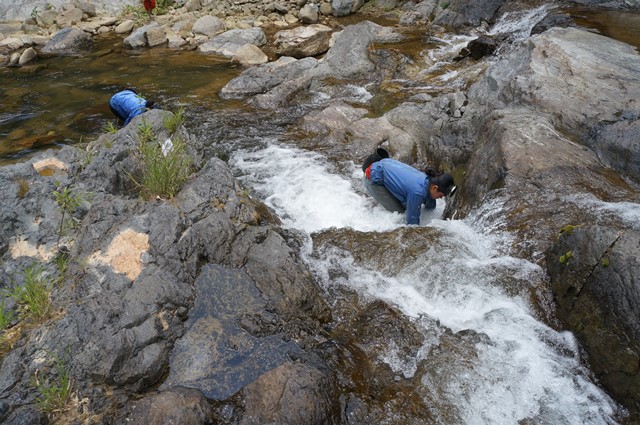 Her cooking is simple but full of flavor. She doesn't use many spices but salt, fresh chilli, and sometimes seasoning when available. Her ingredients can be named: sweet potato leaves, papaya and papaya leaves, pumpkins from her garden, and some other kinds of wild vegetables that she can find by A Nôr stream where she always catches fish, crab and other insects to enrich her family's diet. She hardly afford fresh sea fish, pork or beef so I rarely see them in their meals. She can turn those modest ingredients into delicious soups or stir-fries.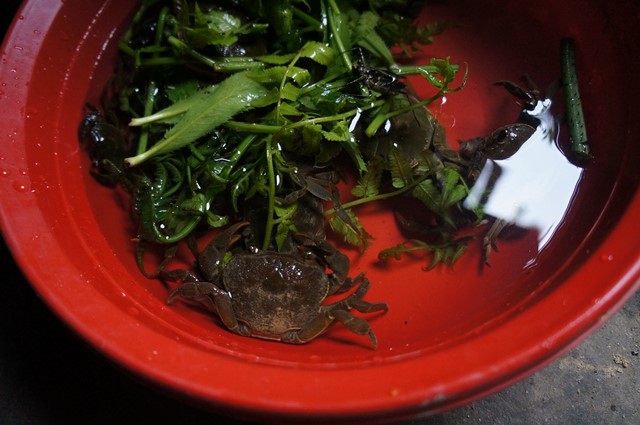 I miss her banana flower and carp soup she cooked for me one morning. She simply arranged gutted-and-cut carp into a pan and marinated it with a mixture of salt and fresh cayenne ground in her wooden bowl. After that, she flooded the marinated fish with fresh water. She boiled it on her open fire stove then added chopped banana flower into fish soup once it reached the boiling point. I love the mixed flavor of the slight acridity of the freshly cooked banana flower, the heat from the newly picked cayenne and the mild sweetness from the carp in this very soup. Such a beautiful combination!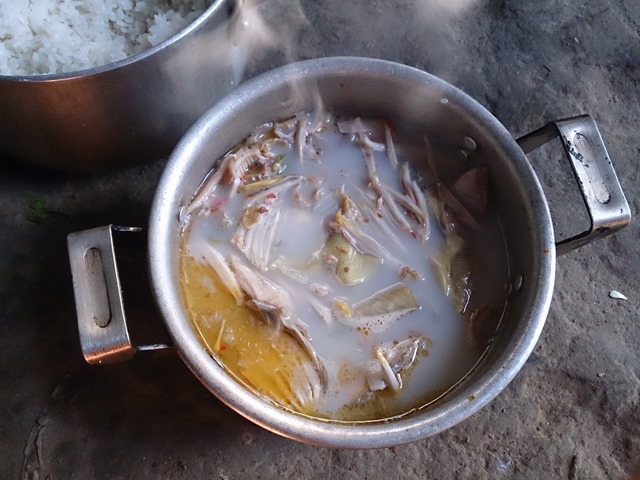 Mrs. Đàm cooked everything growing or planted in her garden. Sometimes I arrived in her empty kitchen hungry and exhausted from the road trips but always left with a contented belly filled with warm steamed rice and beautifully cooked vegetables and herbs from her garden. When edible plants around her do not grow fast enough for her family's consumption, her husband will venture into the nearby jungles to find their substitution or Mrs Đàm herself will rummage through the shallow A Nôr stream for fish, crab, snail or such.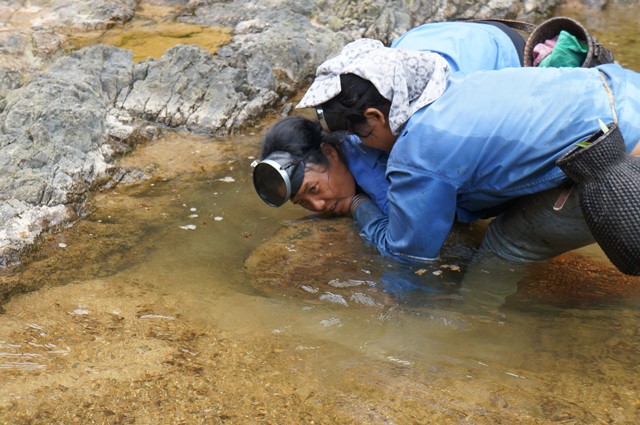 I followed Mrs. Đàm and her neighbor when they went fishing one afternoon. Their fishing tools were a rattan-woven fish trap and their own hands. The A Nôr stream is shallow and filled with rocks so in order to catch fish they had to overturn the rocks to reach the fish living beneath them. About an hour after we started the thunder trumpeted right above us and the rain hurriedly came trying to chase us away from the stream. When we were about to leave, the thunder and rain disappeared as quickly as when it arrived. That evening, with the good catch Mrs. Đàm got, she cooked me stir-fried fish (including tadpoles!) with veggies, and simmered crabs with betel leaves. The dishes went great with hot steamed rice.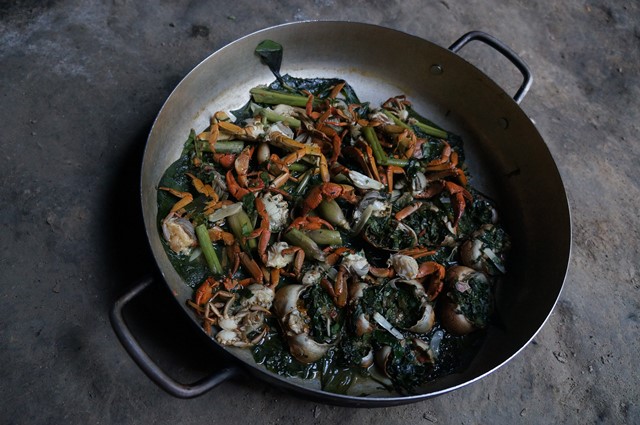 Standing in front of our gas stove at home, I sometimes think about Mrs. Đàm's tiny and shabby kitchen which features a wood-burning stove by which her cat and dogs soundly sleep to get some warmth from the fire in a morning or evening. And at this very kitchen, I've learnt so many things about my special friend's youth, memories, worries, sadness, joys as well her love of life.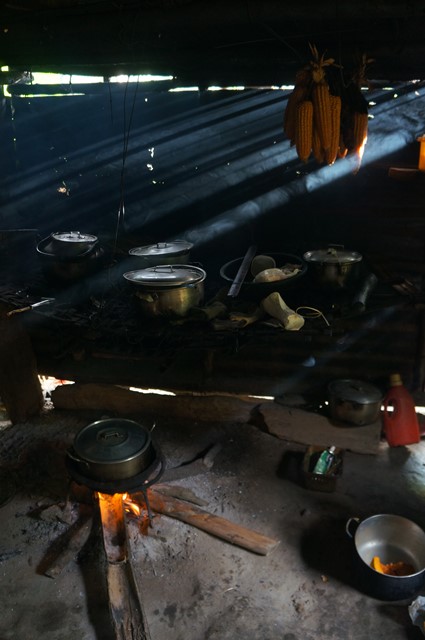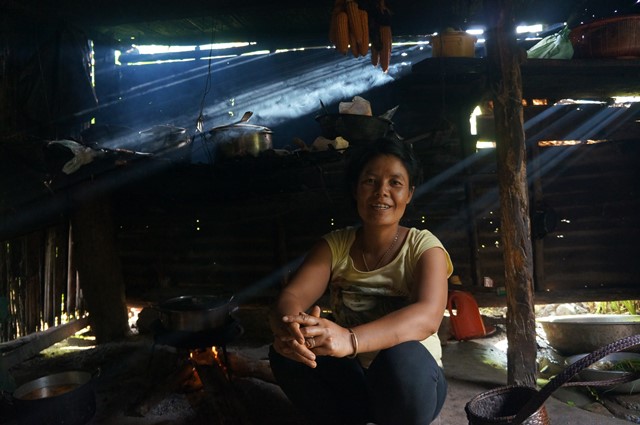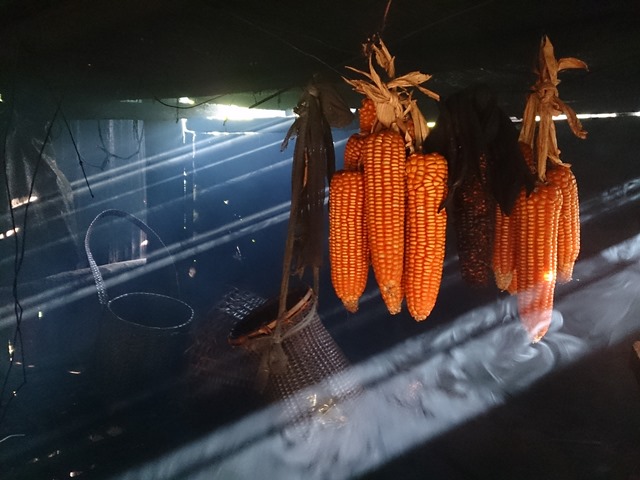 (*) Pako is a ethnic group of people living in A Lưới District, Thừa Thiên Huế Province, Việt Nam.