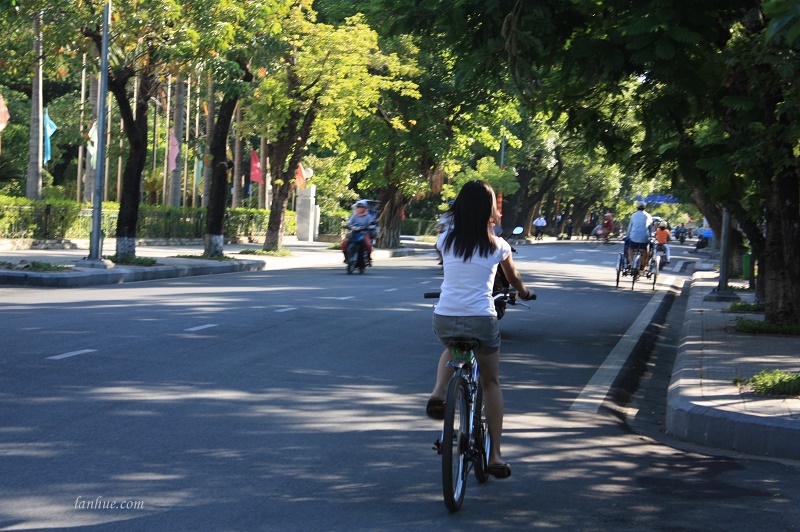 Hardly do I remember how many times I ride back and forth Lê Lợi Boulevard, I only know that this main street with the French design buildings and two lines of old trees, has been very close to my heart. I often ride my motorbike along this street but never thought about walking down the whole length of it until I read "A walk along Lê Lợi" in National Geographic Traveler Vietnam by Jim Sullivan. And here I am in front of Huế train station ready to take my first complete stroll down the 2.5 km Lê Lợi Str. which runs along the South bank of Hương River.
Lê Lợi Str. starts at Huế train station and ends at Đập Đá (Stone Dam). The street that once named after the French Prime Minister Jules Ferry reminds people of a long lost "Phố Tây" (Westerners' City or the French's City) in imperial Huế during colonial time.
In the chaotic noise coming out from the station, I try to imagine the scene of Bảo Đại – the last king of Việt Nam's feudalism once went back home at this very station. I find myself lost in the peaceful morning scene of Lê Lợi when the sun is shining down the street after being filtered by the branches and leaves.
I leave the 1906-built station behind to step on Cầu Ga (Train Station bridge) – the first bridge that linked the two banks of An Cựu River (a branch of Hương river) before reaching the French architecture headquarter of Huế University at 3 Le Loi Str. This building used to serve as a Chambre des Representants du Peuple de l'Annam (Representative committee of Annam People) during the colonial time.
Next door is another French architecture building – La Residence Hotel & Spa reputed as the best hotel in Huế city. Long before being renovated and developed, this building has some other lives such as the fair trade house, the government guest house, etc.
Just a few steps from this hotel, you can find the two-story building – Hồ Chí Minh Museum. Beside the museum, there is Cây Si coffee shop roofed with the huge canopies. Many friends of mine love this outdoor coffee shop as it is located in a verdant park by the legend Hương River. The park of South river bank runs from Cây Si down to Tòa Khâm boat-land. I recall the late afternoons when I gathered with friends sipping lemonade or coffee when the soft sunlight was pearing through the park but some was shielded by the tall old trees, turning the trunks into fearless knights with shining golden armours.
I then stop by my old high school Quốc Học, where Hồ Chí Minh and other key persons of Vietnam used to be trained.  How I miss the first morning I attended the new school year ceremony in the school-yard where a statue of Hồ Chí Minh is erected. I then looked proud of being his "schoolmate" but could not hide the embarassment and clumsiness in my first newly made white Áo Dài – the uniform of high school girls in Huế. Next door is Hai Bà Trưng High School which is  the first school for girls in Huế and used to be named after Emperor Đồng Khánh.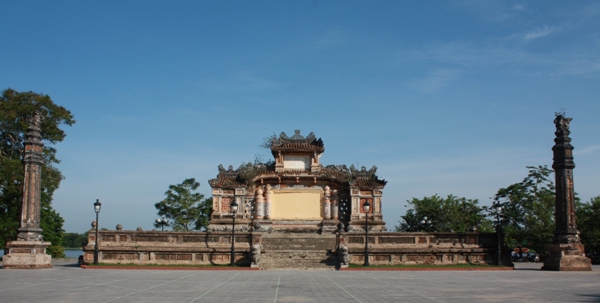 Opposite Quốc Học is the Monument of Death – a memorial for the French and Vietnamese soldiers died in France in World War I built by the French colonial.  It's interesting to know that this monument was designed by a Vietnamese. No wonder it's in the harmony with other imperial constructions on the other bank of Hương River.
Right after at the junction between Lê Lợi Str. and Hà Nội Str., to the left, you will find the Cercle Sportif (Sports Club) of the French by the river. However, it is now served as the Center of Hue Festival Services where conferences, wedding parties, other other events take place.  Across the street is Learning Resource Center launched in March 2004. Before that, it used to be the Bank of  Indochina and later the general library of Thừa Thiên Huế Province.
One of not-to-be-missed stops is Lê Bá Đảng Art Foundation at 15 Lê Lợi. Lê Bá Đảng graduated from Toulouse School of Fine Arts in France, has been known as a famous artist in Europe. His art works evoke in me a strong feeling that he's a nature lover, and no doubt he's a talented artist.
Before walking past one of the oldest hotels in Việt Nam – the Hotel Saigon Morin (since 1901) where the world famous actor Charlie Chaplin honeymooned in 1936, I stop by Tứ Tượng Park (Four Elephants), where erected a fountain with a four-elephant head statue, is canopied with the tall old trees.
At the intersection between Lê Lợi Str. and Hùng Vương Str., you will find the Marble Obelisk commemorating the Buddhist protesters who died during the rally against anti-Budhism policies of Ngô Đình Diệm in 1963. A few steps away is the iconic Trường Tiền Bridge over Hương River designed by Eiffel Tower was built in 1899. From time to time, I see some school girls dressing in white Áo Dài pedal across the bridge. Their thin and elegant figures outstand in the busy traffic flows of the narrow bridge.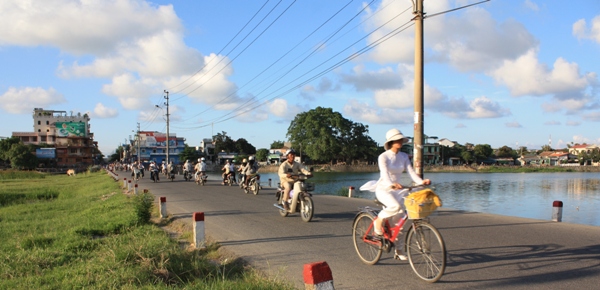 Finally, I reach the Đập Đá (Stone Dam) before passing by the two other riverside hotels – Century and Hương Giang. On the other end of the stone dam, next to the boat wharf, the snail sellers have already started a busy day. Spicy stir-fried snails are a Huế specialty which you should not miss if you visit this city. From here, at sunset, you can enjoy the beautiful sun coming down on the charming Trường Tiền Bridge, some sampans rowing back and forth Đập Đá and the Đông Ba Market on the other side of Hương River, and the islets standing out with the small temples on it.