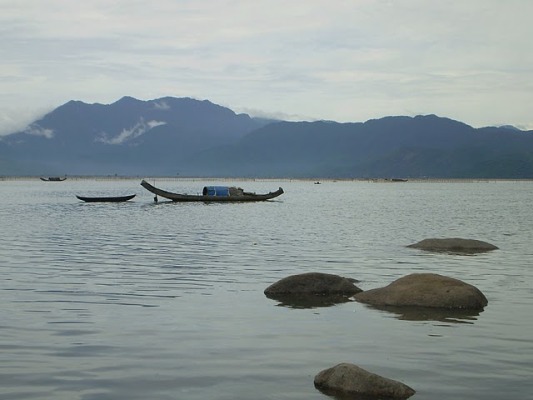 Among the vast lagoon of Cầu Hai, Mount Túy Vân (Mount Blue Clouds) rises up and looks prominent in the surrounding landscape. With such a high position, it has a wide view of Tư Hiền Estuary – a significant "gate" of Huế Citadel to the East Sea.
Mount Túy Vân, which stands in Đông Am Village (Thừa Thiên Huế Province), is given several beautiful names in its long and interesting history. It was first called Mỹ Am, later renamed Thúy Hoa and now Thúy Vân. However, the local people informally call it Túy Vân.
It is about 60 km from the center of Huế to the East, Mount Túy Vân seems to be half a world away. This waterfront retreat is where you can leave the bustling city life behind, and being pampered in the generous nature.
After passing serene villages and lush green paddy fields, my special guide – the culture researcher Hồ Tấn Phan and myself followed a lane paralleling Cầu Hai Lagoon to meet a several market stalls before reaching the foot of Mount Túy Vân. A carved stele with Chinese characters saying "Mount Túy Vân" to the left serves as a landmark.
In such a tranquil landscape, Thánh Duyên Pagoda is erected, which adds a Zen atmosphere to the whole area. As a story goes, it was in 17th century when Lord Nguyễn Phúc Chu happened to stop by this venue. The Lord was so much in love with the splendid scenery of Mount Túy Vân that he decided to have a small pagoda built in this charming setting in order to pray for his people's peace and prosperity.
The pagoda suffered destruction during the wars until it was reestablished with greater size and named Thánh Duyên by Emperor Minh Mạng in 19th century. After that, it became a beautiful scenery and was honorably recognized as national pagoda. To date, it is known as a national heritage which was titled in 1996.
Emperor Thiệu Trị (King Minh Mạng's son) was also struck by the magnificence of Mount Túy Vân and Thánh Duyên Pagoda, and he acclaimed this mountain as one of top 20 scenic spots in Huế – the former capital of Việt Nam. This artistic emperor also composed a poem to express his admiration to this breathtaking landscape.
This renowned poem was then carved on a limestone stele sheltered in a small pavilion placed right at the mountain foot, to the right. Besides, it can be seen on a porcelain tea saucer dated back to Nguyễn Dynasty. The bottom interior of this antique saucer is meticulously decorated with a drawing of Thánh Duyên Pagoda and the poem itself.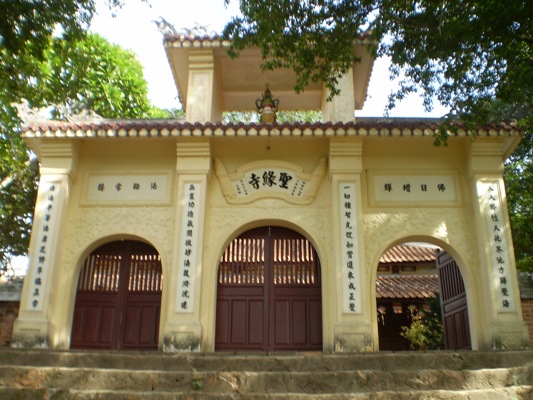 Thánh Duyên includes a complex of architecture scattering from foot to top. According to feng shui rules, the pagoda is located on an excellent spot as it leans on the majestic mountain while facing the placid and spacious waters. Besides, the range of mountains on the other side of Cầu Hai Lagoon serves as a screen.
While climbing up the staircases leading to the gate, we turned right and walked down a slope to find a well named Cam Lồ. It is not a round-shaped water well you may find in most of villages in Vietnam but a square-shaped one. A local woman told me that this well and the one with the same shape at the mountain foot had existed there for a long time. In fact, Phan believes that they are a relic of Champa Kingdom remaining in Thừa Thiên Huế Province as the ancient wells excavated in the old capital of Thăng Long (Hà Nội) are round.
After returning to the staircase from the well, we were greeted by a three-entrance gate screening the main temple of Thánh Duyên Pagoda that was staying tranquil and modest beside the fragrant frangipani trees in bloom. Next to the temple is a residence where the monks lead an enlightened life. Not very far from the main temple, there located two other ancient temples, the bigger one has five arched doors – three in the fronts and two in each side.
We continued to escalate the stone staircases among the old trees, passing through the broken and old entrance to reach Đại Từ Temple – a two-story building. Like the main temple, Đại Từ is surrounded with a low wall.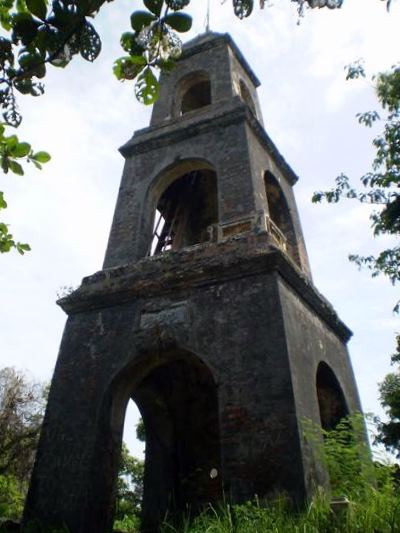 From the front yard of Đại Từ, the tower of Điều Ngự is hardly visual behind the dense canopies of the high trees. We then had to climb another stone staircase leading to top of Mount Túy Vân where there stands Điều Ngự Tower.
This ancient tower was built with simple but fine architecture. It was designed with 3 doors on each storey, providing a wide view toward Cầu Hai Lagoon and its surrounding especially when you are on the 3rd floor.
Behind Điều Ngự Tower, there stands Tiến Sảng Pavilion which is the last stop of our trip to Mount Túy Vân. Tiến Sảng serves as a sala where you can sit down to sip tea, admire the beauty of nature and compose poems. Perhaps these are the entertainments that the emperors of Nguyễn Dynasty enjoyed when they were here.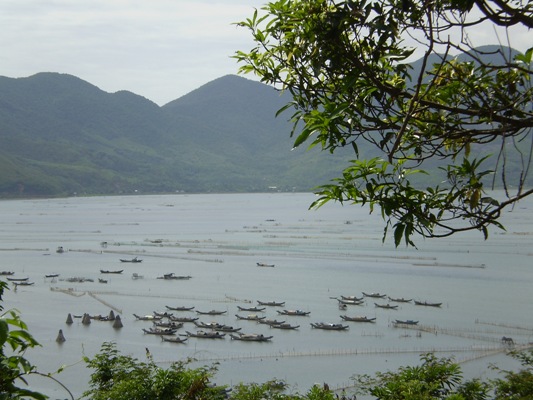 However, the peaceful panorama of Cầu Hai Lagoon saved me from the negative thought about the relic's state as I was absorbed in  the charm of the delicate sampans sunbathing in the sun. Looking further towards the North-East, I was interested to discover that Mount Linh Thái (or informally called Mount Turtle) looked like a giant turtle crawling towards the sea.
Lost in such a wonder of nature, I could do nothing but leave the world behind, and listen to my own breath.
Huế, August 2008