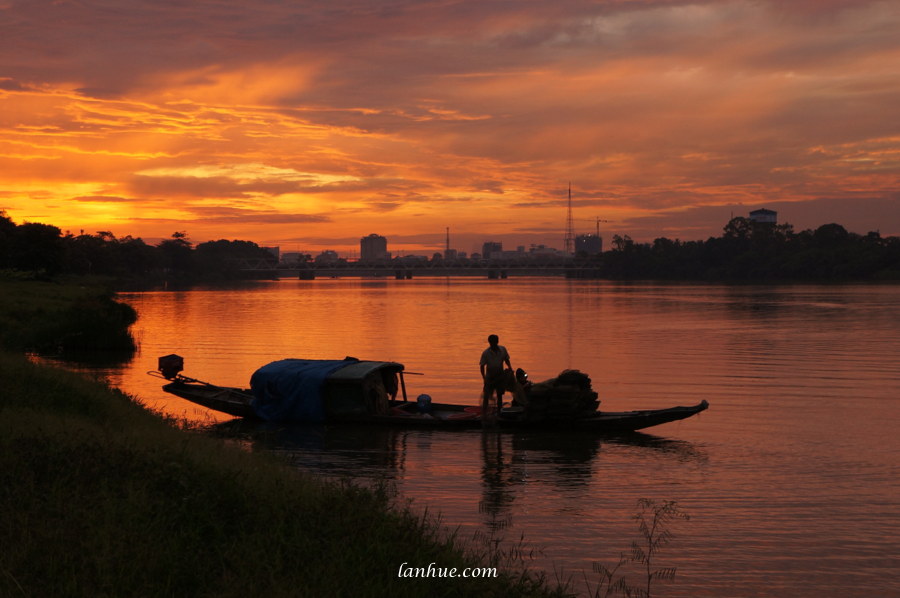 Huế is (again) my home and paradise so I never recommend you to come and stay only one day or two. I'd suggest that you stay longer as I believe there are so many things to see and experience in my hometown. Unfortunately, many of you often have a short holiday but long travel list. Although I don't like the idea of destination hopping, I convince myself that this might be just a "scouting" and preparation for a coming back with a longer stay.
If you plan to stop over Huế City from Hà Nội for 24 hours before going to Đà Nẵng or Hội An, this itinerary is right for you. Here are are some key stops for your reference: Từ Hiếu Zen Monastery, Khiêm Lăng (Emperor Tự Đức's tomb), Vọng Cảnh Hill Top, Huế Imperial City, Lập An Lagoon, Lăng Cô Bay and Hải Vân Mountain Top.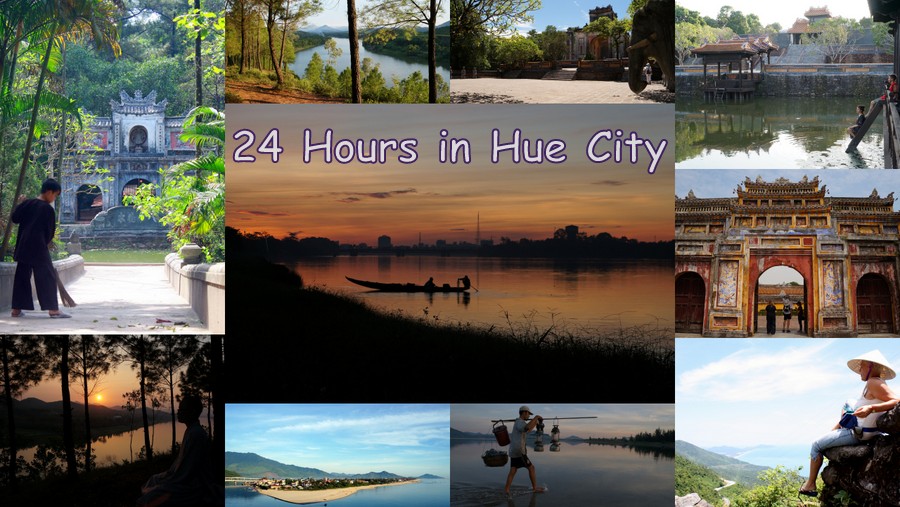 10:00 am: Arrival & check in
You can catch the earliest flight of the day from Hà Nội to Huế City and arrive at Phú Bài Airport in Huế City at around 10:00 am. After 30-minute transfer to the city's center, check in a hotel on the Southern bank of Hương River where most of the hotels and hostels are. Take a brief break and get ready to do some sightseeing.
12:00 am – 13:00 pm: Từ Hiếu Pagoda
Rent a bicycle and ride to Từ Hiếu Pagoda which is located on pine hills about 7km away from the city's center. This is the root pagoda of Zen master Thích Nhất Hạnh. Founded by Venerable Nhất Định in 1843, Từ Hiếu is one of the oldest and well-known pagodas in Huế. At the back of the pagoda to the right, there is a cemetery built for the eunuchs of Nguyễn Dynasty who had contribution to the renovation of the pagoda.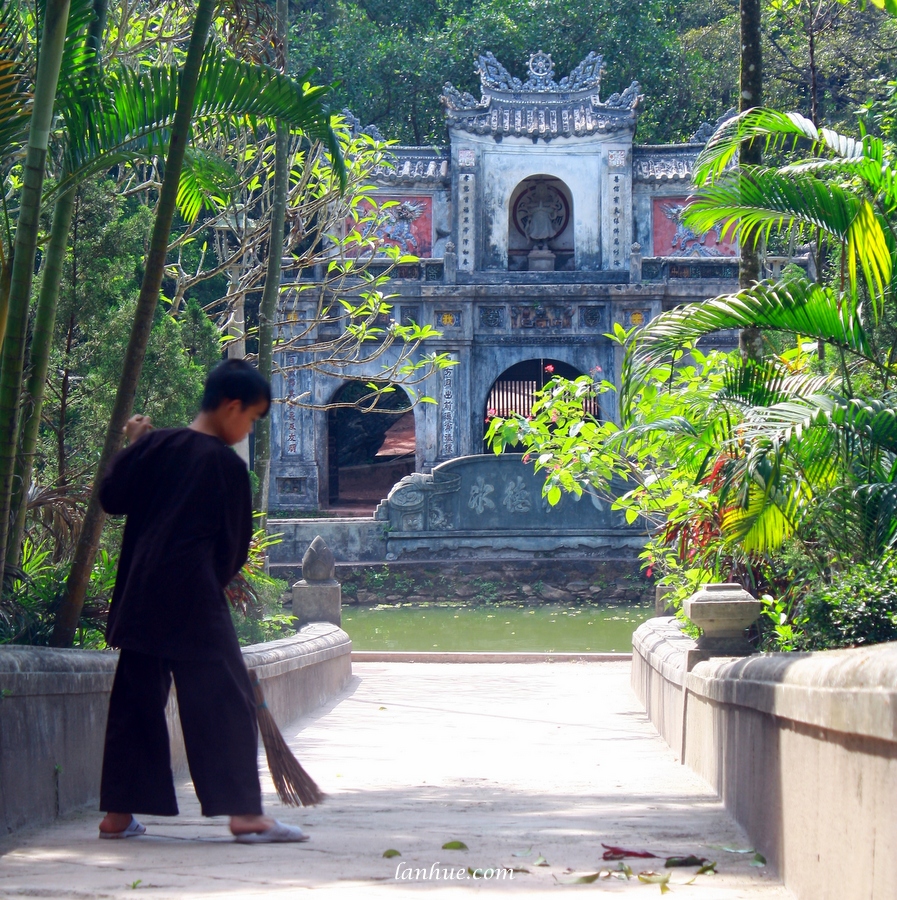 13:30 pm: Vegan Lunch
Even if you're not a vegetarian, but since you are in Vietnam's Buddhism capital, why not try some plant-based dishes which meticulously cooked and beautifully decorated by the local? The closest vegan restaurant you can find between Từ Hiếu Pagoda and Khiêm Lăng (Emperor Tự Đức's tomb), is Thiền Tâm Restaurant on Lê Ngô Cát Street.
14:30 pm: Khiêm Lăng (Emperor Tự Đức's tomb) and around
Just 10-minute bicycle ride from Thiền Tâm Restaurant is Khiêm Lăng – the eternal home of Emperor Tự Đức (1848-1883). Unlike its name Khiêm Lăng, which is literally meant "modest tomb", this royal cemetery looked more like a majestic palace which actually reminds me of the Summer Palace in Beijing. At Khiêm Lăng, apart from temples and graves, there are well-designed pavilions on the lake and a theatre at the back of the main temple, Hòa Khiêm. It's not hard to understand this contrast as this architecture complex was first built as a special palace-cum-future-tomb for Emperor Tự Đức. When he was still alive, it was his palace; and it was turned into a tomb after 16 years later when he passed away.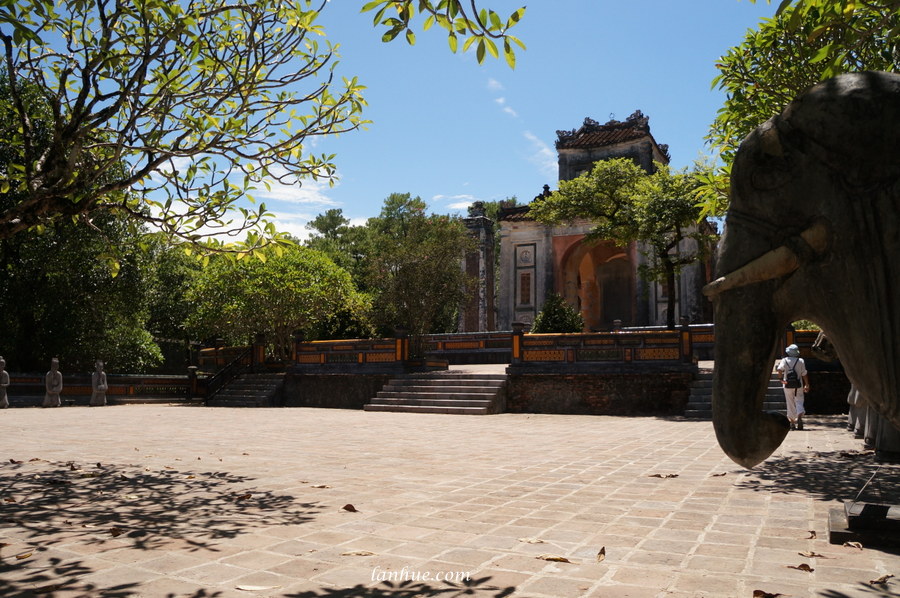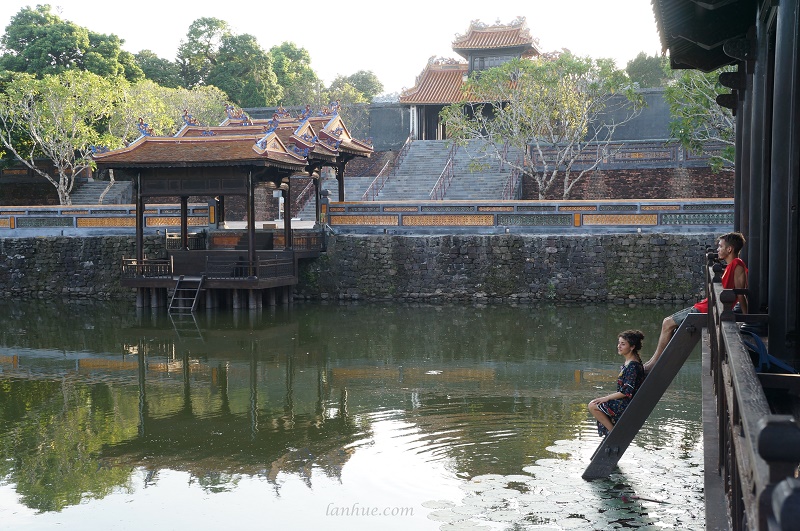 Not very far away from Khiêm Lăng, there are imperial tombs of Emperor Đồng Khánh (1885-1889), his father, his main wife empress Thánh Cung, and Empress Mother Từ Cung. It's admission free to visit these tombs while entrance fee to Khiêm Lăng is 100,000VND.
17:00 pm: Vọng Cảnh Hill Top
Vọng Cảnh hill top is the best spot in the city for watching sunset on Hương River. It's also a peaceful pine hill to do meditation, reading, have a picnic or go for a walk. I know the sunset there is irresistable but make sure you leave the pine hill before the last sunlight disappears since you still have a long ride back to your hotel from there.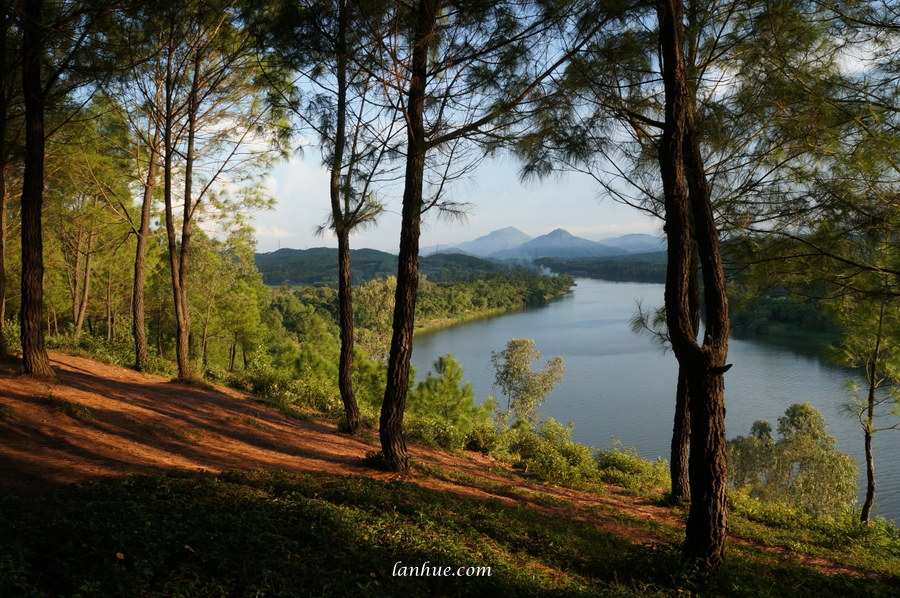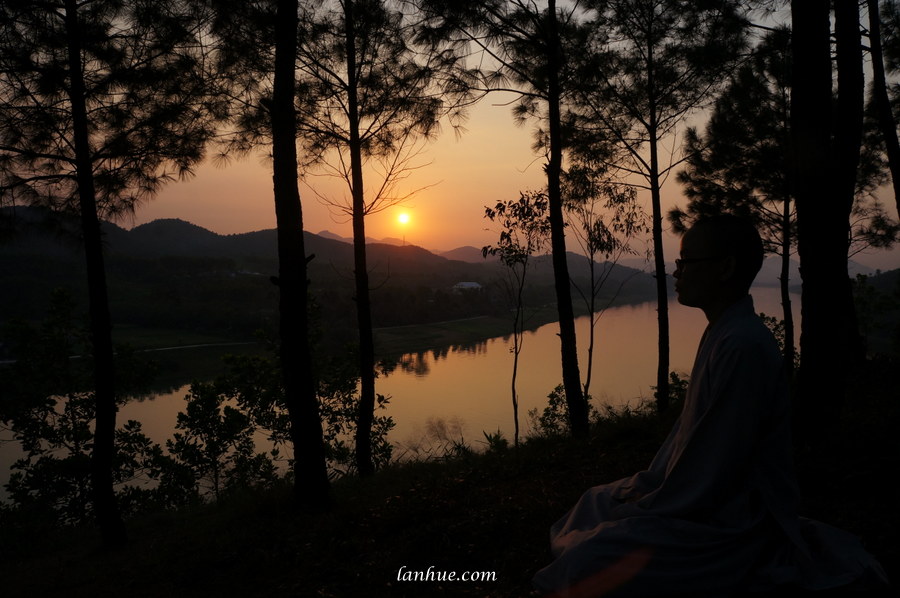 20:00 pm: Dinner
After a shower and some rest, it's time to have some bite. If the day has been long and tiring enough for you, how about grabbing a taxi and go to Lạc Thiện Restaurant for a dinner? Located near one of the gate to the Huế Citadel, this family-run restaurant has been served Huế specialties such as bánh khoái (Huế pancake) since 1965. It will be great if you learn some sign language before you come as one of the waiters there is deaf and mute.
Fancy some sweet dessert after dinner, cross Trần Hưng Đạo Street nearby to check out the chè stall on the pavement, right in front of Thương Bạc Pavilion. There are more than 10 different types of chè for your choice. If you can't decide what to pick, how about getting one glass of mixed chè? The seller will combine some chè together and make you a great one.
21:00 pm: A night walk
If you're still very full from the big dinner, how about going for a walk along Hương River? There's a night market and pedestrian zone across the river so you might want to walk over and have a look. Every Friday, Saturday, and Sunday night, there are some street performances and gatherings at Huế's newly open pedestrian zone around Phạm Ngũ Lão Street and Chu Văn An Street. Don't forget to stop by Healing the Wounded Heart shop (23 Võ Thị Sáu Street) where handmade souvenirs are created by their lovely deaf and mute youngsters. Every item you buy at this amazing shop will help to financially support children who were born with congenital heart disease in Central Vietnam.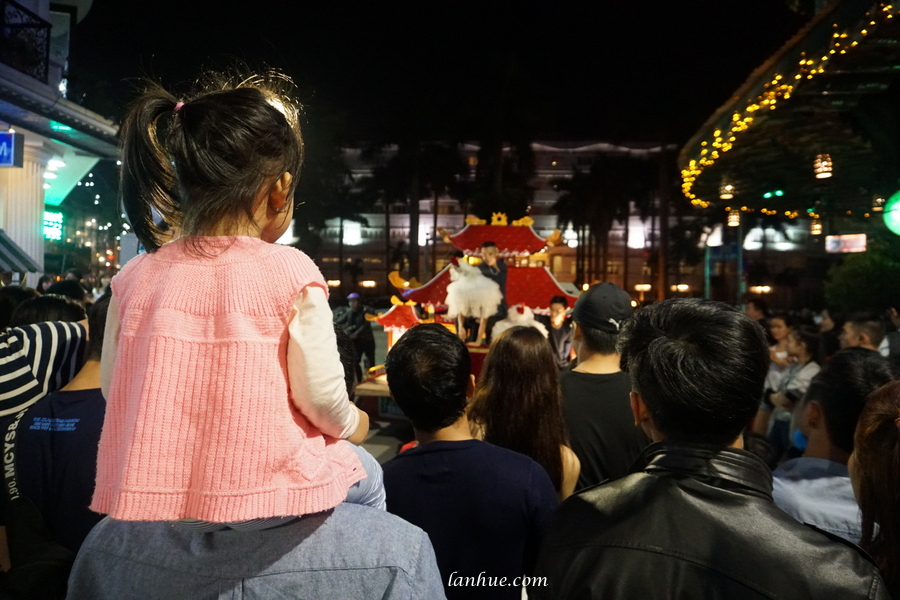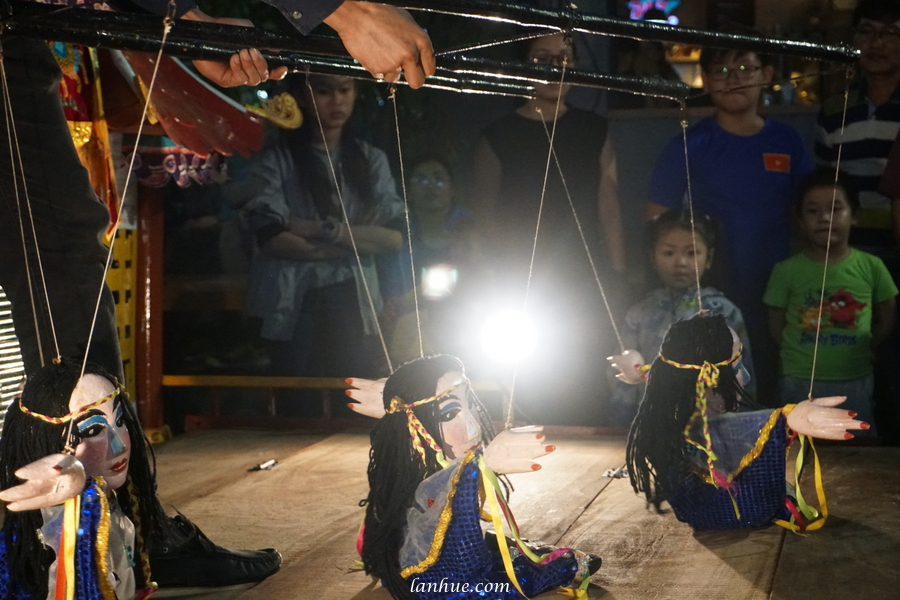 7:00 am: Early breakfast
Huế people start their day very early, around 6 in the morning. If you'd like to see the local's morning routine, let's sit down to have some bún Huế (Huế beef noodles) on a pavement. Although it's called beef noodles, they also serve pork or even boiled congealed ox blood in a bowl of steamy bún Huế upon your request. If you like, you could try the bún Huế at my favorite Quán Cẩm on Trần Cao Vân Street.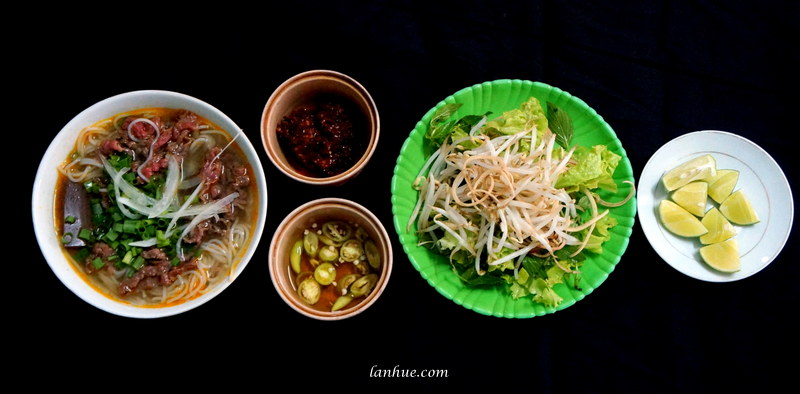 7:45 am: Huế Imperial City
Huế Imperial City sits right in the heart of the city so you can take a short ride on cyclo to visit it.
Built in 1804, the Imperial City inside Huế Citadel is the home and headquarter for the 13 emperors of Nguyễn Dynasty (1802-1945). Although the Purple City where the kings and their family lived was mostly demolished during the wars, there are still many beautifully designed architectures in here worth visiting such as Ngọ Môn (the grand gate to the Imperial City), Điện Thái Hòa (the most important palace inside Huế Imperial City), Thế Miếu (the temple where the 10 of 13 kings of Nguyễn Dynasty are worshipped), Hiển Lâm Các (the 3-storey wood building that commemorates the contribution of the emperors to the dynasty and the country), Cung Diên Thọ (Mother Empresses' residence), Thái Bình Lâu (an outstanding reading and entertaining palace with mosaic decor), Duyệt Thị Đường (the royal theatre), etc. These architectures are placed in the gardens or near the ponds or lakes so the walk between them is actually leisurely and enjoyable.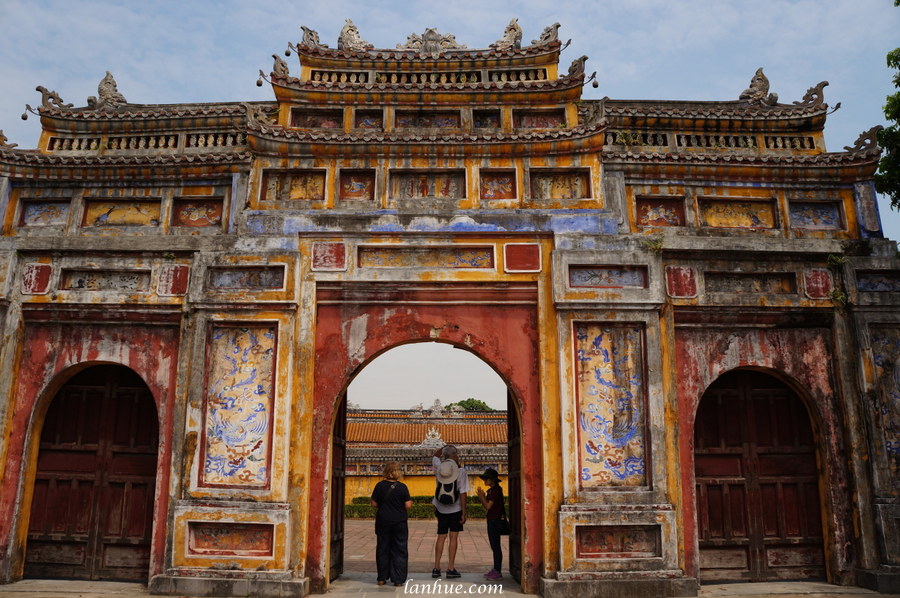 10:00 am: Departure and bonus
Check out the hotel and get ready to go to Đà Nẵng or Hội An by private car if you'd like to stop at some more beautiful landscapes of Huế along the way. Make sure you remind your driver to stop at poetic Lập An Lagoon, scenic Lăng Cô Bay looked from Hải Vân Pass and breath-taking Hải Vân Mountain Top.