It was Monday afternoon when an expected storm missed our city and while many employees were almost defeating their Monday Blues, my best friend Dũng and I walked the alleys and streets of Huế City.
Dũng went home from New York City for a break before starting his new job in a few weeks while I was in the middle of my gap year and in preparation for becoming a storyteller.
We left our motorbike at Coopmart and started our walk from Huế's busiest area around Đông Ba Market. I steered Dũng toward a back road right behind the bustling Trần Hưng Đạo Street. The alley got tightened as we ventured down further. We walked and talked, walked and talked. Our conversation was interrupted here and there by the honking from some motorbikes behind us. The alley was too narrow for the motorbikes to pass us by without us giving them the way.
"Houses in here are so ill-lit and stuffy," Dũng said, looking into the dim lighted and small attached houses that jammed along the alley.
The moment Dũng thought that we were around the dead end, we saw some light coming in from the end so we walked toward it to find ourselves in the middle of Phan Đăng Lưu Street – the electrical equipment business hub of the city.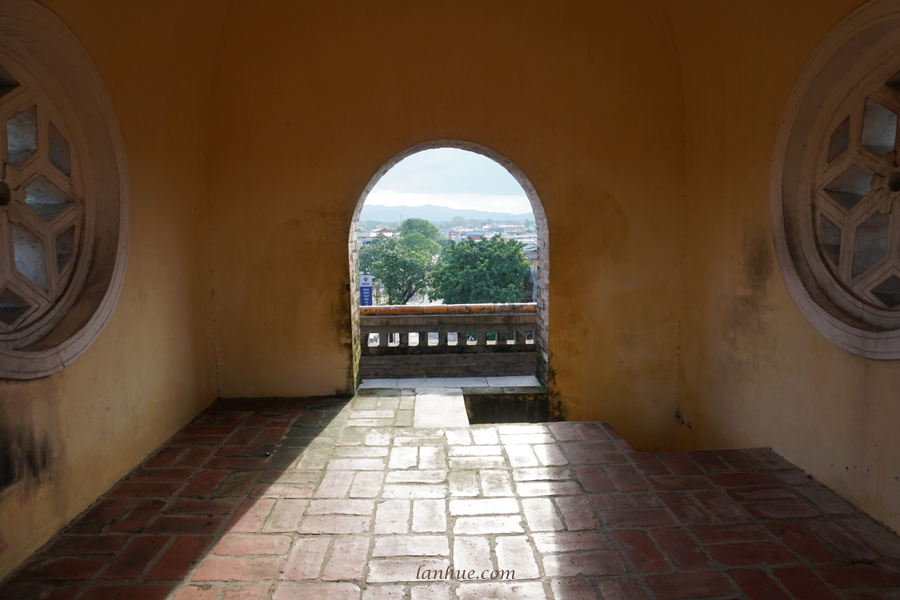 We wandered toward Đông Ba Gate to the Huế Citadel and I told Dũng to turn right into Xuân 68 Street so I could show him something. Before he had time to respond, I led the way to a hidden stairway to the top of Huế's citadel to his surprise. Before Dũng knew it he was already on the two-storey pavilion on the Đông Ba Gate, one of my favorite secret spots in Huế. From there, we watched people on bicycles or motorbikes crossing the bridge, and going in and out of the citadel's gate down below.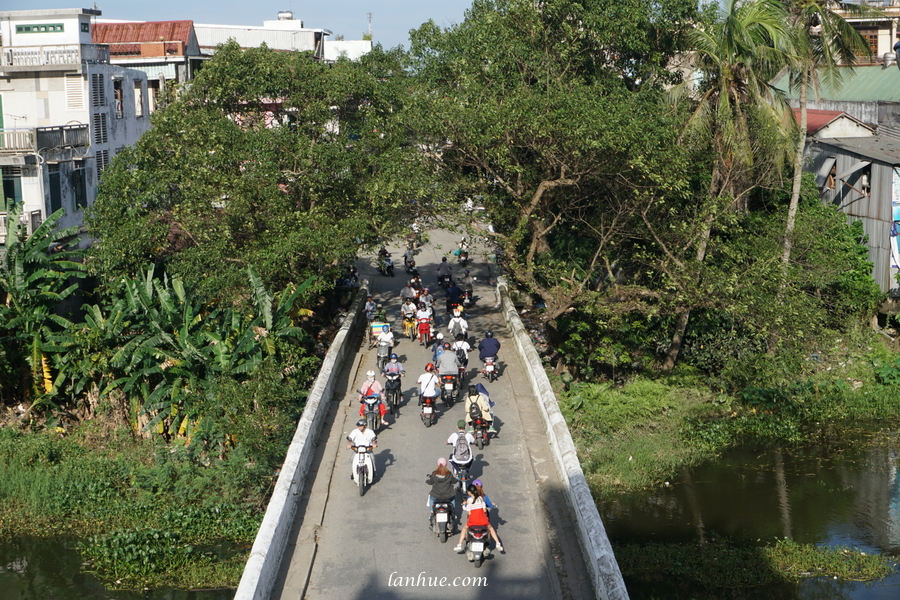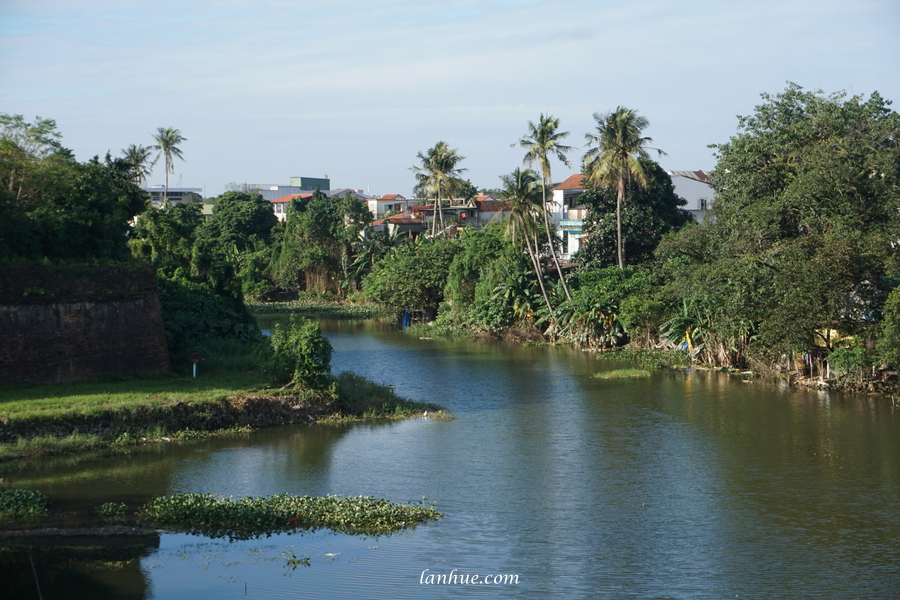 "I have never walked these streets before," Dũng admitted. I just beamed at him. I didn't expect to show him our hometown but only want to have a random walk with him. I love walking and I know he does, too.
"Can we stop for some snacks?" Dũng asked me.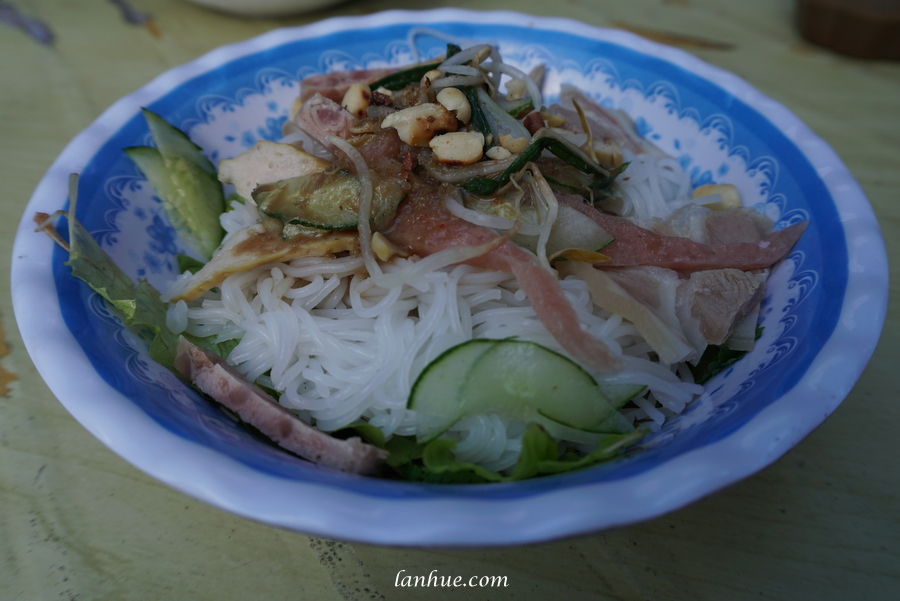 I laughed at his suggestion as it came out the moment I was racking my brain to find a food stall for us to sit down and continue our talk over some bowls of yummy Huế food. At that time, I believed that Dũng was not only my best friend but also so my twin brother as we thought alike. We sat down at a bún mắm nêm (stinky-sauced noodle) stand by Đông Ba Gate where I never ate before. The seller put in front of us two bowls of noodles and salad topped with nem (fermented ground pork), chả (steamed ground pork), steamed meat from a pig's head and of course its key sauce, mắm nêm (a kind of stinky fermented fish sauce).
Once we each had finished a stinky yet yummy noodle bowl, our bellies were only half-filled. "Let's go and get something else," Dũng recommended and I just laughed away as I was about to say the same thing.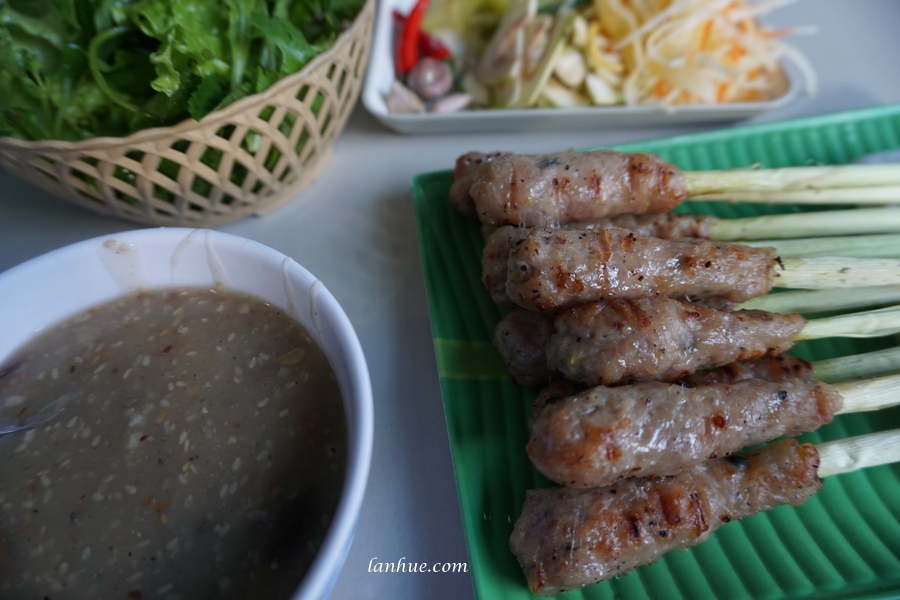 After walking some other narrow roads, we arrived at Hồng Mai Restaurant whose signature dishes are nem lụi (grilled ground pork on lemongrass stick) and bánh khoái (Huế taco). The restaurant had recently been renovated so it looked more tidy and well-lit. We still kept pace with our conversations while enjoying rolling our own nem lụi with herbs, lettuce, pickled papaya and carrot in a piece of dried rice paper.
Once Dũng had settled the bill, we walked down a short road leading to the wall of Huế Imperial City.
"If you like walking this much, New York is the right city for you," Dũng told me. No one ever told me this before. My other New York friends and acquaintances who know that I am a country girl at heart believe that I will never find joy in this hectic city. If I wasn't mistaken, Dũng had also thought the same. Perhaps, he's changing his mind now. I can't recall what I replied him but my heart started to yearn for a day I could walk New York City's streets, perhaps in my áo dài and nón lá (just kidding!)
We arrived at Hiển Nhơn Gate to Huế Imperial City when the sun was already covered by thick clouds. No sight of golden light elaborately painting the decorative royal gate as I expected but I found peaceful sitting down by my best friend watching the Korean tourists leaving the Imperial City on the electric cars.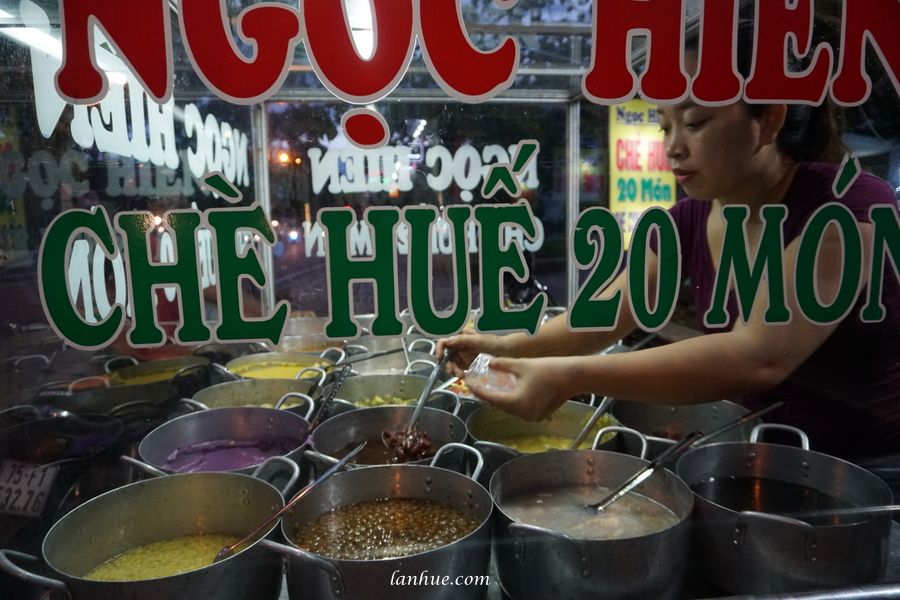 We left the Huế Citadel when the street lamps started to be turned on. My favorite chè stall called Mợ Tôn Đích just outside the citadel was not open yet so we strolled down Trần Hưng Đạo Street toward Trường Tiền Bridge. On the way there, we were attracted by a chè stall under a bodhi tree. We settled down on the low plastic stools on the pavement having our dessert while vehicles on the street took turn to pass us by.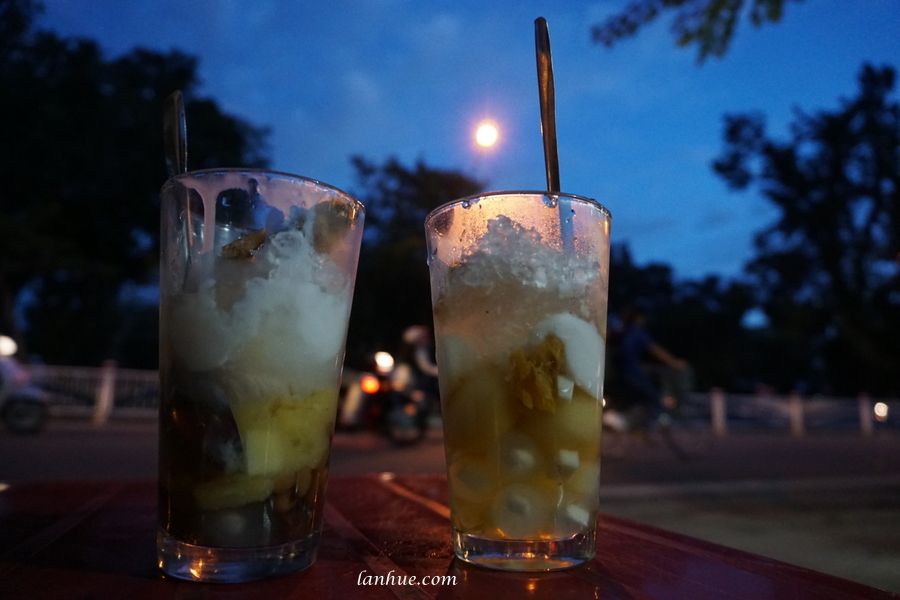 We finally ended our walk from where we started. But before that, Dũng and I went to the bookstore on the second floor of Coopmart so Dũng could buy some children books at my choice for my coming public bookshelf.
I knew I was blessed to have such an amazing friend like Dũng and to walk my home and paradise with such a special companion like him.