Áo dài is a set of traditional costume worn by both Vietnamese men and women but it's more popular among the women. Most of the Vietnamese women have at least one set of áo dài in their wardrobe. You might think that it's common because it's our national costume. Well, yes, it's partly true. It's also because áo dài compliments Vietnamese women's curves. I personally feel proud, important and more charming when wearing Vietnamese áo dài – a traditional outfit that symbolizes our identity as kimono does to Japanese people and hanbok to the Korean.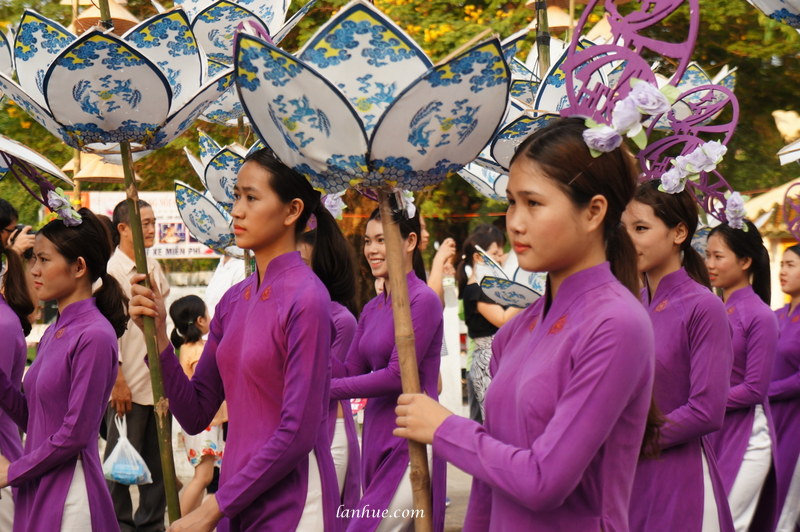 Vietnamese Áo dài – timeless and fashionable
A set of áo dài includes the long dress with two flaps, front and back, and a pair of long loose pants which are usually made from the same material. Áo dài is meticulously made to measure and by hand, which is why it's usually more expensive to get a set of áo dài than other types of clothes.
Áo dài is actually flexible and timeless so anyone can wear it. Vietnamese women wear áo dài at any age from when we were a little girl until we become wrinkled old women. At different stages of our lifespan, we tend to have a few changes in style, material and colors of áo dài. Young girls seem to prefer brighter colors, modern material and different twists on their áo dài's style while the elder ladies would choose a more classic styles, darker colors, and they usually stick to silk or velvet when it comes to material.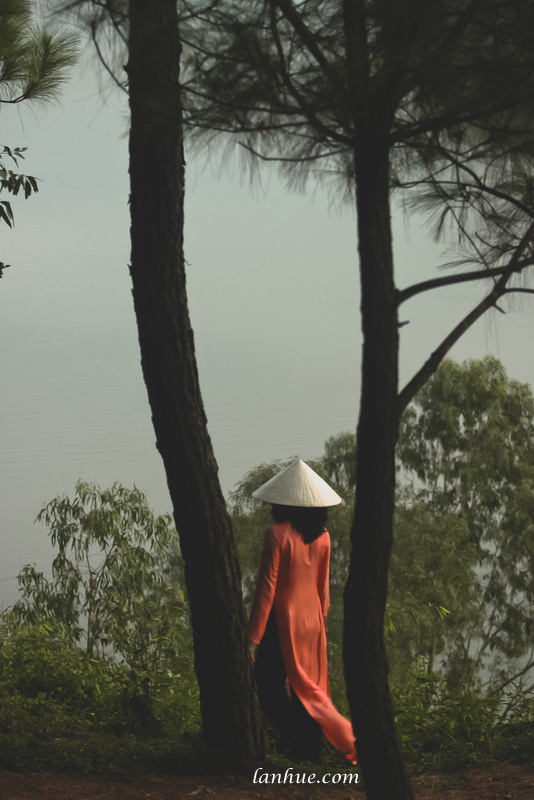 Áo dài has a lot of variations and it also transforms itself through time to meet the latest fashion trends. The áo dài shrinks tight and then comes loose. Its collar stands high and then stays short or even becomes collarless. The flaps spread wide and then cut narrow, or run really long and then retrieve short. The sleeves goes from arm-fit to freely loose and then sleeveless. After making many changes and "renovations", Vietnamese women one day find themselves going back to classic áo dài whose style was loved by their mother or grandmother once upon a time. In my wardrobe, I have some áo dài of different styles. I turn to the classic ones when it comes to formal events or simply put on a neat and modern one if it's an intimate occasion.
Some Vietnamese girls start to wear their first áo dài since they were just a little girl. My mother could only afford my first áo dài when I went to high school where white áo dài was a uniform for girls. Áo dài has been chosen to be high school girls' uniform maybe because gentleness and calmness is what Vietnamese mothers expect their daughter to obtain. With a upper body fit dress with two long flaps and loose long pants, it's hard not to slow down when you walk in it. However, young girls are young girls, they always know how to play with their áo dài. To join boys in some active games, they would tie the front flap and the back together and there they go — freely doing what they want. Of course, mothers and elderly people might not think it's a great sight to see but I don't think these naughty girls care about it or if they do, they just try to ignore it.
Áo dài and me – a complicated relationship
I remember I loved áo dài when I first wore it but because it was my school uniform and I had to wear it most of the days in a week, áo dài turned out a troublesome to me. I had to hand wash it, iron it carefully, and made sure the whole set of white áo dài and white long pants stay stain-free.
I was also taught not to make the two flaps wrinkled so every time before I sat down in áo dài, I would have to remember not to seat on the back flap. This would result in some terrible accidents which quite a few schoolgirls run into. I saw some girls let the flaps free while on a bicycle and have their back flap stuck in the bicycle gears. It was indeed any girl's nightmare. That's why instead of letting the back flap unattended, before getting on my bicycle I would put the hem of the back flap on the seat and gently sat on it. It worked perfectly.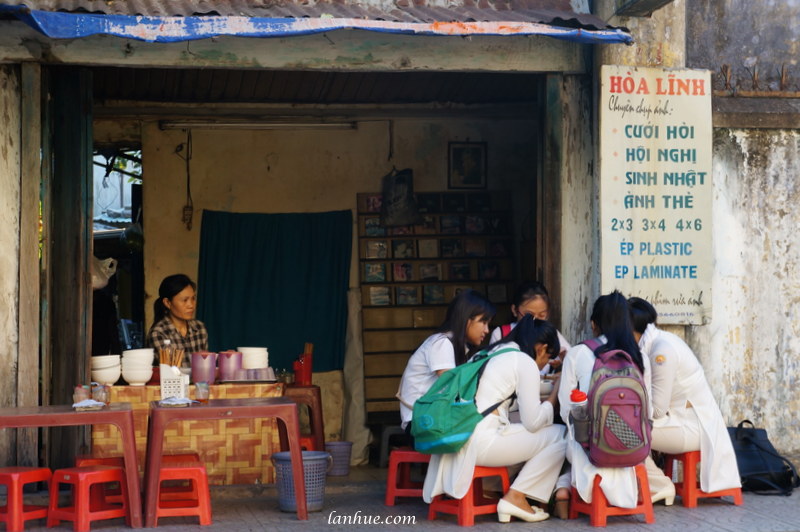 The funny thing about school girls wearing áo dài for the first time is that although you consoled yourself you looked beautiful and charming in áo dài, when parading past a group of male students, you became so clumsy in it. I imagined the boys were staring at me and giving comments among themselves. It was just a silly terror of a little girl who realized that she was turning into a young woman and wearing a white áo dài to school was a milestone of her life.
Sometimes I wonder why I become so in love with Vietnamese áo dài now. Perhaps you only love what you are free to love and my feeling for áo dài is no difference. I started to love áo dài more when áo dài was no longer my school uniform. Unfortunately, the foreign company that I worked for for 10 years never encouraged or required their employee to wear áo dài to work or to some special occasions. It was when I realized how I missed wearing áo dài. Well, I wore áo dài to some wedding rituals but that was all I did. Now that I work as a freelance tour guide, I am encouraged to wear our national costume whenever possible. Needless to say, this means the number of áo dài in my wardrobe increase and I love that.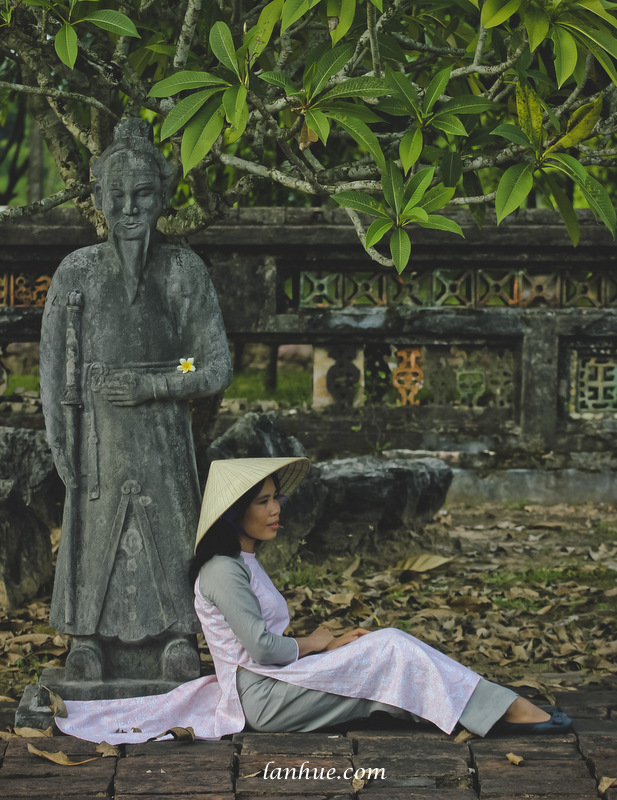 I know I did not like áo dài that much when it was my school uniform but now I am grateful I was taught to wear and appreciate the costume that symbolizes the Vietnamese women's characters – charming, smart and modest. No matter how modernized or Westernized I have become, áo dài always reminds me that I am a Vietnamese woman.
Oh, and I would recommend áo dài to become high school boys' uniform as well. I find Vietnamese men look sophisticated and well-cultured like our mandarins or learned men in the old time when they are in loose áo dài. If women's áo dài is the symbol of Vietnamese beauty, men's gives a nostalgia of the bygone days.