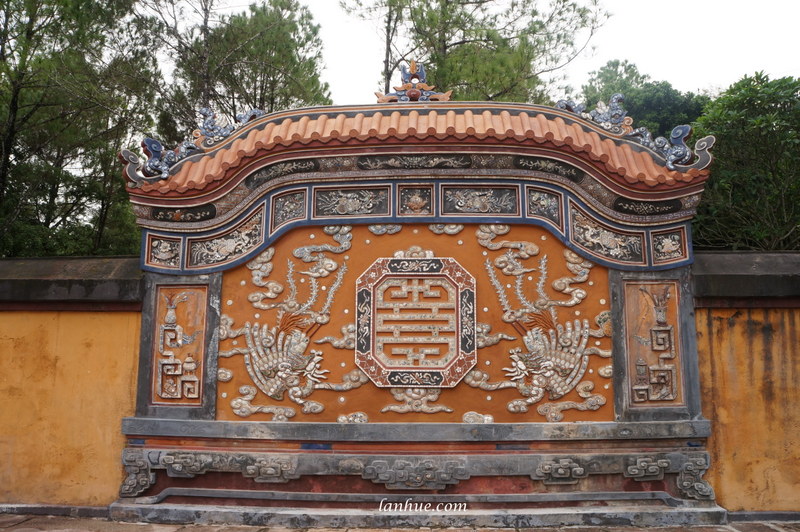 Like their emperor, Nguyễn Dynasty's empresses also have their "eternal homes" built grand and solemn for them by their emperor or descendants after they left this world. Most of the empresses' graves are decorated with images of a phoenix because this legendary bird symbolizes their prestige as the dragon does to an emperor's power.
Empresses' tombs are usually named after their emperor's tomb. While Emperor Minh Mạng's tomb's name is Hiếu, his Empress Tá Thiên Nhân's tomb is known as Hiếu Đông; Emperor Thiệu Trị's tomb is called Xương and his empress's eternal home is named Xương Thọ, etc.
When I visited the empresses' tombs, I found myself walking in a serene and quiet atmosphere. Each of my steps brought peace and nostalgia into my heart but from time to time a touch of loneliness painted the air with its sorrow.
Below are some images of the nine empresses' tombs.
Thiên Thọ
Among the empresses of Nguyễn Dynasty, Queen Thừa Thiên might be the luckiest one as when she passed away Emperor Gia Long had their twin graves built side by side. This good deed of his commemorates the queen's faithfulness to him. She was always with him through many ups and downs.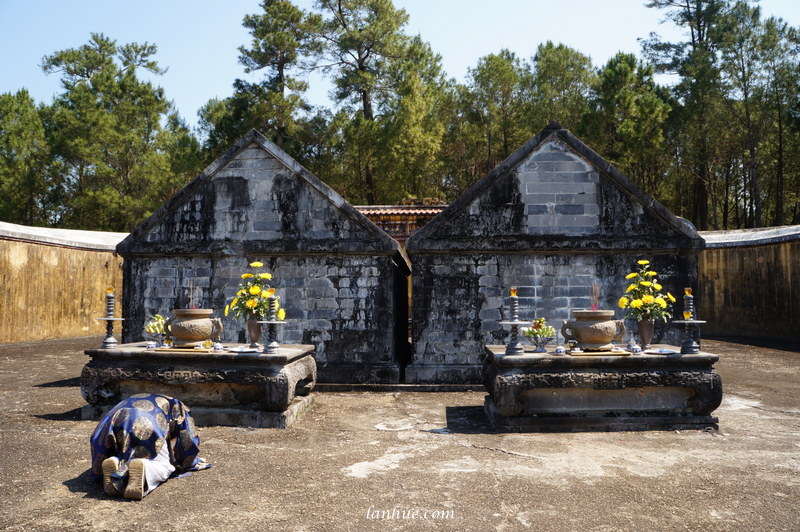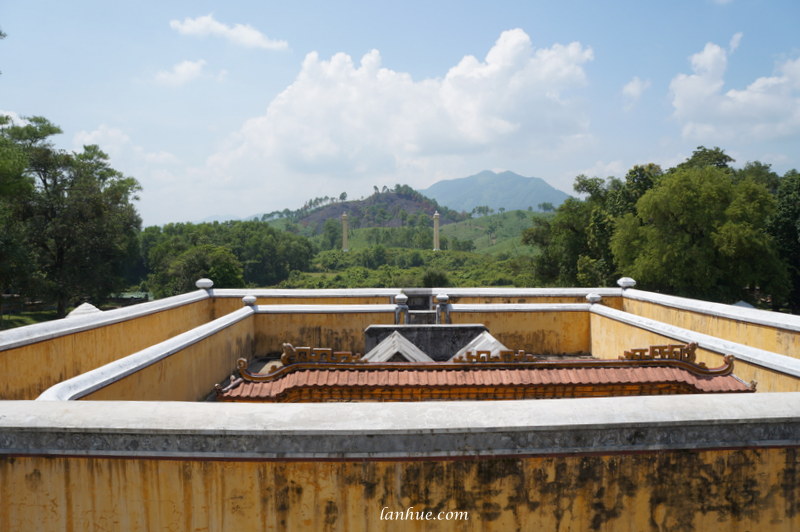 Thiên Thọ Hữu
This is the grave of Queen Thuận Thiên, Emperor Gia Long's second wife. She is Emperor Minh Mạng's mother, Emperor Thiệu Trị's grandmother and Emperor Tự Đức's great grandmother. Thiên Thọ Hữu was built inside Emperor Gia Long's tomb complex in Định Môn Village.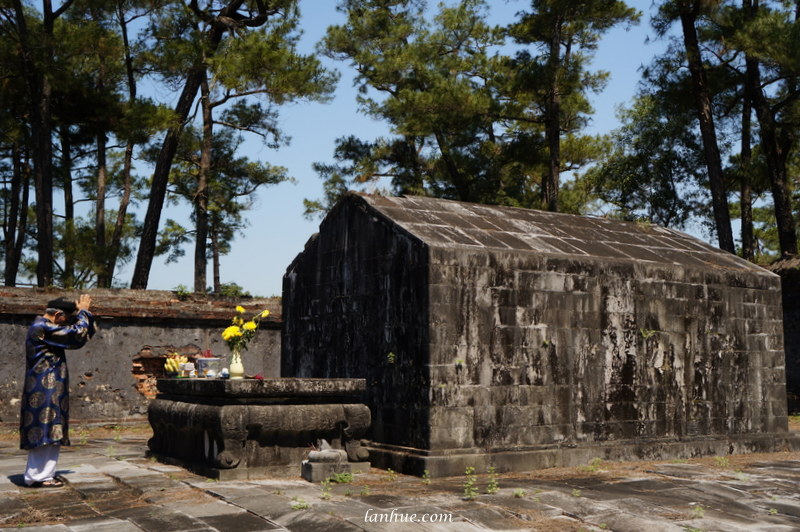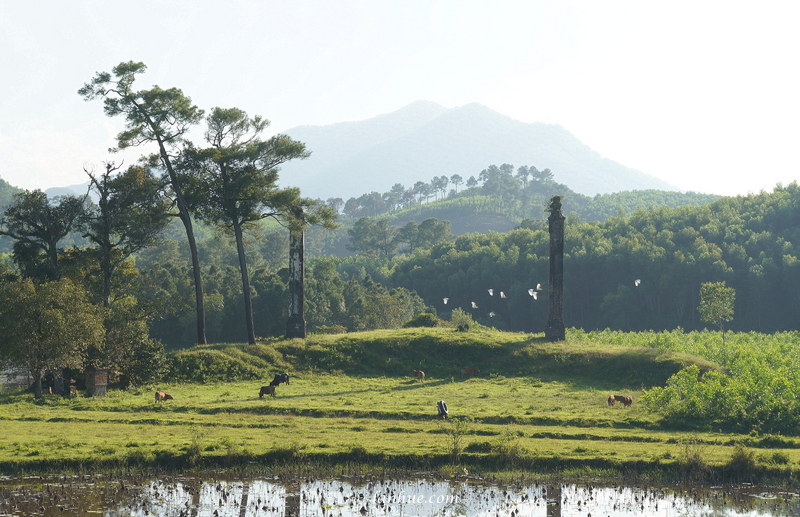 Hiếu Đông
Empress Tá Thiên Nhân, Emperor Minh Mạng's wife, breathed her last when she was only 17 after she gave birth to Emperor Thiệu Trị for about 13 days. When she passed away, her husband hadn't become a king or even a crown prince yet. Hiếu Đông tomb that you see today was built with royal design by her son, Emperor Thiệu Trị. The special thing about this tomb is that right on its left side is the a grave of her nanny.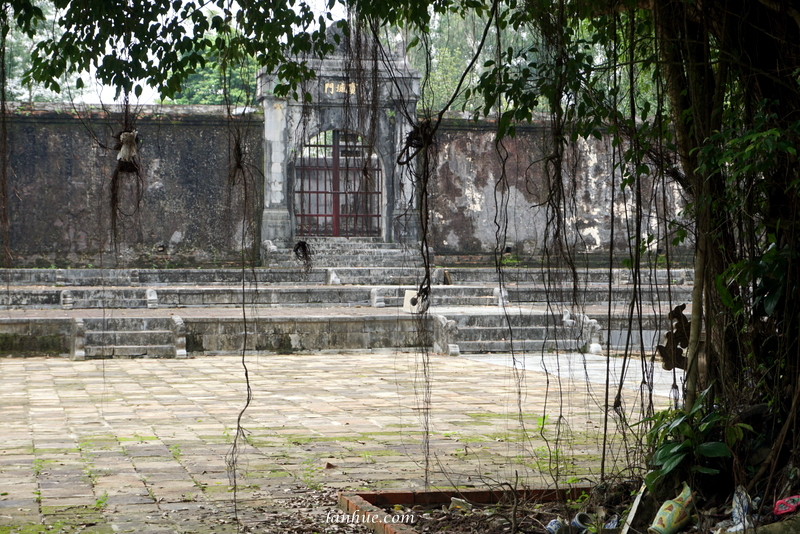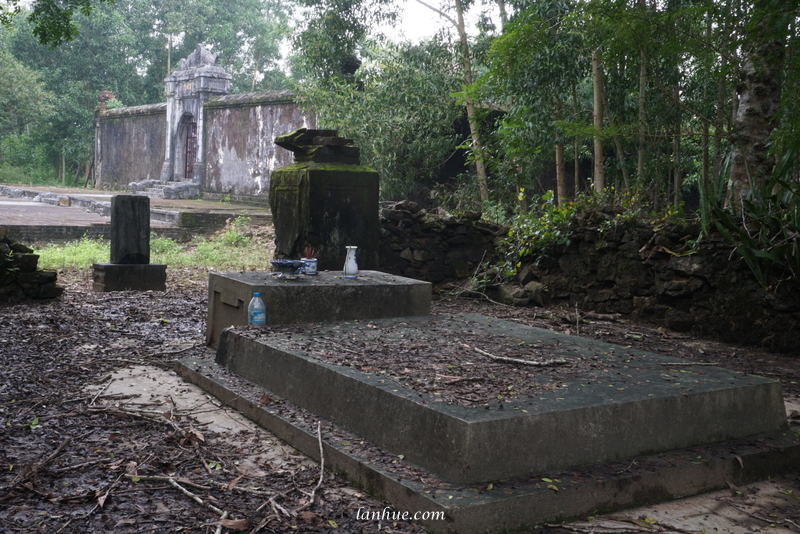 Xương Thọ
This eternal home of Empress Từ Dụ, Emperor Thiệu Trị's wife is right behind the emperor's own tomb. Her grave's architecture is somewhat similar to her son's, Emperor Tự Đức's and both of them were designed by this emperor. It's located on a beautiful and serene haven of pine trees and overlooking a half moon pond. It's now in a bad condition and in need of some reservation.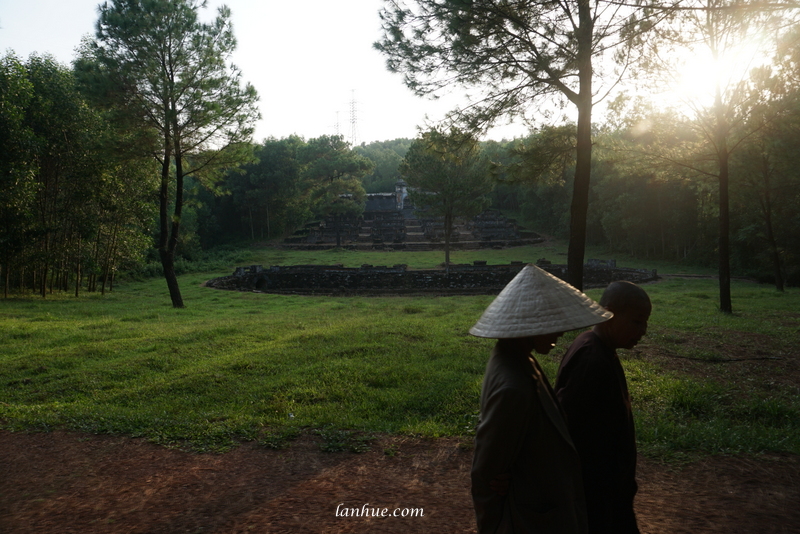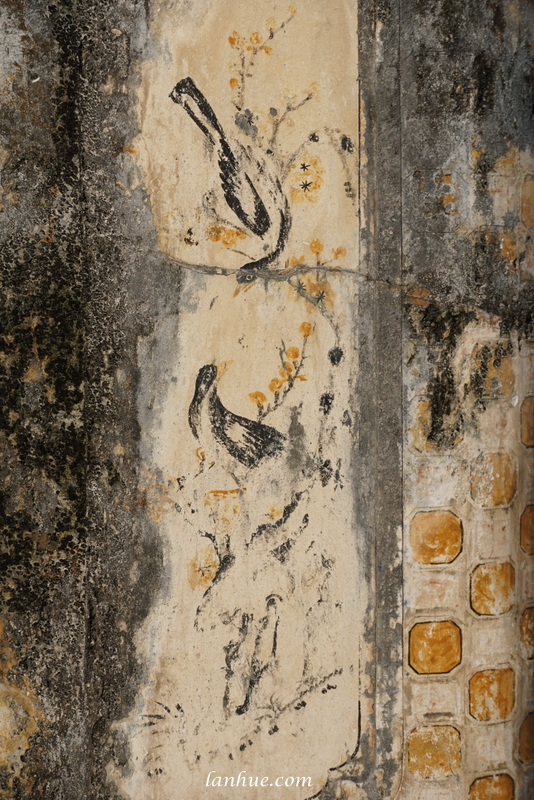 Khiêm Thọ
Lệ Thiên Anh, Emperor Tự Đức's empress, was buried to the left of his grave. Like his grave and some other parts of the whole tomb complex, her grave, called Khiêm Thọ, has recently been reserved.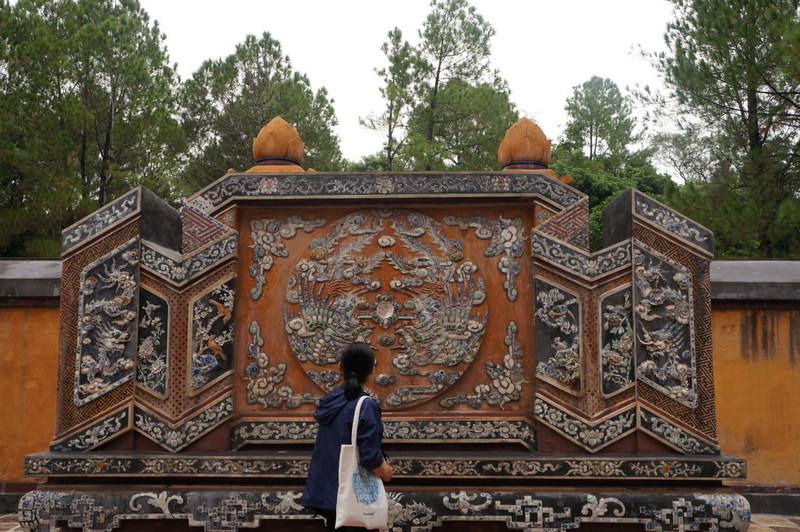 An
Empress Từ Minh was buried next to her husband, Emperor Dục Đức, but this was decided by the Nguyễn royal court not by her husband who had passed away about 2 decades before her death. The two graves were built in inside enclosed walls and separated by a pavilion in the middle.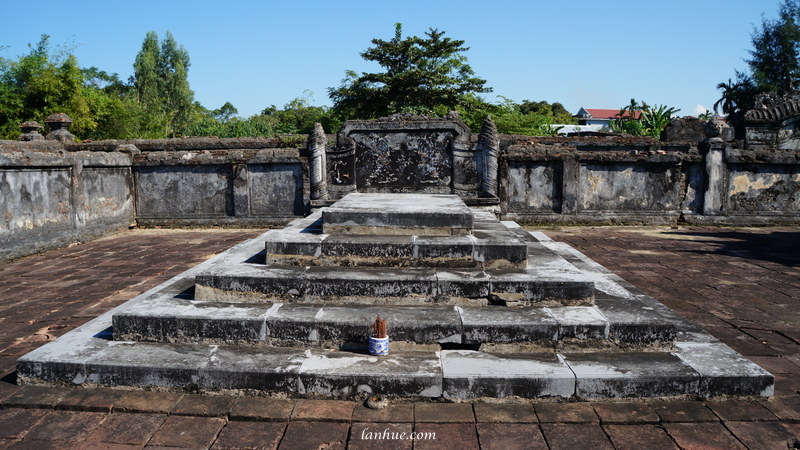 Tư Minh
Tư Minh is the tomb of Empress Thánh Cung who passed away in her mid-sixties. She was the first wife of Emperor Đồng Khánh. All of her children with the emperor are girls and none of them inherited the throne but she was also entitled as Empress Mother by Emperor Khải Định and as Grand Empress Mother by Emperor Bảo Đại.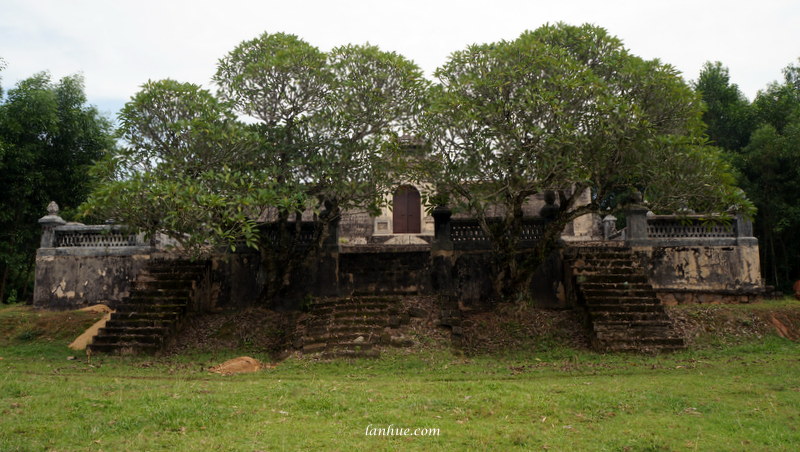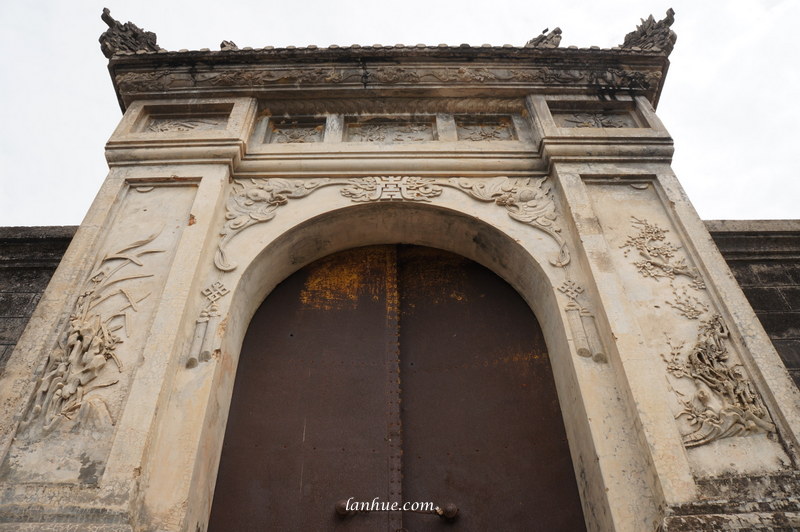 Tư Thông (Vạn Vạn)
While Empress Thánh Cung, Emperor Đồng Khánh's first wife was buried near him on hills of Thủy Xuân Commune, his second wife, Empress Tiên Cung, was buried on a flat area in An Cựu which is about 6 km away from his tomb complex. Her tomb was named Tư Thông. Empress Thánh Cung is the natural mother of Emperor Khải Định and the natural grandmother of Emperor Bảo Đại. Athough her tomb is named Tư Thông, local people living around it call it Vạn Vạn which becomes a more popular name.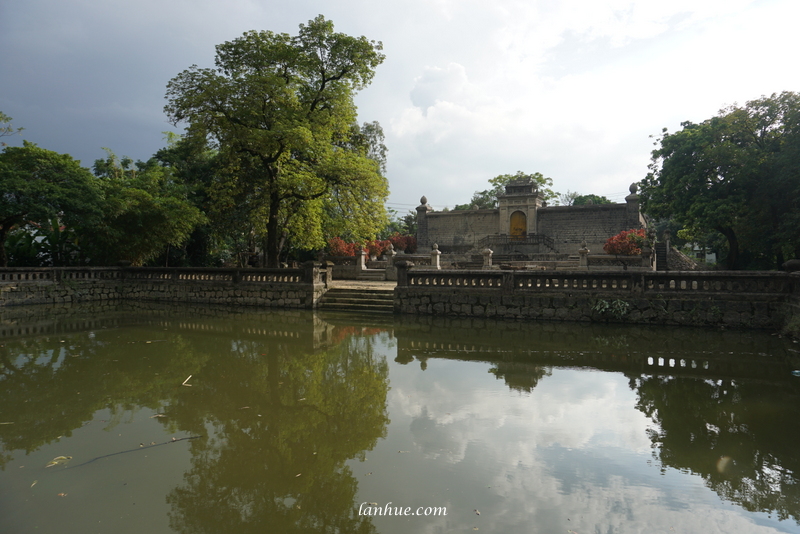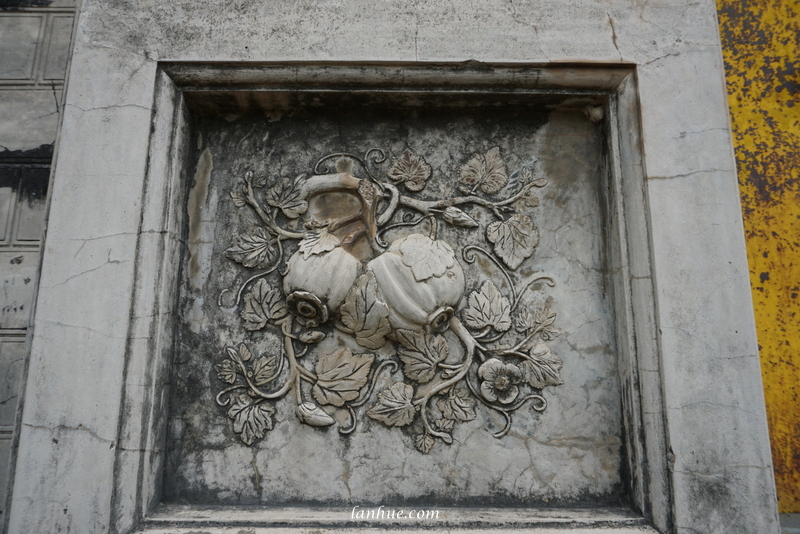 Empress Mother Từ Cung's Tomb
Từ Cung is the empress mother of the last king of Việt Nam, Emperor Bảo Đại. She breathed her last breath at An Định Palace at the age of 90. Empress Mother Từ Cung's tomb has a similar design to the ones of Empress Thánh Cung and Empress Tiên Cung, her mothers-in-law. All of other imperial tombs have a name but this one. I have been trying to find the tomb's name but fail. Although her grave was buried not very far from Emperor Tự Đức's tomb and Emperor Đồng Khánh's, not many people know her grave to visit.